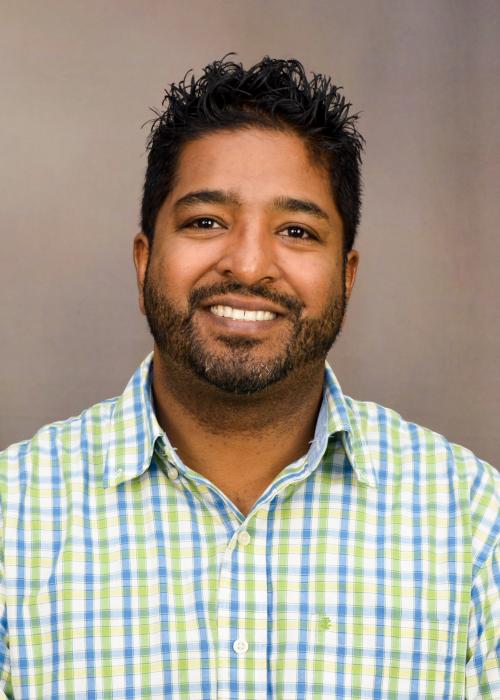 Robin Varghese, PhD
Assistant Professor for Biomedical Sciences
Department/Discipline
:
Biomedical Affairs and Research
Campus
: Virginia
Education
| | | |
| --- | --- | --- |
| 2017 | Edward Via College of Osteopathic Medicine | Postdoc |
| 2016 | Virginia Polytechnic Institute and State University | PhD-Genetics, Bioformatics, and Computational Biology |
| 2006 | Texas A&M University, Corpus Christi | BS-Biology |
My research interests include: 1) identification of molecular biomarkers predicative of cancer progression 2) biomarker and drug target discovery in polygenic disorders e.g. atrial fibrillation, glioblastoma, non-small cell lung cancer 3.) medical education in the field of genetics, research design, and introducing medical students to the benefits and limitations of precision medicine.
My research capabilities include: genomics, molecular biology, cell biology, and bioinformatics.
My lab's focus is to discover gene signatures involved in cancer progression and in the predisposition of certain polygenic diseases. Our goal is to utilize these novel biomarkers to identify new therapeutic targets and develop prognostic assays which can be implemented in the clinic.
Publications
| Year | Faculty | Citation | PMID |
| --- | --- | --- | --- |
| 2020 | Ramu Anandakrishnan, Tiffany Carpenetti, Pawel Michalak, Lin Kang, Nicholas Kinney, Arben Santo, John Anstrom, Harold "Skip" Garner, Robin Varghese | Anandakrishnan R, Carpenetti TL, Samuel P, Wasko B, Johnson C, Smith C, Kim J, Michalak P, Kang L, Kinney N, Santo A, Anstrom J, Garner HR, Varghese RT. DNA sequencing of anatomy lab cadavers to provide hands-on precision medicine introduction to medical students. BMC Med Educ. 2020 Nov 16;20(1):437. PMID: 33198737. | 33198737 |
| 2020 | Lin Kang, Robin Varghese | Sheng KL, Kang L, Pridham KJ, Dunkenberger LE, Sheng Z, Varghese RT. An integrated approach to biomarker discovery reveals gene signatures highly predictive of cancer progression. Sci Rep. 2020 Dec 4;10(1):21246. PMID: 33277589. | 33277589 |
| 2019 | Nicholas Kinney, Lin Kang, Ramu Anandakrishnan, Robin Varghese, Pawel Michalak, Harold "Skip" Garner | Kinney N, Kang L, Eckstrand L, Pulenthiran A, Samuel P, Anandakrishnan R, Varghese RT, Michalak P, Garner HR. Abundance of ethnically biased microsatellites in human gene regions. PLoS One. 2019 Dec 12;14(12):e0225216. PMID: 31830051. | 31830051 |
| 2019 | Robin Varghese | Sheng KL, Pridham KJ, Sheng Z, Lamouille S, Varghese RT. Functional Blockade of Small GTPase RAN Inhibits Glioblastoma Cell Viability. Frontiers in Oncology. 2019 Jan 8;8:662. PMID: 30671385. | 30671385 |
| 2019 | Lin Kang, Pawel Michalak, Ramu Anandakrishnan, Robin Varghese, Nicholas Kinney, Harold "Skip" Garner | Kinney N, Titus-Glover K, Wren JD, Varghese RT, Michalak P, Liao H, Anandakrishnan R, Pulenthiran A, Kang L, Garner HR. CAGm: a Repository of Germline Microsatellite Variations in the 1000 Genomes Project, Nucleic Acids Res. 2019 Jan 8;47(D1):D39-D45. PMID: 30329086. | 30329086 |
| 2019 | Ramu Anandakrishnan, Robin Varghese, Nicholas Kinney, Harold "Skip" Garner | Dash S, Kinney N, Varghese R, Garner H, Feng W, Anandakrishnan R. Differentiating between cancer and normal tissue samples using multi-hit combinations of genetic mutations. Sci Rep. 2019 Jan 30;9(1):1005. PMID: 30700767. | 30700767 |
| 2019 | Ramu Anandakrishnan, Robin Varghese, Nicholas Kinney, Harold "Skip" Garner | Anandakrishnan R, Varghese R, Kinney N, Garner HR. Estimating the number of genetic mutations (hits) required for tumorigenesis based on the distribution of somatic mutations. PLoS Comput Biol. 2019 Mar 7;15(3):e1006881. PMID: 30845172. | 30845172 |
| 2018 | Robin Varghese | Varghese RT, Young S, Pham L, Liang Y, Pridham KJ, Guo S, Murphy S, Kelly DF, Sheng Z. Casein Kinase 1 Epsilon Regulates Glioblastoma Cell Survival. Scientific Reports. 2018 Sep 11;8(1):13621. PMID: 30206363. | 30206363 |
| 2018 | Robin Varghese, Nicholas Kinney, Harold "Skip" Garner | Kinney N, Larsen TR, Kim DM, Varghese RT, Poelzing S, Garner HR, AlMahameed ST. Whole Exome Sequencing Reveals Microsatellites DNA Markers for Response to Dofetilide Initiation in Patients with Persistent Atrial Fibrillation, A Pilot Study.  Clin Cardiol. 2018 Apr 19. PMID: 29671888. | 29671888 |
| 2017 | Robin Varghese, Harold "Skip" Garner | Velmurugan KR, Varghese RT, Fonville NC, Garner HR. High-depth, high-accuracy microsatellite genotyping enables precision lung cancer risk classification. Oncogene. 2017 Jul 31. Epub ahead of print. PMID: 28759038. | 28759038 |
| 2017 | Robin Varghese | Pridham, KJ, Varghese RT, Sheng Z. The Role of Class IA PI3K Catalytic Subunits in Glioblastoma. Frontiers in Oncology. 2017 Dec 15. | |
| 2017 | Ramu Anandakrishnan, Robin Varghese, Nicholas Kinney, Harold "Skip" Garner | Kinney N, Varghese RT, Anandakrishnan R, Garner HR. ZDHHC3 as a risk and mortality marker for breast cancer in African American Women. Cancer Informatics. 2017;16:1–6. PMID: 29276372. | 29276372 |