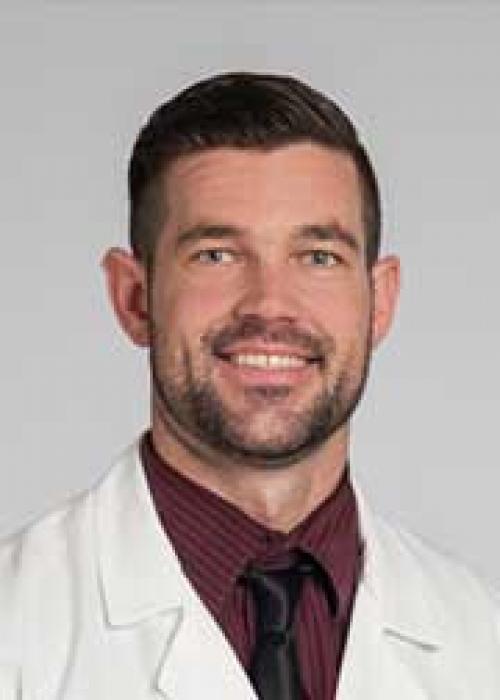 Prior School
: East Tennessee State University
Residency
: Cleveland Clinic Taussig Cancer Center
Specialty
: Radiation Oncology
I've traveled around the world. I feel like I have a lot of life experience from being raised in a small town, growing up in a trailer park, being in the military, etc. An ultimate goal of mine is to one day be a life coach or speaker to young boys graduating high school and help them to become their best selves.
The accomplishment I am most proud of thus far in my career is 
The accomplishment I am most proud of thus far in my career is being able to make a difference in the lives of others on a daily basis.
When I look back on my time at VCOM I think fondly about the excellent education, friendships, flexibility for audition rotations, and for VCOM truly giving me the leverage and opportunity to succeed and match into the speciality that I wanted.
I am doing residency at Cleveland Clinic Main Campus (Taussig Cancer Center) in Radiation Oncology_ and believe VCOM helped prepare me well by providing me with excellent education, mentors, high quality rotation options, and faculty.  VCOM was always very supportive in my ambitions and always willing to coordinate my research rotation at MD Anderson and Emory University to allow me to get the experience I needed to match into a very competitive field.
For me, the most unforgettable moment in medical school was graduation day, when Dean Rawlins was saying my name to walk across stage, and my mother yelled out "Way to Go John Boy" and everyone laughed and I could only smile, look out to the crowd, and blow her a kiss, and also one to my grandmother above who was my inspiration for going to medical school.
When I am not working I enjoy reading about life, culture, relationships, etc, and I am very active, so love to do anything physically challenging on my body, and also enjoy watching live sports and music.
A career in medicine is worthwhile because I care about people, and I want to help them continue their journeys with those they love.