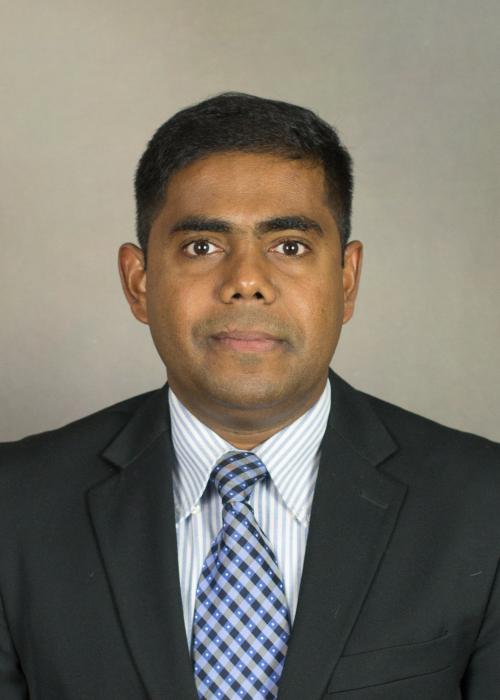 Blaise Costa, MPharm, PhD
Discipline Chair for Pharmacology
Department/Discipline
:
Pharmacology
Campus
: Virginia
Download CV
After receiving a Pharmacy degree Blaise Costa pursued a theoretical biophysics research to study the structure, function and pharmacology of NMDA receptors that play a crucial role in learning and memory. For this work, he earned a PhD Degree in Psychopharmacology from The National Institute of Mental Health And Neurosciences, Bangalore India. To work out the theoretical findings, he undertook a molecular neuroscience training at the University of London. He won the Royal Society International award to fund this training. Subsequently, as a postdoc at Max Planck Institute for Brain Research, he further studied NMDA receptor function using electrophysiology techniques. To translate this knowledge into identification of novel therapeutic agents for brain disorders, he moved to the University of Nebraska Medical Center to work on a NIH funded project, for which he served as key personnel. During this work, his team discovered a novel family of negative and positive allosteric NMDA receptor modulators. These compounds are novel in their chemical structure, mechanism of action and binding sites. Currently, Costa lab is interested in identifying and developing NMDA receptor based therapeutic strategy for neurodegenerative disorders with a special focus on Alzheimer's disease.
Visit lab website for more information: www.costalabs.com
Education
| Year | University | Degree |
| --- | --- | --- |
| 2009 | University of Nebraska Medical Center | Postdoc |
| 2007 | Max Planck Institute for Brain Research, Frankfurt, Germany | Postdoc |
| 2006 | School of Pharmacy, University of London, UK | International Research Fellow |
| 2005 | National Institute of Mental Health and Neurosciences, India | PhD - Psychopharmacology |
| 2001 | MGR Medical University, Chennai, India | MS - Pharmacology |
| 1999 | MGR Medical University, Chennai, India | BPharm |
Mental disorders affect everyone in four human beings. Abnormalities in glutamate mediated communication between brain cells cause most of the neuropsychiatric disorders. We are working to identify, design and screen novel compounds with the goal of developing new treatment strategies for refractory brain disorders.
Awards
American Heart Association, Scientist Development Grant, 2016-2020
American Osteopathic Association Grant, 2019-2021
Sigma Sigma Phi VCOM Chapter, Golden Apple Award for Excellence in Teaching, 2015, 2018 & 2019.
Activities
Member, Society for Neuroscience
Member, American Heart Association and American Stroke Association
Member, American Society for Pharmacology and Therapeutics (ASPET)
Medical Pharmacology teacher, Edward Via College of Osteopathic Medicine- VA Campus
Selected Publications
| Year | Faculty | Citation | PMID |
| --- | --- | --- | --- |
| 2022 | Ramu Anandakrishnan, A Tobey, Blaise Costa | Anandakrishnan R, Tobey H, Nguyen S, Sandoval O, Klein BG, Costa BM. Cranial manipulation affects cholinergic pathway gene expression in aged rats. J Osteopath Med. 2022 Jan 10;122(2):95-103. doi: 10.1515/jom-2021-0183. PMID: 34995434. | 34995434 |
| 2020 | Blaise Costa, A Tobey, Per Brolinson | Tobey H, Lucas T, Paul S, Berr SS, Mehrkens B, Brolinson PG, Klein BG, Costa BM. Mechanoceutics Alters Alzheimer's Disease Phenotypes in Transgenic Rats: A Pilot Study. J Alzheimers Dis. 2020 Feb 5;. doi: 10.3233/JAD-191071. [Epub ahead of print] PubMed PMID: 32039851. | 32039851 |
| 2019 | Blaise Costa, A Tobey, Per Brolinson | Tobey H, Lucas T, Bledsoe D, Mykins M, Campbell C, Berr SS, Sasser T, Helm R, Brolinson PG, Klein BG, Costa BM. Effect of Osteopathic Cranial Manipulative Medicine on an Aged Rat Model of Alzheimer Disease. J Am Osteopath Assoc. 2019 Oct 15. doi: 10.7556/jaoa.2019.121. [Epub ahead of print]. PMID: 31613309. | 31613309 |
| 2019 | Blaise Costa | Bledsoe D, Vacca B, Laube B, Klein BG, Costa B. Ligand binding domain interface: A tipping point for pharmacological agents binding with GluN1/2A subunit containing NMDA receptors. European journal of pharmacology. 2019 Feb 5;844:216-224. PMID: 30553788. | 30553788 |
| 2018 | Blaise Costa | Irvine MW, Fang G, Sapkota K, Burnell ES, Volianskis A, Costa BM, Culley G, Collingridge GL, Monaghan DT, Jane DE. Investigation of the structural requirements for N-methyl-D-aspartate receptor positive and negative allosteric modulators based on 2-naphthoic acid. European journal of medicinal chemistry. 2018 Dec 28;164:471-498. PMID: 30622023. | 30622023 |
| 2017 | Blaise Costa | Bledsoe D, Tamer C, Mesic I, Madry C, Klein BG, Laube B, Costa BM. Positive Modulatory Interactions of NMDA Receptor GluN1/2B Ligand Binding Domains Attenuate Antagonists Activity. Front Pharmacol. 2017 May 9;8:229. PMID: 28536523. | 28536523 |
| 2015 | Blaise Costa | Irvine MW, Fang G, Eaves R, Mayo-Martin MB, Costa BM, Culley GR, Volianskis A, Collingridge GL, Monaghan DT, Jane DE. Synthesis of a Series of Novel 3,9-Disubstituted Phenanthrenes as Analogues of Known N-Methyl-D-aspartate Receptor Allosteric Modulators. Synthesis. 2015 Jun 1;47(11):1593-1610. | 26568642 |
| 2015 | Blaise Costa | Kane LT, Costa BM. Identification of novel allosteric modulator binding sites in NMDA receptors: A molecular modeling study. J Mol Graph Model. 2015 Sep;61:204-213. | 26280688 |
| 2013 | Blaise Costa | Collingridge GL, Volianskis A, Bannister N, France G, Hanna L, Mercier M, Tidball P, Fang G, Irvine MW, Costa BM, Monaghan DT, Bortolotto ZA, Molnár E, Lodge D, Jane DE. The NMDA receptor as a target for cognitive enhancement. Neuropharmacology. 2013 Jan; 64:13-26. PMID: 22796429. | 22796429 |
| 2013 | Blaise Costa | Costa BM, Yao H, Yang L, Buch S. Role of Endoplasmic Reticulum (ER) stress in cocaine-induced microglial cell death. J Neuroimmune Pharmacol. 2013 June; 8(3):704-14. PMID: 23404095. | 23404095 |
| 2013 | Blaise Costa | Gautam V, Trinidad JC, Rimerman RA, Costa BM, Burlingame AL, Monaghan DT. Nedd4 is a specific E3 ubiquitin ligase for the NMDA receptor subunit GluN2D. Neuropharmacology. 2013 Nov; 74:96-107. PMID: 23639431. | 23639431 |
| 2012 | Blaise Costa | Irvine MW, Costa BM, Volianskis A, Fang G, Ceolin L, Collingridge GL, Monaghan DT, Jane DE. Coumarin-3-carboxylic acid derivatives as potentiators and inhibitors of recombinant and native N-methyl-D-aspartate receptors. Neurochem Int. 2012 Sep;61(4):593-600. PMID: 22265875. | 22265875 |
| 2012 | Blaise Costa | Irvine MW, Costa BM, Dlaboga D, Culley GR, Hulse R, Scholefield CL, Atlason P, Fang G, Eaves R, Morley R, Mayo-Martin MB, Amici M, Bortolotto ZA, Donaldson L, Collingridge GL, Molnár E, Monaghan DT, Jane DE. Piperazine-2,3-dicarboxylic acid derivatives as dual antagonists of NMDA and GluK1-containing kainate receptors. J Med Chem. 2012 Jan 12;55(1):327-41. PMID: 22111545. | 22111545 |
| 2012 | Blaise Costa | Costa BM, Irvine MW, Fang G, Eaves RJ, Mayo-Martin MB, Laube B, Jane DE, Monaghan DT. Structure-activity relationships for allosteric NMDA receptor inhibitors based on 2-naphthoic acid. Neuropharmacology. 2012 Mar;62(4):1730-6. PMID: 22155206. | 22155206 |
| 2012 | Blaise Costa | Buch S1, Yao H, Guo M, Mori T, Mathias-Costa B, Singh V, Seth P, Wang J, Su TP. Cocaine and HIV-1 interplay in CNS: cellular and molecular mechanisms. Curr HIV Res. 2012 Jul;10(5):425-8. PMID: 22591366. | 22591366 |
| 2012 | Blaise Costa | Monaghan DT, Irvine MW, Costa BM, Fang G, Jane DE. Pharmacological modulation of NMDA receptor activity and the advent of negative and positive allosteric modulators. Neurochem Int. 2012 Sep;61(4):581-92. PMID: 22269804. | 22269804 |