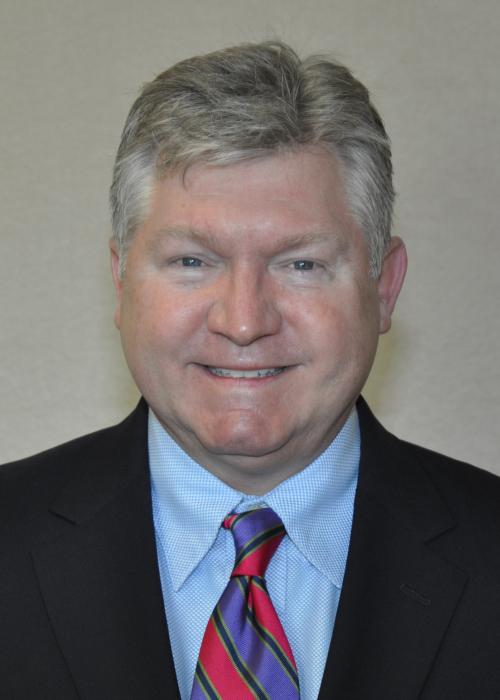 Gunnar Brolinson, DO
Vice Provost for Research
Department/Disciplines
:
Sports Medicine,
Family Medicine,
Biomedical Affairs and Research,
Post–Graduate Affairs
Campus
: Virginia
Preferred First Name
: Gunnar
Download CV
Dr. Brolinson is Vice Provost for Research, Professor of Family and Sports Medicine and the Discipline Chair for Sports Medicine at the Edward Via College of Osteopathic Medicine and Team Physician for Virginia Polytechnic Institute and State University. He is an Adjunct Professor in the Department of Mechanical Engineering at Virginia Tech.  He is the director of the Primary Care Sports Medicine Fellowship at VCOM and Virginia Tech. He is also a volunteer physician for the United States Olympic Committee and a team physician for the United States Ski Team and was head team physician for the Freestyle Ski Team at the 2006 Winter Olympic Games in Torino, Italy. He was also named to the medical staff for the 2010 Winter Olympic Games in Vancouver, BC and was medical director of the USOC performance services center. He obtained his undergraduate training from the University of Missouri at Columbia earning a degree in biology.  A 1983 graduate of the Kirksville College of Osteopathic Medicine, Dr. Brolinson is board certified in family practice and holds subspecialty certification in sports medicine.  Prior to coming to Virginia, he was the co-director of the Primary Care Sports Medicine Fellowship training program at The Toledo Hospital in Toledo, Ohio and Team Physician for University of Toledo.  He has extensive experience in undergraduate and post-graduate medical education. Dr. Brolinson has served on the boards of the American Osteopathic Academy of Sports Medicine, the American Medical Society for Sports Medicine and the Midwest Chapter of the American College of Sports Medicine. He is a past president of the American Osteopathic Academy of Sports Medicine.  Dr. Brolinson is a fellow of the American Osteopathic Academy of Sports Medicine, the American Academy of Family Practice and the American College of Osteopathic Family Practice.  In 1997 he was named outstanding young physician in Ohio by the Ohio State Medical Association. He is a former associate editor for the Clinical Journal of Sports Medicine and a former member of the editorial board of the Physician and Sports Medicine.  He is former section editor for Competitive Sports and Pain Management in the journal Current Sports Medicine Reports. Dr. Brolinson is a frequent speaker at national sports medicine meetings and often teaches didactic laboratory sessions on the use of osteopathic manipulative therapy for athletic injuries. Dr. Brolinson is a contributing author in the latest edition of Foundations for Osteopathic Medicine and he has published several scholarly articles and book chapters in the area of sport and exercise medicine. His research interests have included exercise and immune function, exercise and bone mineral density, mild traumatic brain injury in sports, impact biomechanics, human factors in auto safety, sports performance and manipulation and other health and disease prevention related topics. 
Education
| Year | University | Degree |
| --- | --- | --- |
| 1983 | Kirksville College of Osteopathic Medicine | DO |
| 1983 | Family Medicine Parkview Hospital | Traditional Internship |
| 1983 | Institute for Human Fitness, Texas College of Osteopathic Medicine | Pre-doctoral Clinical Fellowship - Sports & Preventive Medicine |
| 2005 | Virginia College of Osteopathic Medicine | Post-doctoral Clinical-research Fellow |
| 1978 | University of Missouri, Columbia | BA |
Publications
| Year | Faculty | Citation | PMID |
| --- | --- | --- | --- |
| 2020 | Blaise Costa, A Tobey, Per Brolinson | Tobey H, Lucas T, Paul S, Berr SS, Mehrkens B, Brolinson PG, Klein BG, Costa BM. Mechanoceutics Alters Alzheimer's Disease Phenotypes in Transgenic Rats: A Pilot Study. J Alzheimers Dis. 2020 Feb 5;. doi: 10.3233/JAD-191071. [Epub ahead of print] PubMed PMID: 32039851. | 32039851 |
| 2020 | Per Brolinson | Maerlender A, Smith E, Brolinson PG, Urban J, Rowson S, Ajamil A, Campolettano ET, Gellner RA, Bellamkonda S, Kelley ME, Jones D, Powers A, Beckwith J, Crisco J, Stitzel J, Duma S, Greenwald RM. Psychometric properties of the standardized assessment of concussion in youth football: Validity, reliability, and demographic factors. Appl Neuropsychol Child. 2020 Mar 6:1-7. doi: 10.1080/21622965.2020.1726746. [Epub ahead of print]. PMID: 32142619 | 32142619 |
| 2019 | Per Brolinson | Campolettano ET, Gellner RA, Smith EP, Bellamkonda S, Tierney CT, Crisco JJ, Jones DA, Kelley ME, Urban JE, Stitzel JD, Genemaras A, Beckwith JG, Greenwald RM, Maerlender AC, Brolinson PG, Duma SM, Rowson S. Development of a Concussion Risk Function for a Youth Population Using Head Linear and Rotational Acceleration. Ann Biomed Eng. 2019 Oct 28 [Epub ahead of print]. PMID: 31659605. | 31659605 |
| 2019 | Blaise Costa, A Tobey, Per Brolinson | Tobey H, Lucas T, Bledsoe D, Mykins M, Campbell C, Berr SS, Sasser T, Helm R, Brolinson PG, Klein BG, Costa BM. Effect of Osteopathic Cranial Manipulative Medicine on an Aged Rat Model of Alzheimer Disease. J Am Osteopath Assoc. 2019 Oct 15. doi: 10.7556/jaoa.2019.121. [Epub ahead of print]. PMID: 31613309. | 31613309 |
| 2017 | Per Brolinson | Ekwueme EC, Mohiuddin M, Yarborough JA, Brolinson PG, Docheva D, Fernandes HAM, Freeman JW. Prolotherapy Induces an Inflammatory Response in Human Tenocytes In Vitro. Clin Orthop Relat Res. 2017 Aug;475(8):2117-27. PMID: 28451864. | 28451864 |
| 2017 | Per Brolinson | Fino PC, Becker LN, Fino NF, Griesemer B, Goforth M, Brolinson PG. Effects of Recent Concussion and Injury History on Instantaneous Relative Risk of Lower Extremity Injury in Division I Collegiate Athletes. Clin J Sport Med. 2017 Aug 16: Epub ahead of print. PMID: 28817411. | 28817411 |
| 2017 | Per Brolinson | Jones D, Brolinson PG, Patton S, Wong C. Hydrodissection of an Achilles Tendinopathy on a Professional Athlete. MOJ Orthopedics & Rheumatology. 2017 Apr 19;8(1). | |
| 2016 | Joseph Edison, Mark Rogers, Per Brolinson | Brolinson PG, Rogers M, Edison J. Functional and Kinetic Evaluation of the Hip and Pelvis. In The Hip and Pelvis in Sports Medicine and Primary Care 2nd Edition. Eds. Seidenberg PH, Bowen JD. Springer Media; New York, NY: 2016. | |
| 2016 | Per Brolinson | FIno PC, Nussbaum MA, Brolinson PG. Decreased high-frequency center-of-pressure complexity in recently concussed asymptomatic athletes. Gait Posture. 2016 Aug 26;50:69-74. | 27580081 |
| 2016 | Per Brolinson | Maerlender AC, Masterson CJ, James TD, Beckwith J, Brolinson PG, Crisco J, Duma S, Flashman LA, Greenwald R, Rowson S, Wilcox B, McAllister TW. Test-retest, retest, and retest: Growth curve models of repeat testing with Immediate Post-Concussion Assessment and Cognitive Testing (ImPACT). J Clin Exp Neuropsychol. 2016 Oct;38(8):869-74. | 27266563 |
| 2016 | Per Brolinson | Fino PC, Nussbaum MA, Brolinson PG. Locomotor deficits in recently concussed athletes and matched controls during single and dual-task turning gait: preliminary results. Journal of NeuroEngineering and Rehabilitation. 2016;13:65. DOI: 10.1186/s12984-016-0177-y. | |
| 2016 | Mark Rogers, Per Brolinson | Brolinson PG, Rogers M, Edison J.  Functional and Kinetic Chain Evaluation of the Hip and Pelvis. The Hip and Pelvis in Sports Medicine and Primary Care, 2nd Edition. [Eds. Seidenberg PH and Bowen JD.]  Springer Media: New York; 2016 Dec 16: p. 37-64. | |
| 2014 | Per Brolinson | Rowson S, Duma SM, Greenwald RM, Beckwith JG, Chu JJ, Guskiewicz KM, Mihalik JP, Crisco JJ, Wilcox BJ, McAllister TW, Maerlender AC, Broglio SP, Schnebel B, Anderson S, Brolinson PG. Can helmet design reduce the risk of concussion in football? Journal of Neurosurgery. 2014 Apr; 120(4):919-22. | 24484225 |
| 2014 | Mary Prater, Per Brolinson | Champion A, Goodwin T, Brolinson PG, Werre S, Prater M, Inzana T. Prevalence and characterization of methicillin-resistant Staphylococcus aureus isolates from healthy university student athlete. Annals of Clinical Microbiology and Antimicrobials. 2014 Aug 2; 13(1):33. | 25085442 |
| 2014 | Per Brolinson | Empson YM, Ekwueme EC, Hong JK, Paynter DM, Kwansa AL, Brown C, Pekkanen A, Roman M, Rylander MN, Brolinson PG, Freeman JW. High elastic modulus nanoparticles: a novel tool for subfailure connective tissue matrix damage. Translational Research. 2014 Sep; 164(3):244-57. | 24924347 |
| 2014 | Per Brolinson | Brolinson PG. Management of sport-related concussion: A review. Clinical Journal of Sports Medicine. 2014 Jan; 24(1):89-90. | 24366016 |
| 2013 | Per Brolinson | Beckwith JG, Greenwald RM, Chu JJ, Crisco JJ, Rowson S, Duma SM, Broglio SP, McAllister TW, Guskiewicz KM, Mihalik JP, Anderson S, Schnebel B, Brolinson PG, Collins MW. Head impact exposure sustained by football players on days of diagnosed concussion. . Med Sci Sports Exerc. 2013 Apr; 45(4):737-46. PMID: 23135363. | 23135363 |
| 2013 | Per Brolinson | Beckwith JG, Greenwald RM, Chu JJ, Crisco JJ, Rowson S, Duma SM, Broglio SP, McAllister TW, Guskiewicz KM, Mihalik JP, Anderson S, Schnebel B, Brolinson PG, Collins MW. Timing of concussion diagnosis is related to head impact exposure prior to injury. Med Sci Sports Exerc. 2013 Apr; 45(4):747-54. PMID: 23135364. | 23135364 |
| 2012 | Per Brolinson | McAllister TW, Flashman LA, Maerlender AC, Greenwald, RM Beckwith JG, Tosteson TD, Crisco JT, Brolinson PG, Duma SM, Duhaime AC, Grove MR, Turco JH. Cognitive effects of one season of head impacts in a cohort of collegiate contact sport athletes. Neurology. 2012 May 29; 78(22):1777-84. PMID: 22592370. | 22592370 |
| 2012 | Per Brolinson | Rowson S, Duma SM, Beckwith JG, Chu JJ, Greenwald RM, Crisco JJ, Brolinson PG, Duhaime AC, McAllister TW, Maerlender AC. Rotational head kinematics in football impacts: an injury risk function for concussion. Annals of Biomedical Engineering. 2012 Jan; 40(1):1-13. PMID: 22012081. | 22012081 |
| 2012 | Per Brolinson | Duhaime AC, Beckwith JG, Maerlender AC, McAllister TW, Crisco JT, Duma SM, Brolinson PG, Rowson S, Flashman LA, Chu J, Greenwald R. Spectrum of acute clinical characteristics of diagnosed concussions in college athletes wearing instrumented helmets. Journal of Neurosurgery. 2012 Dec; 117(6): 1092-9. PMID: 23030057. | 23030057 |
| 2011 | Per Brolinson | Freeman JW, Empson YM, Ekwueme EC, Paynter DM, Brolinson PG. Effect of prolotherapy on cellular proliferation and collagen deposition in MC3T3-E1 and patellar tendon fibroblast populations. Translational Research. 2011 Sep; 158(3): 132-9. PMID: 21867978. | 21867978 |
| 2010 | Per Brolinson | Crisco JJ, Fiore R, Beckwith JG, Chu JJ, Brolinson PG, Duma S, McAllister TW, Duhaime AC, Greenwald RM. Frequency and location of head impact exposures in individual collegiate football players. Journal of Athletic Training. 2010 Nov-Dec; 45(6):549-59. PMID: 21062178. | 21062178 |
| 2010 | Mark Rogers, Per Brolinson | Brolinson PG, Rogers M. Functional and kinetic chain evaluation of the hip and pelvis. In: The Hip and Pelvis in Sports Medicine and Primary Care. PH Seidenberg, JD Bowen, eds. New York, Springer, 2010; p. 37-69. | |