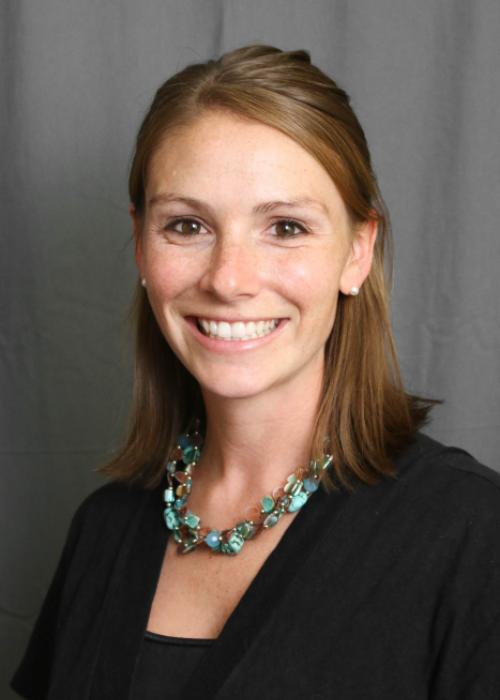 Alexis Stoner, PhD, MPH
Discipline Chair for Epidemiology, Community and Public Health and Preventive Medicine
Department/Discipline
:
Preventive Medicine and Public Health
Campus
: Carolinas
Alexis Stoner has a Bachelor's degree in Biology from Kenyon College, a Master's degree in Public Health from The Ohio State University, and recently earned a Ph.D. in Curriculum and Instruction – Instructional Design and Technology from Virginia Tech. During her Ph.D program, her dissertation explored incorporating mindfulness as an instructional strategy to enhance reflection within a situation learning environment. Currently, her research focuses on topics within medical education, along with developing public health initiatives across many areas to improve health outcomes among underserved populations. She is passionate about serving South Carolina in effort to improve community health. She currently resides is Belmont, North Carolina with her husband and two young children.
Education
| Year | Institution | Degree |
| --- | --- | --- |
| 2016 | Virginia Polytechnic Institute & State University | PhD - Curriculum and Instruction, Instructional Design and Technology |
| 2012 | The Ohio State University School of Public Health | MPH - specialization in Environmental Health Science |
| 2009 | Kenyon College | BA - Biology |
With a master's degree in public health and a doctorate in instructional design and technology, I have a unique expertise of knowledge and understanding of how to effectively design, implement, and evaluate educational interventions that will improve the health outcomes of populations. I have either been the lead investigator or participated in a wide variety of research studies including qualitative, quantitative, mixed methods, and also evaluation studies including quality assessment and quality improvement. Additionally, as a public health practitioner, I have the experience and knowledge of researching and addressing pertinent community health issues through both research and outreach efforts. Currently, my research interests and areas focus on incorporating mindfulness within medical education, community mental health issues, designing authentic learning experiences for undergraduate medical students, along with developing educational public health initiatives to improve health outcomes among underserved populations.
Activities
American Public Health Association
Association for Prevention Teaching and Research
Association for Education Communication and Technology
The Way to Wellville- Access to Care for the Uninsured Committee Co-chair
Selected Publications
| Year | Faculty | Citation | PMID |
| --- | --- | --- | --- |
| 2021 | Alexis Stoner, Natalie Fadel | West A, Cawley C, Crow E, Stoner AM, Fadel NM, Ford-Scales K, Cheng N. The Impact of an Educational Program on Medical Students' Knowledge and Awareness of Elder Abuse. Journal of Medical Education and Curricular Development. 2021 Jun 18;8. doi/full/10.1177/23821205211016487. | |
| 2021 | Edward Magalhaes, Alexis Stoner | Magalhaes E, Stoner A, Palmer J, Schranze R, Grandy S, Amin S, Cheng N. An Assessment of Mental Health Outcomes During the COVID-19 Pandemic.  Community Ment Health J. 2021 Jul 20. https://doi.org/10.1007/s10597-021-00876-9. | |
| 2018 | Alexis Stoner, Matthew Cannon | Stoner AM, Cannon M, Shan L, Plewa D, Caudell C, Johnson L. The Other 45: Improving patients' chronic disease self-management and medical students' communication skills. JAOA. 2018 Nov;118:703-712. PMID: 30398568. | 30398568 |
| 2018 | Alexis Stoner | Alfonso G, Keller D, Eckman C, Hass J, Stoner AM, Ables AZ, Rovito MJ. Psychosocial components of concussion reporting among adolescent athletes. Osteopathic Family Physician. 2018 Jul;10(4):10-15. | |
| 2018 | Alexis Stoner, Hanna Sahhar | Freud K, Caroll H, Von Harten E, Stoner A, Sahhar H.  PLAY - Promoting Lifelong Activity in Youth - an Osteopathic Approach to Engage Children in Physical Activity While Incorporating Step Tracking Devices. eJournal of the American College of Osteopathic Pediatricians. 2018 Winter-Spring; 10(2). | |
| 2017 | Alexis Stoner, Hanna Sahhar | Martin A, Harrison B, Sahhar HS, Stoner A. Continuing to PLAY (Promoting Lifelong Activity in Youth). An Osteopathic Approach to Preventing Childhood Obesity. eJournal of the American College of Osteopathic Pediatricians. 2017 Fall; 10(1). | |
| 2016 | Alexis Stoner, Matthew Cannon | Martingano D, Cannon MD, Williams S, Stoner A.  An Osteopathic Approach to the Treatment of Ovarian Cancer. Osteopathic Family Physician. 2016;8(1):42-50. | |
| 2015 | Teresa R Johnson, Alexis Stoner, Matthew Cannon | Prater R, Johnson TR, Stoner AM, Cannon MD, Sriranganathan N. Animals, Humans and the Environment in the Epidemiology of Chikungunya Virus [case study]. AAVMC/APTR. 2015: http://www.aavmc.org/One-Health/Case-Studies.aspx. | |
| 2014 | Alexis Stoner | Fletcher EN, Whitaker RC, Marino AJ, Anderson SE. Screen time at home and school among low-income children attending Head Start. Child Indicators Research. 2014 Jun;7(2):421-36. | 24891924 |
| 2013 | Alexis Stoner | Stoner AM, Anderson SE, Buckley TJ. Ambient air toxics respiratory risk and asthma prevalence among US kindergarten age children. PLoS One. 2013 Sep 18;8(9):e75176. | 24058662 |
| 2012 | Alexis Stoner | Marino, AJ, Fletcher, EN, Whitaker, RC, Anderson, SE. Amount and environmental predictors of outdoor playtime at home and school: a cross-sectional analysis of a national sample of preschool-aged children attending Head Start. Health and Place. 2012 Nov; 18(6):1224-30. PMID: 23000895. | 23000895 |