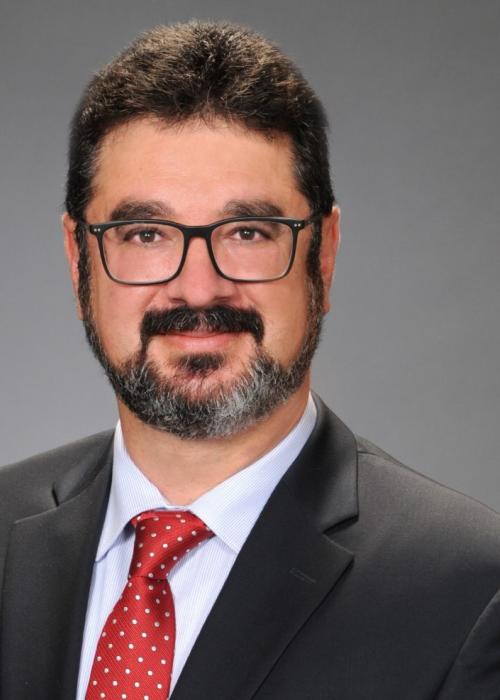 Hanna Sahhar, MD, FAAP, FACOP
Discipline Chair for Pediatrics
Department/Discipline
:
Pediatrics
Campus
: Carolinas
Download CV
Dr. Sahhar received his medical degree from the University of Mosul in Mosul, Iraq. He completed his Pediatric residency and Pediatric Critical Care fellowship at Advocate Hope Children's Hospital in Oak Lawn, IL. He is board certified in both general pediatrics and the subspecialty of pediatric critical care medicine. Dr. Sahhar also holds certification in Pediatric Flexible Fiberoptic Bronchoscopy. He is a member of the American Academy of Pediatrics (AAP), Council on Medical Student Education in Pediatrics (COMSEP), and American College of Osteopathic Pediatricians (ACOP). Dr. Sahhar is currently the Medical Director of Pediatric Intensive Care Unit and the Chairman of the Department of Pediatrics at Spartanburg Regional Healthcare System. Dr. Sahhar holds an academic degree as Professor of Pediatrics at the Medical University of South Carolina AHEC and is a Discipline Chair of Pediatrics at Edward Via College of Osteopathic Medicine - Carolinas Campus.
As an active researcher and investigator for the last 21 years, my focus is always on translational clinical research and projects. From a single case report of discovering an association between a virus and a disease to observational large number of patients studied for many years to evaluate efficacy and safety of treatment or therapy modality. My research categories are: Single Case Reports/rare and unique case presentation (e.g. hMPV and Pertussis-Like Syndrome); Multiple Case Studies/Descriptive Research (e.g. Silver Russell Syndrome); Retrospective/Chart Review/Quantitative Research (e.g. Diabetic Ketoacidosis); and Prospective/Randomized Control Trials (e.g. Heliox Therapy). Other research studies include Community focus/health promotion (e.g. PLAY Program); Medical innovation (e.g. Lumbar Puncture Assist Tool); and Educational studies (e.g. Pre-Clinical Experience).
My main role in any project is being a mentor to the medical students. Every project starts with an idea; a thesis to be examined and investigated. The assigned students will research the thesis and perform the literature review. When the thesis is deemed valuable and applicable, then a purpose of the research will be defined with the main aim to answer the main research question. I put together the main frame for the study design and the students initiate the study starting with the Institutional Review Board (IRB) application when required. Once approved, the study will be launched starting with data collection performed by the students. Once completed, a biostatistician will input the data and produce the results. A team meeting, including myself, the students and the biostatistician, will be convened to review the results and analyze its reproducibility. Once valid, the study abstract and poster will be generated and presented by the students at the college annual research meeting as well at a national conference, such as ACOP and AOA/OMED. Feedback from the experts will be summarized and the final study manuscript will be prepared for submission to a scientific journal for final publication.
Research is rewarding, but it requires patience, dedication, and time allocation. As an example, in one calendar year I conducted 15 pediatric clinical research projects involving more than 20 VCOM medical students. The average amount of time I invested at the different steps of those projects was 15 hours per week. I have completed 100 research projects since the 2012 opening of the VCOM Carolinas campus, and I am currently mentoring 34 VCOM students across 19 active research projects.
Selected Publications
| Year | Faculty | Citation | PMID |
| --- | --- | --- | --- |
| 2022 | Hanna Sahhar | Sahhar HS, Basch RE, Downes K. EBV Positive Kawasaki Disease with False Positive SARS Antibodies in the Age of COVID-19 Pandemic. Clin Pediatr. 2022;7(3):208. DOI: 10.35248/2572-0775.22.7.208. | |
| 2022 | Hanna Sahhar | Sahhar HS, Bohn K, Capotosti M. Group A Streptococcal Infection Potentially Triggering Kawasaki Disease in a Two-Year-Old African American Female. Clin Pediatr. 2022;7(3):210. DOI: 10.35248/2572-0775.22.7.210. | |
| 2022 | Hanna Sahhar | Kabo AA, Kenan WO, Kancharla A, Sahhar HS. Human Metapneumovirus associated with Syndrome of Inappropriate Antidiuretic Hormone (SIADH). ACOP-eJournal. 2022 Spring-Summer;14(1).  | |
| 2022 | Hanna Sahhar | Sahhar HS, Bailey L, Rubin E. Atypical Antidepressant Toxidrome: a case report and a proposed new toxicity syndrome.  Clin Pediatr. 2022;7(7):218.  DOI:  10.35248/2572-0775.22.7.218. | |
| 2022 | Hanna Sahhar | Sahhar HS, Lor MS, Bailey L. Atypical Antipsychotic Toxidrome: a case report and a proposed new toxicity syndrome.  Clin Pediatr. 2022;7(5):220.  DOI:  10.35248/2572-0775.22.7.220. | |
| 2021 | Hanna Sahhar | Driscoll HC, Quigley M, Turner K, Sahhar HS. A Retrospective Analysis of the Impact of FilmArray Respiratory Panel Utilization on the Management of Pediatric Influenza. Clin Pediatr. 2021 Jan;6(1):169. doi: 10.35248/2572-0775.21.6.169. | |
| 2021 | Hanna Sahhar | Sahhar HS, Turner K, Raffler E, Luck D, Straka S, Vasilakos D. A Retrospective Analysis of Human Parainfluenza Virus in the Pediatric Population. Clin Pediatr. 2021 Mar;6(2):176. | |
| 2021 | Hanna Sahhar | Sahhar HS, Derwitz K, Rubin E.  Multisystem Inflammatory Syndrome in an Infant with Negative SARS-CoV-2 RT-PCR and Antibodies. Osteopathic Family Physician. 2021 May/Jun;13(3). doi: https://doi.org/10.33181/13036. | |
| 2021 | Hanna Sahhar | Sahhar HS. Aeromonas hydrophila and Klebsiella pneumoniae Septic Arthritis in a Pediatric Patient. ACOP-eJournal. 2021 Summer;13(2). | |
| 2021 | Hanna Sahhar | Donaldson ME, Hernandez KM, Sahhar HS. Respiratory Syncytial Virus (RSV) associated with Syndrome of Inappropriate Antidiuretic Hormone (SIADH) in Pediatric Patients A Case Report. ACOP-eJournal. 2021 Summer;13(2). | |
| 2021 | Hanna Sahhar | Derwitz K, Sahhar HS, Ward K.  A Pediatric Case of Orbital Cellulitis with Pansinusitis and Subperiosteal Abscess. Osteopathic Family Physician. 2021 Sep/Oct;13(5). doi: https://doi.org/10.33181/13051. | |
| 2020 | Hanna Sahhar | Quigley M*, Driscoll HC*, Sahhar HS. Treatment and Medical Management of Infants with Bronchiolitis: Effect of Pathway Implementation on Length of Hospital Stay and Transfer Rate to Critical Care. Clinical Pediatrics: Open Access. 2020;5(2). DOI:10.35248/2572-0775.20.5.165. | |
| 2020 | Hanna Sahhar, Ronald Januchowski | Reynolds C, Januchowski R, Sahhar H.  Rash on a Child. Osteopathic Family Physician. 202 May/Jun;12(3). doi: https://doi.org/10.33181/12034. | |
| 2019 | Hanna Sahhar | Hyser E, Sahhar HS, Woollen C. Modified Whipple on an 18-month-old with traumatic pancreatic transection and duodenal rupture. Trauma Case Rep. 2-19 Aug 29;23:100241. PMID: 31517015.  | 31517015 |
| 2019 | Hanna Sahhar | Sahhar HS, Reynolds C. Measles in an Infant [case report]. eJournal of the American College of Osteopathic Pediatricians. 2019 Spring; 11(2). | |
| 2019 | Sami Rishmawi, Hanna Sahhar | Fisher L, Hass J, Hernandez L, Martin A, Rishmawi S, Sahhar H. Effectiveness of continuous nebulization treatment of bronchodilation in patient admitted to PICU diagnosed with acute bronchiolitis.eJournal of the American College of Osteopathic Pediatricians. 2019 Summer;11(3). | |
| 2019 | Hanna Sahhar | Carroll-Driscoll H, Quigley M, Turner K, Sahhar H. Retrospective analysis of the impact of FilmArray respiratory panel utilization on the management of pediatric influenza cases. eJournal of the American College of Osteopathic Pediatricians. 2019 Summer;11(3). | |
| 2018 | Alexis Stoner, Hanna Sahhar | Freud K, Caroll H, Von Harten E, Stoner A, Sahhar H.  PLAY - Promoting Lifelong Activity in Youth - an Osteopathic Approach to Engage Children in Physical Activity While Incorporating Step Tracking Devices. eJournal of the American College of Osteopathic Pediatricians. 2018 Winter-Spring; 10(2). | |
| 2018 | Hanna Sahhar | Farber-Bland S, Barcroft M, Hughes A, Turner K, Sahhar H. A retrospective analysis of the impact of FilmArray respiratory panel utilization on the management of pediatric asthma exacerbations. eJournal of the American College of Osteopathic Pediatricians. 2018 Winter-Spring; 10(2). | |
| 2017 | Alexis Stoner, Hanna Sahhar | Martin A, Harrison B, Sahhar HS, Stoner A. Continuing to PLAY (Promoting Lifelong Activity in Youth). An Osteopathic Approach to Preventing Childhood Obesity. eJournal of the American College of Osteopathic Pediatricians. 2017 Fall; 10(1). | |
| 2017 | Hanna Sahhar | Turner M, Wright A, Sahhar H. Does Pre-Clinical Pediatric Experience Improve Competence and/or Confidence in Performance During 3rd Year Pediatric Rotations? eJournal of the American College of Osteopathic Pediatricians. 2017 Fall; 10(1). | |
| 2017 | Hanna Sahhar | Hyser E, Alkhoury Y, Woollen C, Sahhar H. Modified Whipple on a 2-Year-Old Child with Pancreatic Transection and Duodenal Rupture Following a Motor Vehicle Accident.eJournal of the American College of Osteopathic Pediatricians. 2017 Fall; 10(1). | |
| 2017 | Sami Rishmawi, Hanna Sahhar | Cummings-Johnson P, Patel J, Rishmawi S, Alkhoury Y, Sahhar H.  Infectious Mononnucleosis in a 17-month-old male manifesting as persistent fever, lymphocytosis, lymphadenopathy, bilateral otitis media, and unilateral facial palsy. eJournal of the American College of Osteopathic Pediatricians. 2017 Fall; 10(1). | |
| 2017 | Hanna Sahhar | Sahhar HS, Barcroft M, Farber S. Human Metapneumovirus Causing Pertussis-like Syndrome. Clin Pediatr 2017; 2(4). DOI: 10.4172/2572-0775.1000124 | |
| 2016 | Hanna Sahhar | Mains ND, Sahhar HS. Bronchiolitis obliterans organizing pneumonia (BOOP) in a 12 year-old adolescent male. ACOP-eJournal. 2016 Spring;7(6). | |
| 2015 | Sami Rishmawi, Hanna Sahhar | Sahhar H, Cantrell K, Myles D, Rishmawi S. Effectiveness of Heliox as adjunct therapy with HFNC in children with respiratory distress [abstract]. Critical Care Medicine. 2015 Dec;43(12 Suppl.):182-3. | |
| 2015 | Hanna Sahhar | Sahar NH, Lusher E, Monaghan SB, Sahhar HS. Salmonella Schwarzengrund-Induced Meningitis and Septicemia in a Seven-Week-Old Infant. ACOP-eJournal. 2015 Spring;7(3). | |
| 2015 | Hanna Sahhar | Tyson A, Sahhar H, Duncan S, Wahlstrom AA. New Insight to the Cause of Oculo-Auriculo-Vertebral Spectrum [case report]. eJournal of the American College of Osteopathic Pediatricians. 2015 Summer; 7(4). | |
| 2015 | Hanna Sahhar | Barnhardt E, Gancar J, Gantan E, Keith M, Killingsworth J, Myles D, Cantrell K, Rishmawi S, Meisha D, Sahhar HS. Effectiveness of Heliox as adjunct therapy with High Flow Nasal Cannula (HFNC) in Children with Respiratory Distress. eJournal of the American College of Osteopathic Pediatricians. 2015 Summer;7(4). | |
| 2015 | Hanna Sahhar | Alba J, McGuire E, Steed R, Sahhar HS. Comparison and Evaluation of Immunofluorescence Assay and Polymerase Chain Reaction methods in detecting Respiratory Viruses in Pediatric Patients. Journal of the American Osteopathic Association. 2015 Dec;115(12):e104. | |
| 2015 | Hanna Sahhar | Ivanoff E, Budidi S, NeSmith B, Turner K, Steed R, Sahhar HS. Assessment of Respiratory Syncytial Virus Hospitalizations Following Implementation of Updated Palivizumab Treatment Recommendations. Journal of the American Osteopathic Association. 2015 Dec;115(12):e84. | |
| 2014 | Hanna Sahhar | Gupta S, Sahhar HS.  Permissive hypercapnia:  An acceptable prevention of ventilator-associated acute inhalation injury in the presence of carbon monoxide poisoning and acute lung injury secondary to smoke inhalation.  ACOP eJournal. 2014 Spring;6(3). | |
| 2014 | Hanna Sahhar | Howard AC, Sahhar HS.  Henoch-Schönlein purpura (HSP) in a 44-day-old female infant. ACOP-eJournal. 2014 Summer;6(4). | |
| 2014 | Hanna Sahhar | Bowling A, Drumm S, Fultz J, Iari A, Haughey B, Reeves M, Siddiqui H, Snapp M, Sahar N, Cantrell K, Meisha DE, Sahhar HS. The efficacy and comparison of non-invasive mechanical ventilation (NIV) with high flow nasal cannula (HFNC) therapy in management of severe respiratory distress in infants [abstract]. ACOP eJournal. 2014 Spring; 6(3). | |
| 2014 | Hanna Sahhar | Drumm S, Bowling A, Fultz J, Iari A, Haughey B, Reeves M, Siddiqui H, Snapp M, Sahar N, Cantrell K, Meisha DE, Sahhar HS. Comparison of invasive mechanical ventilation with non-invasive ventilatory support modalities in management of severe respiratory distress in infants [abstract]. ACOP eJournal. 2014, Spring; 6(3). | |
| 2014 | Sami Rishmawi, Hanna Sahhar | Samies N, Sharma E, Gerstenacker D, Rishmawi S, Sahhar HS. Kawasaki disease: Do early diagnosis and treatment improve outcome and prevent complications? The Journal of the American Osteopathic Association. 2014 Jan;114(1):e18.8. | |
| 2013 | Hanna Sahhar | Barrick CJ, Thompson MM, Sahhar HS. Bordetella bronchiseptica in an immunocompetent infant with no known animal exposure later diagnosed with autism spectrum disorder: A case report. ACOP-eJournal. 2013 Spring;5(3). | |
| 2013 | Hanna Sahhar | Turner H, Taylor M, Sahhar HS. Severe interstitial lung disease (ILD) in an infant with respiratory syncytial virus (RSV) Infection: A case report. ACOP-eJournal.  2013 Fall;6(1).  | |
| 2012 | Hanna Sahhar | Hays J, Sahhar HS. HELIOX: help or hindrance? The use of Heliox in the pediatric ICU setting. ACOP-eJournal [internet]. 2012; 4(4). Available from: http://www.acopeds.org/acop-ejournal-archive/ | |
| 2012 | Hanna Sahhar | Sahhar HS, Cantrell K. A sticky situation: Type I (inflammatory) plastic bronchitis in infant treated with aerosolized tissue plasminogen activator: a case report. ACOP eJournal [internet]. 2012; 4(3). | |
| 2012 | Hanna Sahhar | Sahhar H, Steffensen C, Sukpraprut S, Zeb M, Jaimovich D. Prospective, randomized comparison of continuous nebulized racemic- albuterol with levalbuterol in pediatric patients [abstract]. 56th Annual AOA Research Conference Abstracts, 2012. J Am Osteopath Assoc. 2012 112(8):548. Abstract no. C28. | |