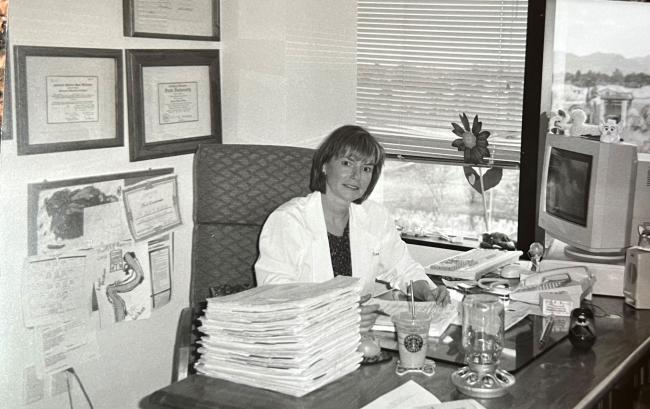 Kirksville, Missouri, is familiar to anyone who studies osteopathic medicine because it is the home of A.T. Still University, the first osteopathic medical school. But that isn't the town's only claim to fame! It is also home to Jan Willcox, DO, FAOCFP-dist., longtime dean of the VCOM-Virginia campus and one of the longest serving VCOM faculty members.
Dr. Willcox grew up on a farm and attended a two-room country school just outside of Kirksville. Perhaps it isn't all that surprising that she pursued a career in medicine; not only did she live in the birthplace of osteopathic medicine, but she was also the granddaughter of an allopathic physician, Cassius Marcellus Clay Willcox, MD. Although he was 40 years younger than Andrew Taylor Still, the founder of osteopathic medicine, they would have practiced medicine in Kirksville at the same time. Dr. CMC Willcox founded Willcox Drug Store on the square in Kirksville and his son, Mark C. Willcox, owned and operated the Drug Store for many years.
"As small business owners, my parents were at the store a lot and my brothers and I spent a lot of time there," Dr. Willcox recalls. "That made me comfortable being around people with a variety of backgrounds. Back in the day, people would come from more rural areas to the square on Saturday morning to shop and socialize. I was also in 4-H, which was formative in helping me discover my interests in projects, competitions, and presentations."
Dr. Willcox knew very early that she wanted to be a D.O. When she was 16, her first job was as a lab technician at the local hospital where she was born and later did her first clinical rotations. "I loved working in the hospital and seeing patients," she says. "The doctors were osteopathic physicians and I had so many wonderful role models. I enjoyed the challenges and the interactions."
My greatest female role model is my mom, Meredith, who still lives independently on the family farm down the road from the two-room country school I attended.
Women in medicine and professional leadership roles were uncommon in those days. However, Dr. Willcox was fortunate to know a few women in those roles. The director of the lab where she worked was a woman who served as the anesthesiologist. That physician, Grace Sawyer, DO, instilled pride in professionalism and duty in medicine. Dr. Willcox's family physician was also a woman. Strong female role models helped give the young Willcox confidence in the path she chose. "There were very few women in math and science, and other students would always be surprised that I was in science," she says, "but that's what I enjoyed the most." She was good at it too, graduating early from her undergraduate program at Truman State University in Kirksville where she majored in biology and education while continuing her work at the hospital.
There were 20 women in her class at A.T. Still University - KCOM, but that was the first time there had been more than one or two, Dr. Willcox remembers. In those days there was a concern that a female might be taking the seat of a male who would be a more productive physician. "There were so many times when physicians presenting in class, and particularly on rotations, didn't have much experience with women being in this role." It was even difficult at first for her to find a place to change into scrubs. Despite the challenges, Willcox remembers having wonderful mentors—both male and female. "They supported the choices I was making and took me under their wings," she says. "On an early third-year rotation, the surgeon who delivered me at birth, Earl Laughlin, DO, called me in to assist in an appendectomy the first night of the rotation. It was an exciting start to my clinical experiences."
After postgraduate training, Dr. Willcox opened her solo family medical practice in Jenks, Oklahoma. Early in her practice, patients were uncertain if they wanted to see a female physician. In response, she grew her practice by serving as team physician for the middle school football team in Jenks, moonlighting in the emergency room in Tulsa, providing osteopathic manipulation to local construction workers and rodeo cowboys and providing care at the local nursing home. She authored medical advice columns in the local newspapers: "House Calls" in the Jenks Journal and "Ask Dr. Jan" in the Glenpool Gusher. She practiced there for 8 years and also served as clinical education supervisor of geriatric medicine at Oklahoma State University College of Osteopathic Medicine. Then, she and her husband moved to Phoenix, Arizona, where she worked in small family practice offices and larger multi-specialty practices. But one thing was consistent throughout those early years of her career: She consistently mentored medical students. "I see it as a debt we owe as physicians, as we were given opportunities by our own mentors," she says. "I have always seen that quality in physicians who teach at VCOM. They are committed to that service because they feel like they are giving back and supporting the future."
In 2002, Dr. Willcox was working as the regional dean for Kirksville College of Osteopathic Medicine (KCOM) in Arizona. She worked with Dixie Tooke-Rawlins, DO, FAOCFP, who was dean at KCOM, and both were KCOM alumni. Dr. Rawlins introduced her to John G. Rocovich, JD, LLM, the College's board chair and founder and James F. Wolfe, PhD, who became VCOM's first president. Rocovich and Wolfe were looking for talented administrators for their new osteopathic medical college in Blacksburg and asked Dr. Willcox to join them. Dr. Willcox was moved by VCOM's vision to educate community-focused physicians who would provide care to the underserved. "I really loved the mission, and I knew that this would be something special," she says. "I've always felt that VCOM has had so many wonderful opportunities because we've always stayed true to this mission."
Dr. Willcox was on campus in 2002, even before the first students arrived, having joined the faculty as the associate dean for clinical affairs and research. In that role, she worked on the development of the College's curriculum, built relationships with hospitals to develop core teaching sites, recruited physicians and worked with administrative and community support systems in preparation for students moving to those communities for their third and fourth years of medical school.
The work wasn't easy. One of the biggest challenges she faced, particularly in those early years, was that there were so few DOs in Virginia. "People didn't understand our training and that we practice the full scope of medicine," she recalls. Even so, she didn't have any trouble finding physicians in the area to help teach students. "What I found was that there were many physicians, even in the more rural communities, who had such a wealth of knowledge, many of whom had taught previously, and they really wanted to share that knowledge, build the future in their communities and be connected to medical education."
In 2014, Dr. Willcox was promoted to dean of the VCOM-Virginia campus. The dean of the Virginia campus serves as the academic and administrative leader for the campus, coordinating all academic functions within the medical school. The dean works with individuals and committees within the campus and serves in partnership with the academic deans of the other campuses of the College. This is under the direction of the president, provost and advisory board. The dean directs, guides and provides mentorship to the associate deans and faculty members. Following policy, the dean administers the approved budget.
During her time as dean, no two days were alike for Dr. Willcox. Some days you could find her on a site visit for a potential new core site for the college. Sometimes you would find her teaching VCOM's professional ethics course, one of the first classes a student takes when they arrive. Sometimes she taught osteopathic manipulation on a VCOM local or international medical mission. But at the center of her job was always the students at VCOM. She was and remains committed to providing them with learning opportunities and support so that they will become the very best physicians they can be. "I love seeing students achieve their dreams, match with their desired medical specialty, and see them later in their practice doing what they said they wanted to do in their personal statement for medical school." She says. "That's my absolute favorite thing."
Dr. Willcox is grateful for the opportunity to work within VCOM's warm community. "I actually miss the people I work with when I'm traveling," she says. "We are so fortunate to have the support we have from the board of directors and each person of the faculty and staff, including our community of standardized patients who model clinical presentations and recognize the role they play in developing our future physicians."
Through the last two decades, Dr. Willcox has never lost her passion for VCOM's mission. She truly enjoys the outreach aspect of the VCOM experience, whether that is rural Appalachian outreach or international outreach. On campus, students practice what they have learned in class on other students, who are generally healthy. Outreach experiences give them a chance to see real patients for the first time—with supervision, of course—and find that there are so many things they can do to help them. "I've seen so many times where students realize they have gained more knowledge than they thought they would. I love those aha moments. Being able to see and talk to an individual who is living with a health issue they have been studying provides relevance and solidifies the knowledge" Dr. Willcox observes.
Throughout her career, Dr. Willcox has been a committed leader within the osteopathic medicine profession. She has been a member of organizations including the likes of the American Osteopathic Association (AOA), the Virginia Osteopathic Medical Association (VOMA), the Medical Society of Virginia (MSV), the Commission on Osteopathic College Accreditation (COCA), the Osteopathic International Alliance (OIA) and the American College of Osteopathic Family Physicians (ACOFP), just to name a few. Not only has she been a member of many organizations, but she has also held leadership positions in those organizations, including the board of directors for VOMA, MSV and the OIA. In fact, her exemplary leadership led her to be recognized as the Outstanding Female Leader for 2020 by the ACOFP.
Whether formal or informal, the responsibility of leadership has always been integral to her view of the role of a medical practitioner. "When I was in clinical practice, I always took on leadership responsibility in the hospitals I was working in because it was an opportunity to make an impact on the quality of care for the patients and the collegiality of knowing the other physicians in your community," Dr. Willcox says.
Now, after more than 20 years, Dr. Willcox has decided to change things up. She is stepping away as the VCOM-Virginia dean, but she's not leaving the VCOM family. In fact, she will be devoting time to what she loves best about VCOM: working on special projects and additional international experiences for VCOM students. We're profoundly grateful to Dr. Willcox for her commitment and contributions to VCOM and its students and we look forward to sharing this new chapter with her.
We're glad to welcome Dr. Ronald Januchowski as VCOM-Virginia's new dean.