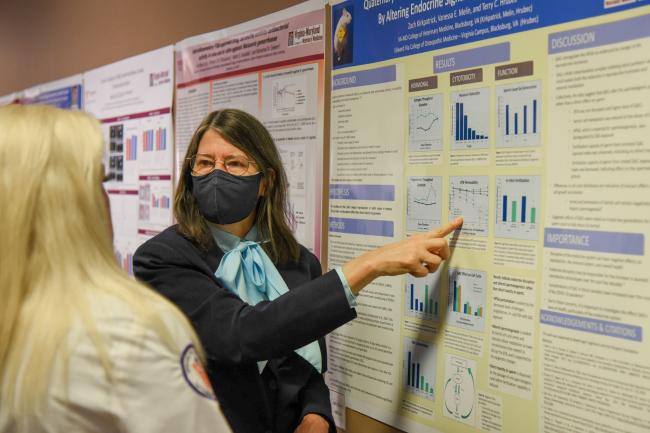 Research breaks down barriers to understanding and can change the world, which is why VCOM was founded as a research-oriented osteopathic institution and why it is a critical part of the VCOM experience for many students. In fact, research is a key part of VCOM's mission: promoting research to improve human health.
On Feb. 23, VCOM-Virginia celebrated its 18th annual Research Recognition Day, a celebration of the research being done by members of the VCOM community, but also research being done around the region. This year's event featured more than 150 research projects from students and other researchers at VCOM, but also included work from researchers at Virginia Tech, Liberty University and the Virginia-Maryland College of Veterinary Medicine.
The types of research presented during the event were incredibly diverse, including biomedical, clinical, education and simulation and public health research topics. Osteopathic Manipulative Medicine (OMM) research was also prominently featured. There was research on topics like diabetes and cancer, both of which impact people around the world and across demographic categories. The research into those conditions, however, explored not only potential new therapies, but also the ways in which health inequities cause these conditions to impact some communities more than others. Such research is particularly relevant given VCOM's focus on rural and medically underserved populations.
Unsurprisingly, given VCOM's expertise in sports medicine, many of the students researched the wide variety of injuries than can affect athletes of all ages. Several projects explored the impact of opioids. Other research explored the social implications of medical challenges, including the impact of e-cigarettes among high school students, the impact of nutrition on different conditions and diseases, the impact of demographic issues like race, gender and geographic location on COVID-19 outcomes.
During his remarks at the event, Gunnar Brolinson, vice provost for research for VCOM, noted that the state of research at VCOM is incredibly strong. VCOM had research expenditures of more than $10.6 million in FY2022, a 16% increase over the previous year. There are 40 active research projects with extramural grants and 28 projects that are VCOM-funded. The College has more than $12 million in pending research applications. Seventy-five students across all four campuses are listed as contributing authors on publications in peer-reviewed journals, which is a key part of securing competitive residencies.
Joining the event as the keynote speaker was Dr. Adrienne Kania, DO, who has more than 30 years of experience in the osteopathic profession. She is currently division chief of OMM at the Burrell College of Osteopathic Medicine in Las Cruces, New Mexico. "Why do we do research?" she asked as she began. "To answer questions. To understand processes. To assess efficacy of treatment. To further knowledge in a particular topic. And to get a better residency," she answered. She observed that researchers must respond to problems—like pandemics, for instance—and be open to serendipity because questions posed as part of one research query often lead to new avenues for research.
Research Recognition Day is also a chance to recognize the campus's Researcher of the Year. This year's winner of that award was Dr. Hope Tobey, associate professor of OMM and pediatrics, who was honored because of her active research program with proven output. Her research successfully leverages both internal and external funding and actively engages students.