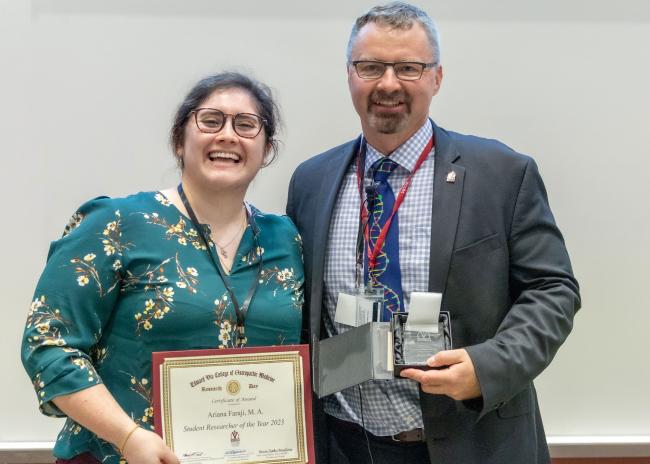 Founded as a research-oriented osteopathic medical school, the Edward Via College of Osteopathic Medicine (VCOM) has a long-standing tradition of hosting annual Research Day events on each of its campuses. As the newest of the four campuses, VCOM-Louisiana held their inaugural Via Research Recognition Day on Friday, April 14, 2023.  
A key tenet of VCOM's mission, and one of the College's five main goals, is to advance scientific knowledge through biomedical, clinical and educational research. Via Research Recognition Day offers a forum for health professionals and scientists in academic institutions, teaching hospitals and practice sites to present their research and benefit from new innovations and programs that will improve the health of all humans. By attending the sessions with the speakers, participants have the opportunity to learn cutting-edge information in the physiological bases for the efficacy of osteopathic manipulative therapy, new trends in physician-based research networks and how to develop innovative research projects that have the potential for high impact on human health. Poster sessions allow participants to learn about the biomedical, clinical and educational research activities at VCOM and its partner institutions.
VCOM-Louisiana's inaugural Research Recognition Day featured messages from plenary speaker P. Gunnar Brolinson, DO, FAOASM, FAAFP, FACOFP, vice provost for research at VCOM; and keynote speakers Jeremy P. Kamil, PhD, associate professor of microbiology and immunology for LSU Health Sciences Center Shreveport, and Jorge E. Alvernia-Silva, MD, FAANS, American Board certified neurosurgeon for Brain and Spine Associates, LLC. Dixie Tooke-Rawlins, DO, FACOFP, president and provost for VCOM; Mark A. Sanders, DO, JD, MPH, LLM, MS, FACOFP, FACLM, dean for VCOM-Louisiana; and Pawel Michalak, PhD, associate dean for biomedical affairs and research for VCOM-Louisiana served as program moderators for the event.
A total of 55 posters were submitted to the poster session held during Via Research Recognition Day. The posters were divided into five categories for judging: biomedical research, clinical and case studies, COVID-19 and epidemiology, education research and pharmacology. The top three posters in each category received recognition during the awards ceremony.
Also presented during the ceremony were two campus-specific awards intended to recognize one faculty member and one student for their exceptional contributions to research at VCOM-Louisiana. Zakaria Abd Elmageed, PhD, pharmacology faculty for VCOM-Louisiana, was named Faculty Researcher of the Year and Ariana Faraji, third-year osteopathic medical student at VCOM-Louisiana, was named Student Researcher of the Year.
Winners by category were:
Biomedical Research:
1st Place:
INVESTIGATING THE ROLE OF INTERNALLY TRANSCRIBED SPACERS OF RIBOSOMAL RNA IN VIRAL INFECTIONS
Ariana E. Faraji, Class of 2024; Kasia Michalak, MS; Lin Kang, PhD; Stephen DiGiuseppe, PhD; Pawel Michalak, PhD
Edward Via College of Osteopathic Medicine, Monroe, Louisiana
 
2nd Place:
AMYLOID PRECURSOR PROTEIN MODULATES INFLAMMATORY RESPONSE TO PSEUDOMONAS AERUGINOSA INFECTION
Stephanie Torres, Class of 2024; Rebekah L. Morrow, PhD; Olivia Bee, Class of 2025; Sarah Voth, PhD; K. Adam Morrow, PhD
Edward Via College of Osteopathic Medicine-Louisiana, Monroe, Louisiana
 
3rd Place:
ALTERED NUCLEAR LOCALIZATION OF PULMONARY ENDOTHELIAL EXPRESSED TAR DNA-BINDING PROTEIN 43 IN RESPONSE TO PSEUDOMONAS AERUGINOSA INFECTION
Olivia B. Bee, Class of 2025; Rebekah L. Morrow, PhD; Stephen DiGuiseppe, PhD; Sarah B. Voth, PhD; K. Adam Morrow, PhD
Edward Via College of Osteopathic Medicine-Louisiana, Monroe, Louisiana
 
Clinical and Case Studies:
1st Place:
A RARE CASE OF IATROGENIC CARDIAC R ON T PHENOMENON
Mihir Patel, Class of 2024; Rakin Areef, Class of 2024; Prajwal Shreedar, MD
Willis Knighton Health Systems
 
2nd Place:
A CASE OF PRIMARY MALIGNANT CARDIA MYXOFIBROSARCOMA
Mihir Patel, Class of 2024; Saloni Savani, MD; Arpita Pawa, MD
Willis Knighton Health Systems
 
3rd Place:
CARDIAC EMERGENCY: ACUTE SADDLE PULMONARY EMBOLISM, INTRAMURAL HEMATOMA, AND AORTIC ANEURYSM WITH DISSECTION
Ahmad Fouad Chaban, Class of 2024; Eric Thomas, MD; Zakaria Y. Abd Elmageed, PhD
Edward Via College of Osteopathic Medicine-Louisiana, Monroe, Louisiana; Willis-Knighton Medical Center, Shreveport, Louisiana
 
COVID-19 and Epidemiology:
1st Place:
IDENTIFYING SITE-SPECIFIC MUTATIONS THAT INCREASE SARS-COV-2 VIRULENCE USING SELECTIVE SWEEP ANALYSIS
Juan Guerra, Class of 2025; Kasia Michalak, MSc; Ariana Faraji, Class of 2024; Delaney Yu, Class of 2025; Anas Kashif, Class of 2025; Nora Rady, Class of 2025; Lin Kang, PhD; Pawel Michalak, PhD; Stephen DiGiuseppe, PhD
Edward Via College of Osteopathic Medicine, Monroe, Louisiana
 
2nd Place:
NEW-ONSET NEPHROTIC SYNDROME WITH CONCURRENT COVID-19 INFECTION IN A PEDIATRIC PATIENT
Marvin Mata, MD, MSHS-HCQ, CPHQ, CPPS, FAAP; Christina Rubio, Class of 2024; SaiSwetha Narla, Class of 2024
Rapides Regional Medical Center; Edward Via College of Osteopathic Medicine-Louisiana
 
3rd Place:
SCREENING DIVISION I ATHLETES FOR DEPRESSION DURING THE COVID-19 PANDEMIC
Amanda Wright, Class of 2024; Jacob Turnbull, DO
Edward Via College of Osteopathic Medicine-Louisiana; University of Louisiana Monroe Athletic Department
 
Education Research:
1st Place:
EDUCATIONAL INTERVENTIONS IMPROVE ULTRASOUND ANATOMY IDENTIFICATION IN PRECLINICAL MEDICAL STUDENTS
Shelby Deynzer, Class of 2024; Jacob Turnbull, DO; Kristina Zarenko, PhD; Colleen Cheverko, PhD
Edward Via College of Osteopathic Medicine, Monroe, Louisiana
 
2nd Place:
USE OF A THERAPY DOG IN A CLASSROOM SETTING TO REDUCE ACADEMIC-RELATED STRESS AND ANXIETY 
Brooklynn Runyan, Class of 2026; Samantha Thurman, Class of 2026; Jacob Barnett, Class of 2026; Schenatsar Dorvilier; Meghan Wilson, PhD 
Edward Via College of Osteopathic Medicine-Louisiana; Edward Via College of Osteopathic Medicine-Virginia; Bluefield University
 
3rd Place:
IMPROVING DELIVERY AND ADHERENCE OF SEPSIS ALGORITHMS THROUGH USE OF INTERACTIVE EDUCATIONAL MODALITIES
Benjamin R. Lewis, Class of 2024; Tammy N. Lewis, Class of 2024
Beauregard Hospital, DeRidder, Louisiana
 
Pharmacology:
1st Place:
THE TOBACCO β-CEMBRENEDIOL: A PROSTATE CANCER RECURRENCE SUPPRESSOR LEAD AND PROSPECTIVE SCAFFOLD VIA MODULATION OF INDOLEAMINE 2,3-DIOXYGENASE AND TRYPTOPHAN DIOXYGENASE
Ethar Mudhish
University of Louisiana Monroe
 
2nd Place:
CHRONIC METABOLIC ACIDOSIS ELICITED HYPERTENSION IS REGULATED BY RHO KINASE (ROCK1) MEDIATED INTRARENAL ANGIOTENSIN II
Dinesh Aryal, PhD; Keith Jackson, PhD
Edward Via College of Osteopathic Medicine-Louisiana, Monroe, Louisiana; University of Louisiana Monroe-College of Pharmacy, Monroe, Louisiana
 
3rd Place:
CANNABIDIOL (CBD) TREATMENT IN VIVO ATTENUATES HIPPOCAMPAL CA1 NERVE CELL DAMAGE VIA OXIDATIVE STRESS MEDIATED MECHANISM
Anawin Kitpowsong, Class of 2024; William Wheeler, Class of 2024; Subash Sapkota; Karen Briski, PhD; Dinesh Aryal, PhD
Edward Via College of Osteopathic Medicine-Louisiana, Monroe, Louisiana; University of Louisiana Monroe-College of Pharmacy, Monroe, Louisiana