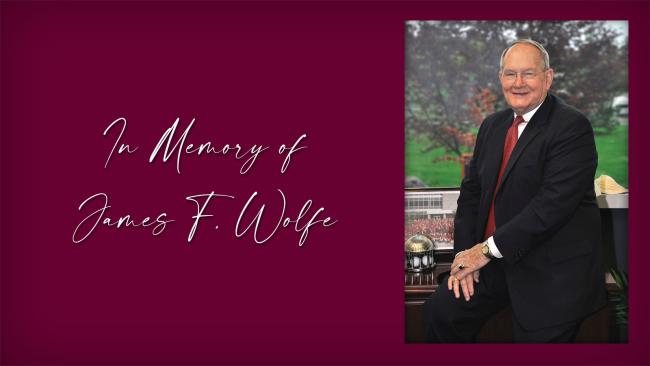 James F. (Jim) Wolfe, Founding President and President Emeritus of the Edward Via College of Osteopathic Medicine (VCOM), passed away peacefully in his sleep at age 86 on Thursday, October 20th, 2022.
Jim is survived by his loving wife, Nancy, his son John, his daughter Carolyn and five grandchildren, Sawyer, Thomas, Niklas, Hayden and Carson.
Jim was the ultimate storyteller, embodying kindness, a keen intellect and a love for his work. He was always ready to talk in detail about his amazing family, his passion for golf and, of course, Virginia Tech sports.
You may have heard the old saying, "he never met a stranger." That was Jim. Anyone who had the privilege of meeting Jim Wolfe would probably tell you that he made them feel like they were the most important person in the room. He made each person feel comfortable and appreciated. It was like catching up with an old friend.
If you worked with him and walked into his office, he always gave a huge smile and asked how you were. He wanted to know details about your projects. If you had a problem, Jim was there with some sage advice that left you feeling like you could tackle any problem. That's how Jim Wolfe was widely known at VCOM.
Students often remarked on how Dr. Wolfe knew their names and remembered unique things about them from their first day at VCOM. He always studied students' names, photos and biographies before school started, so he could personally welcome them and let each one know he wanted them to succeed. At graduation, while announcing student's names for commencement, he didn't stop at their name. Or where they were going for residency. Jim customized each announcement with a personal comment. They became physicians that day, knowingthe college president cared about them and how their lives would progress after graduating.
If you're going to live, leave a legacy. Make a mark on the world that can't be erased.
Jim received his B.S. in Chemistry at Lebanon Valley College and his Ph.D. in Chemistry from Indiana University. What followed is an extraordinary career. Jim served as the Founding President of the Edward Via College of Osteopathic Medicine until his retirement in 2015. He assumed this position in January 2001 and led the College through its initial stages of development and growth, including the opening of the Carolina campus of VCOM in Spartanburg, South Carolina in 2011, and the opening of the Alabama campus in conjunction with Auburn University in 2015. He continued to serve VCOM as an active Board Member and held President Emeritus status. Dr. Wolfe was once asked if he had a particular favorite experience from his time at VCOM, and he graciously answered, "It's been an almost daily collection of favorite experiences, so I can't say it's been just one. I'm just thankful to have been a part of it."
Prior to his leadership role at VCOM, Dr. Wolfe's career spanned 32 years at Virginia Tech. While at Virginia Tech, he served as Chemistry Department Chair for nine years and Vice Provost of the University for more than five years. As Vice Provost, Dr. Wolfe directed the offices of Admissions, Financial Aid and University Registrar. He oversaw academic program resource assignments and faculty appointments for 1,500 faculty, and administrators in the nine colleges of the University. He acted as chief deputy for the provost and, when appropriate, for the president. He was a Professor Emeritus of Chemistry and had acted as Co-Director of the Harvey W. Peters Research Center for the Study of Parkinson's Disease and Disorders of the Central Nervous System.
Dr. Wolfe has over 65 peer-reviewed publications related to his research and scholarly work in chemistry and has published three books. He served as principal investigator on several federally sponsored research projects, including projects funded by NIH, NSF, and NASA. He served on several committees for the American Chemical Society and was Virginia Tech's delegate to the National Council for Chemical Research. Jim served on the NSF-NRC Postdoctoral Fellowship Selection Committee and received an NIH fellowship at Indiana University.
It was Maya Angelou who said "If you're going to live, leave a legacy. Make a mark on the world that can't be erased." Jim left behind a profound legacy that cannot be erased, and the world is richer for it.
Contributions in memory of Jim can be made online at https://www.vcom.edu/in-memory-james-f-wolfe or mailed to James F. Wolfe Memorial Scholarship, 2265 Kraft Drive, Blacksburg, VA 24060