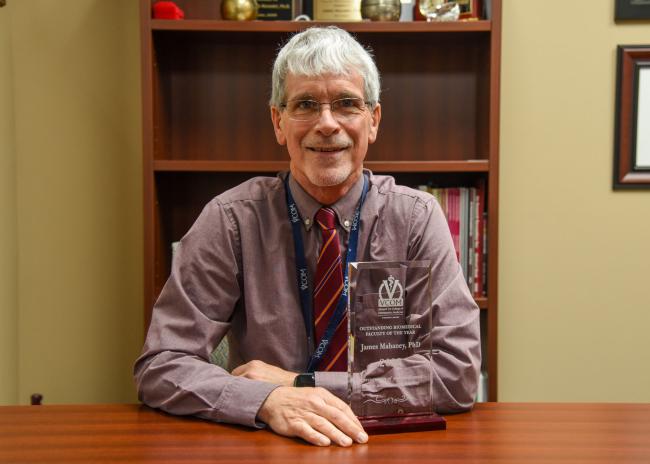 The Edward Via College of Osteopathic Medicine (VCOM)-Virginia Campus has launched a new award honoring the Outstanding Biomedical Faculty of the Year.
The winner of the first Outstanding Biomedical Faculty of the Year Award for 2023 is Jim Mahaney, PhD, who is celebrating 20 years with VCOM. During the last two decades, Mahaney has been a dedicated researcher and a compassionate educator, qualities that led fellow faculty to nominate him for this award—one of the highest honors VCOM bestows.
Mahaney earned his BS degree in chemistry from Virginia Tech in 1984. At that time, Jim Wolfe was the chair of the university's chemistry department. "He was a very active chair and got to know all the students by name. He was amazing," Mahaney said. The relationship between Wolfe and Mahaney paid off for VCOM. In 2001, Mahaney, who was then working at the West Virginia School of Medicine, read a news story about the establishment of VCOM and was pleased to see that Wolfe had been named president. Excited for his mentor, Mahaney reached out to offer his congratulations and Wolfe invited Mahaney to interview for a faculty position with the College, which led to Mahaney joining VCOM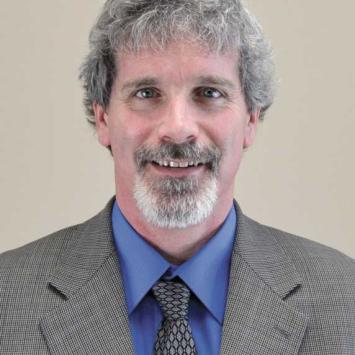 I was very happy to have a chance to work at a school that was devoted to increasing medical coverage in underserved areas and building up medical resources in this part of Virginia. At the time, VCOM was one of only a handful of osteopathic schools that had a strong research component. That was exciting.
Jim Mahaney, PhD
,
Associate Dean for Biomedical Affairs and Research
These days, Mahaney serves VCOM as associate dean for biomedical affairs and research. In that role, he is responsible for recruiting, managing, assessing and retaining VCOM biomedical faculty, who provide much of the pre-clinical curriculum for students. He also works with faculty researchers to set up and maintain active research programs, a critical part of VCOM's mission. Further, he helps students find active research projects with VCOM faculty and works closely with students who wish to graduate with a research distinction designation on their diploma, which involves meeting research requirements in addition to the other things they need to do to complete their DO degree.
Mahaney has always had his own research projects as well, a facet of his life at VCOM that has been encouraged. He has very much taken to heart the part of VCOM's mission to promote research to improve human health. "During my early years at VCOM, President Dixie Tooke-Rawlins would tell the researchers that we were free to study anything we like," he remembers. "But she also said that if there was anything we could work on that would be of benefit for patients in real ways sooner rather than later, that would be the very best. That really resonated with me and does to this day."
When he started at VCOM, he was doing research in membrane biophysics. Now he is testing and validating new techniques and instrumentation for detecting vaginal pathogens and sexually transmitted infections. These will be especially helpful in rural and international clinic settings. He is also involved in a healthy living study that tests the health benefits of a warm water consumption regimen and is working on developing a natural product with anti-viral properties.
Of course, research is just one part of his life at VCOM. He's also a teacher.
Mahaney says that the environment VCOM has created for learning is truly special. Each class is built one student at a time, with people who are committed to osteopathic medicine and the VCOM mission. As a result, the students are fully engaged in their medical education experience, he says. "This creates an energy and vitality to each class, and to the College, that is real," Mahaney observes. "Students help and support each other and there is excellent synergy between faculty and students. This is a truly remarkable and unique atmosphere in which faculty can flourish along with the students."
Clearly, his commitment to VCOM, its faculty and its students has not gone unnoticed. In one of the letters nominating him, a colleague wrote, "It is not just that he does his job, he does it with a can-do attitude and a level of kindness and enthusiasm that is surpassed by no none. He is always there with quick-witted, light-hearted joke or to assist with anything that needs to be done.  A typical example of Dr. Mahaney's willingness to help was when we needed someone to teach GI physiology. With only a week of preparation, Dr. Mahaney volunteered to teach and was extremely effective and received high praise from the students. . . . It is these extra acts of kindness and self-sacrifice of his time that makes him such a phenomenal faculty member."
Mahaney is honored by his recognition as the first-ever Outstanding Biomedical Faculty of the Year. "Receiving the award was an amazing experience," he says. "The faculty and staff at VCOM put their whole heart and energy into providing quality education for our students, and I do as well. To be acknowledged for my contributions within this truly exceptional group is something I will treasure always."