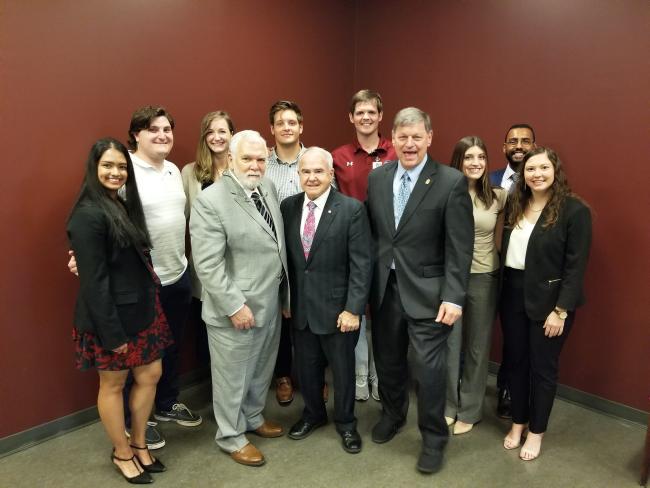 On Friday, April 15, VCOM-Carolinas was honored by a visit welcoming two notable medical leaders. Gerald E. Harmon, MD, 176th president of the American Medical Association, is a family medicine specialist who has practiced for more than 30 years in coastal South Carolina. Ernest Gelb, DO, is the American Osteopathic Association's president-elect and an AOA board-certified family physician.
Dr. Harmon's presentation covered the significance of AOA and AMA leadership working together in this historic moment in medicine; the pandemic has brought healthcare to the forefront and physician leadership is shaping the future of medicine.
Dr. Gelb followed this presentation using humor and engaging the audience with a series of delightful yet insightful anecdotes to initiate an interactive discussion about the meaning of true leadership and the importance of advocacy.
When the floor was opened for questions, students brought up a wide range of concerns, from the AMA's racist past to pressing issues in medicine today, such as leadership equity, PPE shortages and lack of access to healthcare, to how advocacy groups have dealt with controversial issues and what role future physicians can play in leadership diversity of both the AMA and AOA.
Addressing VOCM-Carolinas Classes of 2024 and 2025 along with numerous faculty and VCOM administrators, Dr. Harmon said, "You have a gift and as physicians you are applying that gift to the good of humanity."