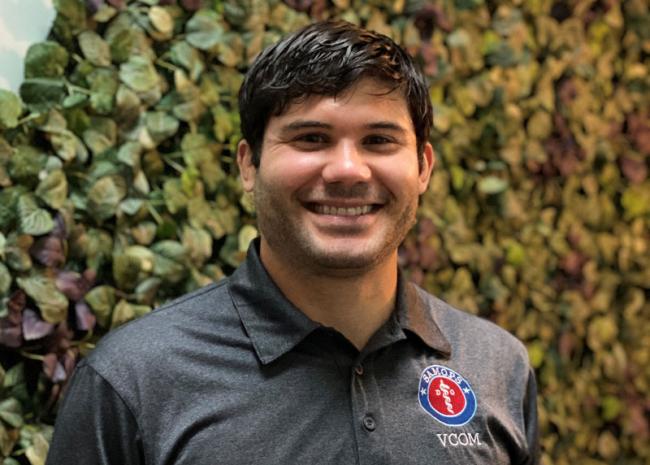 In today's environment, it is easy to get lost in the noise and lose sight of your true blessings. With Thanksgiving Day quickly approaching, are you easily able to identify your blessings and all the things for which you are thankful?
A second-year medical student at the Edward Via College of Osteopathic Medicine (VCOM) -Carolinas) is not letting the anxiety-producing aspects of the COVID-19 pandemic, the election, and the economy cloud his ability to remain grateful and optimistic. Instead, he discovered a proactive way to practice gratitude after the passing of his grandfather and it is having a powerful impact on his mental health and well-being.
Merwan Faraj, a native of Dearborn, Michigan, sets his phone for a daily reminder to practice gratitude. At 8:30 p.m., he devotes 10 to 15 minutes to escape the worries of school or any other issues. During this time, he meditates and reflects on three things that he is grateful for that day and three people he wants to wish well.
"These few minutes out of my day bring appreciation, gratitude, and kindness to my life and the lives of those around me," Faraj explains. "This process will create more positive thoughts in you and when you go out in public, you have a more positive energy about yourself. If you have negative thoughts about a person, sitting and wishing him or her well will help you see the human in them and increase empathy. This practice will promote a positive approach the next time you see them and strengthen your relationship."
Eager to help spread his sense of appreciation and thankfulness, Faraj shared his practice with the VCOM-Carolinas Via Wellness Committee, which focuses on how best to provide emotional support and encouragement to the students while offering tools and resources for students to maintain good grades and address mental health needs.
Faraj received such positive feedback that he soon shared his personal approach to remaining positive and supportive with his fellow medical students -- many of whom have compounded stress of attending medical school during the COVID-19 pandemic. Safety precautions have eliminated the large study group sessions where students bond and offer to support to one another and remote learning can be a challenge in more ways than one.
Our new environment can leave students feeling isolated from their peers while they try to maintain a healthy morale in times of great uncertainty. Discussion at a recent wellness committee meeting centered on ways to maintain presence throughout the day and perspective, as these can alter a person's mental health on a daily basis.
Merwan Faraj
,
VCOM Carolinas
Vikas Sehdev, PhD, VCOM-Carolinas Associate Professor of Pharmacology, adds, "The COVID-19 pandemic has really limited one-on-one personalized human interaction for VCOM-Carolinas students. In addition, our students (due to rigors of their training) are spending a lot more time than usual in front of screens learning and communicating with their peers and faculty. Such a scenario can easily affect one's morale and zeal to learn, especially if you are a student who is from out of town/state. The VCOM-Carolinas Via Wellness Committee wanted to come up with something very simple, that students could do on their own, that will help them stay positive and in good spirits. Merwan's daily practice of gratitude was one of the best ideas that we had for students to achieve the aforementioned goal. This practice allows one to be thankful and mindful of all the good things that an individual has going for them."
Working with Dr. Sehdev; Natalie M. Fadel, PhD, Associate Professor for Psychiatry and Neuro-behavioral Sciences; and Kevin Price, Director for Institutional Technology Resources and Solutions; Faraj is creating daily reminders that students and faculty can subscribe to as a way to promote these ideals.
There are three options as of now, and Faraj would love to see everyone subscribe to them all, but any of them can prove to be positively impactful. The reminders are practice gratitude, wish three people well, and breathe.
For the gratitude practice, please take your time with this to truly reflect and allow the feeling of gratitude to set in. I like to stop everything I am doing and think about three things for which I am grateful.
When wishing people well, this is done internally, you are not contacting the people you choose on that day.
When taking moments to breathe, allow yourself to be in a comfortable position, and practice mindful breathing. This can also be paired with progressive muscle relaxation. https://youtu.be/utGa6rqzs3g https://www.youtube.com/watch?v=1nZEdqcGVzo
In all of these, give yourself permission to take the time to be fully present and enjoy the moment. Doing these rituals for a secondary gain in the future negates the mindfulness aspect, as it takes you to a future reward and removes you from the present moment. When meditating, a couple of sayings to keep in mind that take the pressure off "doing it right" are: "Meditating, if you're doing it, you're doing it right." "Trying to get your brain not to think is like trying to get your heart not to beat." Your brain will naturally think and wander, do not pass judgment on yourself for this. Accept your humanness and use it as a tool to bring you back to the present moment.
"Merwan has been an integral part of VCOM-Carolina's student wellness initiative over the past year," says Dr. Fadel. "His idea to set up daily reminders for gratitude and mindfulness stem from a clear concern for and interest in the mental health of his classmates. Research suggests there are many positive effects of incorporating gratitude into daily life, so I believe this is a great step towards prioritizing the self-care of both students and faculty. It is also easily accessible and can be done in a short amount of time, which makes it a sustainable tool for future classes."
Before enrolling at VCOM-Carolinas, Faraj worked as a nurse for more than five years. During his time in the cardiovascular ICU he saw much suffering that he believes was preventable or could be mitigated.
"Heart disease is so largely preventable," says Faraj. "I wanted to jump on the other side of medicine and prevent suffering from happening in the first place. The only way for me to do that to the best of my ability is to become a doctor."
Transitioning from an ICU nurse to an osteopathic medical student was conceptually constant for Faraj who particularly embodies a holistic approach to his patient care, similar to the philosophy used by Doctors of Osteopathic Medicine (DOs).
"Practicing osteopathic medicine is how I will always take care of people," says Faraj, who is the VCOM-Carolinas Chapter President of American College of Osteopathic Family Physicians. "The mind body connection is so strong and your mental health can have powerful effects on your physical health."