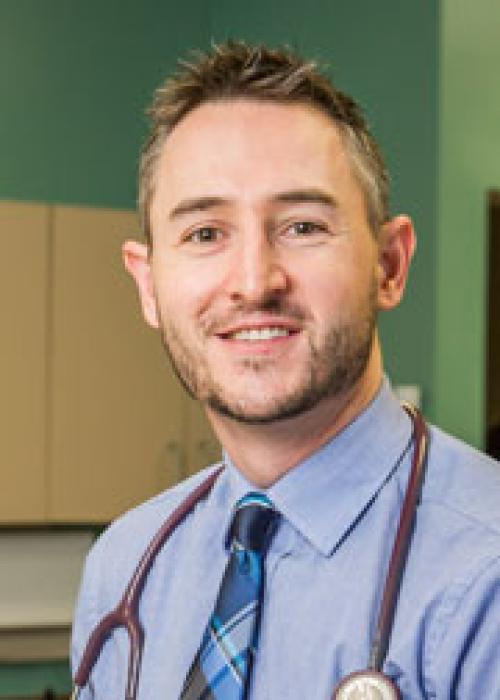 Prior School
: Virginia Tech
Residency
: Wake Forest Baptist Medical Center
Specialty
: Family Medicine
I believe VCOM helped prepare me well through rotations that were hands-on, and at times one-on-one with my preceptors.
I am most proud of
I am most proud of taking over a robust family medicine practice while still maintaining work-life balance with my family. I am also proud to have served as Chief Resident in my residency program and voted the most outstanding resident within my hospital system. I am also proud to currently serve as Lead Physician in my practice and on the VCOM Alumni Board.
I am pleased to be a DO because
I am pleased to be a DO because I have been taught the importance of treating the patient, and not the disease or chief complaint. I have learned the importance of looking patients in the eye and using touch to comfort, reassure, and encourage. I have also learned the importance of a patient's socioeconomic status, spirituality, and their emotions, and how these factors influence their care and decisions. Of course, understanding and utilizing OMT is also cool!
When I am not working I enjoy
When I am not working I enjoy spending time with my wife, two girls, and two Boxer dogs. I have also become a remodel addict since graduating residency, and enjoy the challenge of learning new skills such as gardening, landscaping, and bee keeping. I also enjoy reading, Virginia Tech sports, and watching Marvel movies!
A career in medicine is worthwhile because
A career in medicine is worthwhile because it is more than just a job and a salary, but a calling. Physicians have the unique opportunity to change lives, foster hope, and impact communities. Everyday I remain in awe of the responsibility, power, and influence I have been provided. I also remain humbled that patients trust me with their deepest secrets and most guarded insecurities, and look to me for wisdom and guidance through life's most difficult circumstance. There is not a day that goes by that I do not feel an awesome purpose, which provides my life with meaning and fulfillment. Additionally, my patients teach me daily, inspire me to be better, and provide me with perspective and appreciation for my own life.