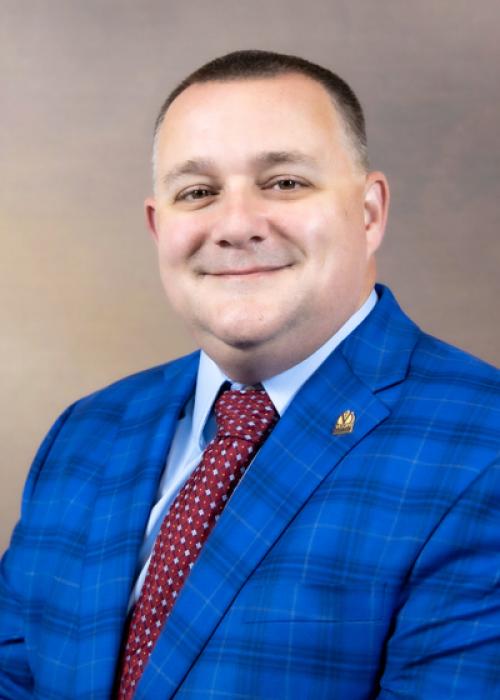 Randy Aldret, EdD
Assistant Dean for Research and Faculty Development and Family Medicine Clinical Faculty
Department/Disciplines
:
Family Medicine,
Clinical Affairs,
Biomedical Affairs and Research,
Center for Institutional, Faculty and Student Success
Campus
: Louisiana
Dr. Aldret's sustained research track is in athletic performance and post-eligibility health outcomes. He has published work on the interaction of sleep and mental health on in-game performance and strength measures. Currently, Dr. Aldret is collaborating with researchers at UNC-Greensboro and the NCAA on follow-up health care for athletes and the consequences of athletic participant in collision sports on post-competition measures of job satisfaction and activities of daily living. Dr. Aldret's has previously published research in Frontiers in Neurology on novel biomarkers of concussion in hockey players. His additional research interests are best practices in athletic training administration and policy development. Dr. Aldret is now collaborating with the University of Wyoming and UNC-Charlotte to study the influence of COVID-19 on athlete health care at the NCAA Division-1 level.
Selected Publications
| Year | Faculty | Citation | PMID |
| --- | --- | --- | --- |
| 2020 | Randy Aldret | Aldret RL, Bellar D. A Double-Blind, Cross-Over Study to Examine the Effects of Maritime Pine Extract on Exercise Performance and Postexercise Inflammation, Oxidative Stress, Muscle Soreness, and Damage. J Diet Suppl. 2020;17(3):309-320. PMID: 30887868. | 30887868 |
| 2019 | Randy Aldret | Aldret RL, Bellar D. A double-blind, cross-over study to examine the effects of Maritime pine extract on exercise performance and post exercise inflammation, oxidative stress ,muscle soreness and damage. J Diet Suppl. 2019 Mar 19:1-12. PMID: 30887868. | 30887868 |
| 2018 | Randy Aldret | Aldret RL. Identification of essential skills for entry-level athletic trainers using the Delphi Method. Performance Improvement. 2018 Jan 12;57(1):27-38. | |
| 2018 | Randy Aldret | Kawata K, Mitsuhashi M, Aldret R. A preliminary report on brain-derived extracellular vesicle as unique blood biomarkers for sport-related concussion. Front Neurol. 2018 Apr 12;9:239. PMID: 29706930. | 29706930 |
| 2018 | Randy Aldret | Bellar D, Aldret RL, Judge LW. The effects of a botanical blend on post-exercise mucosal antimicrobial proteins. Journal of Athletic Enchancement. 2018 Nov 19;7(5). DOI:10.417/2324-9080.1000310. | |
| 2017 | Randy Aldret | Aldret RL, Trahan BA, Davis G, Campbell B, Bellar DM. Effects of an elastic hamstring assistance device during downhill running. J Hum Kinet. 2017 Jun 22;57:73-83. PMID: 28713460. | 28713460 |
| | Randy Aldret | Moody K, Judge L, Aldret R, Davis G, Bellar D. The Effect of Tart Cherry Concentrate on Exercise Metabolism and Post-Exercise Oxidative Stress and Salivary Immunoglobulin A. Journal of Biology of Exercise. In press. | |