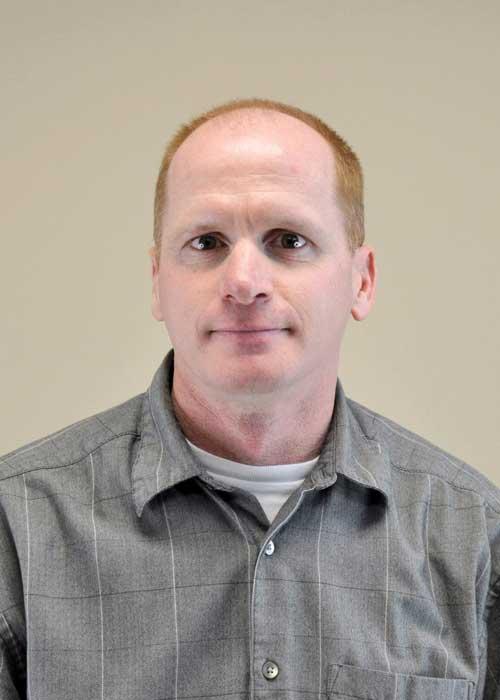 Chris Reilly, PhD
Department Chair for Biomedical Sciences
Department/Disciplines
:
Biomedical Affairs and Research,
Medical Education
Campus
: Virginia
Preferred First Name
: Chris
Download CV
My research focuses on systemic lupus erythematosus using murine animal models. In my laboratory, we study the role of epigenetics and the microbiome and how these factors regulate the immune system. In regard to my research training, I obtained my PhD from the Medical College of Georgia in Physiology and Endocrinology and completed a three-year post-doc at the Medical University of South Carolina in the Department of Medicine/Division of Rheumatology under the mentorship of Dr. Gary Gilkeson. After my post-doctorate, I remained on staff as a Research Assistant Professor at MUSC for 2 years before taking the position as Chairman for Physiology and Biochemistry at VCOM and a joint appointment at the Vet School at Virginia Tech. I have extensive experience in both immune function and murine lupus. In Google Scholar, my studies have and been cited over 5000 times, and I have an h-index of 39 and an I10-index of 60.
Education
| | | |
| --- | --- | --- |
| 2000 | MUSC Charleston  | Postdoc |
| 1997 | Medical College of Georgia | PhD-Physiology/Endocrinology  |
| 1991 | University of New Mexico | BS-Biology |
Awards
Grant funding from Acetylon Pharmaceuticals for the proposal, "Inhibition of SLE with the HDAC6 inhibitor ACY-1083 in NZB/W female mice." The grant was funded in February 2014 and the award is for $240,253
Featured in the Microsoft Cloud article that accompanies their commercial that is currently airing on television. http://news.microsoft.com/features/cloud-computing-contributes-to-individually-tailored-medical-treatments-of-the-future/
Reviewer for AOA abstracts for national meeting
Reviewer for AOA grant awards
Selected Publications
| Year | Faculty | Citation | PMID |
| --- | --- | --- | --- |
| 2020 | Christopher Reilly | Abdelhamid L, Cabana-Puig X, Swartwout B, Lee J, Li S, Sun S, Li Y, Ross AC, Cecere TE, LeRoith T, Werre SR, Wang H, Reilly CM, Luo XM. Retinoic Acid Exerts Disease Stage-Dependent Effects on Pristane-Induced Lupus. Front Immunol. 2020 Mar 20;11:408. PMID: 32265909. | 32265909 |
| 2020 | Christopher Reilly | Dai R, Heid B, Xu X, Xie H, Reilly CM, Ahmed SA. EGR2 is elevated and positively regulates inflammatory IFNγ production in lupus CD4+ T cells.  BMC Immunol. 2020 Jul 9;21(1):41. PMID: 32646370. | 32646370 |
| 2020 | Christopher Reilly | Mu Q, Edwards MR, Swartwout BK, Cabana Puig X, Mao J, Zhu J, Grieco J, Cecere TE, Prakash M, Reilly CM, Puglisi C, Bachali P, Grammer AC, Lipsky PE, Luo XM. Gut Microbiota and Bacterial DNA Suppress Autoimmunity by Stimulating Regulatory B Cells in a Murine Model of Lupus. Front Immunol. 2020 Nov 10;11:593353. eCollection 2020. PMID: 33240280. | 33240280 |
| 2020 | Christopher Reilly | Panther E, Cabana Puig X, Ren J, Liao X, Swartwout B, Vieson M, Abdelhamid L, Shiraz A, Luo X, Reilly CM. The Effect of Dietary Fiber Intake on Systemic Lupus Erythematosus (SLE) Disease in NZB/W Lupus Mice. J Clin Cell Immunol. 2020;11(3):1000590. | |
| 2020 | Christopher Reilly | Panther EJ, Ren J, Cabana-Puig X, Abdelhamid L, Swartwout B, Luo XM, Reilly CM. The Effect of Dietary Fiber Intake on Systemic Lupus Erythematosus (SLE) Disease in NZB/W Lupus Mice. J Immunol. 2020 May 1;204(S1):141.6. | |
| 2017 | Christopher Reilly | Vieson MD, Gojmerac AM, Khan D, Dai R, van Duzer JH, Mazitschek R, Caudell DL, Liao X, Luo XM, Reilly CM. Treatment with a selective histone deacetylase 6 inhibitor decreases lupus nephritis in NZB/W mice. Histol Histopathol. 2017 Feb 28:11885. PMID: 28245046. | 28245046 |
| 2017 | Christopher Reilly | Mu Q, Kirby J, Reilly CM, Luo XM. Leaky Gut As a Danger Signal for Autoimmune Diseases. Front Immunol. 2017 May 23;8:598. PMID: 28588585.  | 28588585 |
| 2017 | Christopher Reilly | Mu Q, Zhang H, Liao X, Lin K, Liu H, Edwards MR, Ahmed SA, Yuan R, Li L, Cecere TE, Branson DB, Kirby JL, Goswami P, Leeth CM, Read KA, Oestreich KJ, Vieson MD, Reilly CM, Luo XM.  Control of lupus nephritis by changes of gut microbiota. Microbiome. 2017 Jul 11;51(1):73. | 28697806 |
| 2017 | Christopher Reilly | Liao X, Ren J, Reihl A, Pirapakaran T, Sreekumar B, Cecere TE, Reilly CM, Luo XM. Renal-infiltrating CD11c+ cells are pathogenic in murine lupus nephritis through promoting CD4+ T cell responses. Clin Exp Immunol. 2017 Jul 19: Epub ahead of print. PMID: 28722110. | 28722110 |
| 2016 | Christopher Reilly | Regna NL, Vieson MD, Luo XM, Chafin CB, Puthiyaveetil AG, Hammond SE, Caudell DL, Jarpe MB, Reilly CM.  Specific HDAC6 inhibition by ACY-738 reduces SLE pathogenesis in NZB/W mice.  Clin Immunol. 2016 Jan;162:58-73. | 26604012 |
| 2015 | Christopher Reilly | Regna NL, Vieson MD, Gojmerac AM, Luo XM, Caudell DL, Reilly CM.  HDAC expression and activity is upregulated in diseased lupus-prone mice.  Int Immunopharmacol. 2015 Dec;29(2):494-503. | 26471208 |
| 2015 | Christopher Reilly | Parson C, Smith V, Krauss C, Banerjee HN, Reilly C, Krause JA, Wachira JM, Giri D, Winstead A, Mandal SK. Anticancer Properties of Novel Rhenium Pentylcarbanato Compounds against MDA-MB-468(HTB-132) Triple Node Negative Human Breast Cancer Cell Lines.  Br J Pharm Res. 2015 Feb 1;4(3):362-367 | 25419517 |
| 2015 | Christopher Reilly | Liao X, Li S, Settlage RE, Sun S, Ren J, Reihl AM, Zhang H, Karyala SV, Reilly CM, Ahmed SA, Luo XM. Cutting Edge: Plasmacytoid Dendritic Cells in Late-Stage Lupus Mice Defective in Producing IFN-α. J Immunol. 2015 Nov 15;195(10):4578-82.  | 26447229 |
| 2014 | Christopher Reilly | Regna NL, Reilly CM. Isoform-selective HDAC inhibition in autoimmune disease [review]. Journal of Clinical & Cellular Immunology. 2014 April; 5:207. doi: 10.4172/2155-9899.1000207. | |
| 2014 | Christopher Reilly | Regna LN, Chafin CB, Hammond SE, Puthiyaveetil AG, Caudell, DL, Reilly CM. Class I and II histone deacetylase inhibition by ITF2357 reduces SLE pathogenesis In vivo. Clinical Immunology. 2014 Mar; 151(1):29-42. | 24503172 |
| 2014 | Christopher Reilly | Chafin CB, Regna NL, Caudell DL, Reilly CM. MicroRNA-let-7a promotes E2F-mediated cell proliferation and NF?B activation in vitro. Cell Mol Immunol. 2014 Jan; 11(1):79-83. | 24240124 |
| 2013 | Christopher Reilly | Chafin CB, Reilly CM. MicroRNAs implicated in the immunopathogenesis of lupus nephritis [review]. Clin Dev Immunol 2013; 2013:430239. PMID: 23983769. | 23983769 |
| 2013 | Christopher Reilly | Bandara AB, Boyle SM, Contreras-Rodriguez A, Martins AM, Prasad R, Reilly CM, Brucella melitensis differs from B. suis in growth and urease activity in-vitro, and infectivity in Fisher-344 Rats in-vivo. Advances in Infectious Diseases. 2013; 3(1):60-2. doi: 10.4236/aid.2013.31008. | |
| 2013 | Christopher Reilly | Hirst SM, Karakoti A, Singh S, Self W, Tyler R, Seal S, Reilly CM. Bio-distribution and in vivo antioxidant effects of cerium oxide nanoparticles in mice. Environ Toxicol. 2013 Feb; 28(2): 107-18. PMID: 21640722. | 21640722 |
| 2013 | Christopher Reilly | Giri S, Karakoti A, Graham RP, Maguire JL, Reilly CM, Seal S, Rattan R, Shridhar V. Nanoceria: a rare-earth nanoparticle as a novel anti-angiogenic therapeutic agent in ovarian cancer. PLoS One. 2013; 8(1):e54578. | 23382918 |
| 2013 | Christopher Reilly | Puthiyaveetil AG, Okyere B, Reilly CM, Caudell D. Diverging in vitro antibody isotype switching preference in B-lymphocytes from C57BL/6 and FVB mice. In Vivo. 2013 Jan-Feb; 27(1):29-39. PMID: 23239849. | 23239849 |
| 2013 | Christopher Reilly | Puthiyaveetil AG, Reilly CM, Pardee TS, Caudell DL. Non-homologous end joining mediated DNA repair is impaired in the NUP98-HOXD13 mouse model for myelodysplastic syndrome. Leuk. Res. 2013 Jan; 37(1):112-6. PMID: 23131583. | 23131583 |
| 2013 | Christopher Reilly | Wong LL, Hirst SM, Pye QN, Reilly CM, Seal S, McGinnis JF. Catalytic nanoceria are preferentially retained in the rat retina and are not cytotoxic after intravitreal injection. PLoS One. 2013; 8(3):e58431. PMID: 23536794. | 23536794 |
| 2013 | Christopher Reilly | Chafin CB, Regna NL, Dai R, Caudell DL, Reilly CM. MicroRNA-let-7a expression is increased in the mesangial cells of NZB/W mice and increases IL-6 production in vitro. Autoimmunity. 2013 Sep; 46(6):351-62. PMID: 24001203. | 24001203 |
| 2013 | Christopher Reilly | Chafin CB, Regna NL, Hammond SE, Caudell DL, Reilly CM. Cellular and urinary microRNA alterations in NZB/W mice with hydroxychloroquine or prednisone treatment. Int Immunopharmacol. 2013 Nov; 17(3):894-906. | 24121037 |
| 2012 | Christopher Reilly | Puthiyaveetil AG, Heid B, Reilly CM, HogenEsch H, Caudell DL. A NUP98-HOXD13 leukemic fusion gene leads to impaired class switch recombination and antibody production. Exp Hematol. 2012 Aug; 40(8):622-33. PMID: 22613470. | 22613470 |
| 2012 | Christopher Reilly | Shimp SK 3rd, Chafin CB, Regna NL, Hammond SE, Read MA, Caudell DL, Rylander M, Reilly CM. Heat shock protein 90 inhibition by 17-DMAG lessens disease in the MRL/lpr mouse model of systemic lupus erythematosus. Cell Mol Immunol. 2012 May; 9(3):255-66. PMID: 22543833. | 22543833 |
| 2012 | Christopher Reilly | Shimp SK 3rd, Parson CD, Regna NL, Thomas AN, Chafin CB, Reilly CM, Nichole Rylander M. HSP90 inhibition by 17-DMAG reduces inflammation in J774 macrophages through suppression of Akt and nuclear factor-?B pathways. Inflamm. Res. 2012 May; 61(5):521-33. PMID: 22327510. | 22327510 |
| 2011 | Christopher Reilly | Alili L, Sack M, Karakoti AS, Teuber S, Puschmann K, Hirst SM, Reilly CM, Zanger K, Stahl W, Seal S, Brenneisen P. Combined cytotoxic and anti-invasive properties of redoxactive nanoparticles in tumor-stroma interactions. Biomaterials. 2011 Apr; 32(11): 2918-29. | 21269688 |
| 2011 | Christopher Reilly | Yan K, Cao Q, Reilly CM, Young NL, Garcia BA, Mishra N. Histone deacetylase 9 deficiency protects against effector T cell-mediated systemic autoimmunity. The Journal of Biological Chemistry. 2011 Aug 19; 286(33):28833-43. PMID: 21708950. | 21708950 |
| 2011 | Christopher Reilly | Reilly CM, Regna N, Mishra N. HDAC inhibition in lupus models. Molecular Medicine Reports. 2011 May-Jun; 17(5-6): 417-25. PMID: 21327298. | 21327298 |
| 2010 | Christopher Reilly | Peairs A, Dai R, Gan L, Shimp S, Rylander MN, Li L, Reilly CM. Epigallocatechin- 3-gallate (EGCG) attenuates inflammation in MRL/lpr mouse mesangial cells. Cellular & Molecular Immunology. 2010 Mar; 7(2):123-32. PMID: 20140007. | 20140007 |
| 2010 | Christopher Reilly | Chafin C, Muse S, Hontecillas R, Bassaganya- Riera J, Caudell DL, Shimp SK 3rd, Rylander MN, Zhang J, Li L, Reilly CM. Deletion of PPAR-g-y in immune cells enhances susceptibility to anti-glomerular basement membrane disease. Journal of Inflammation Research. 2010; 3:127-34. | 22096362 |