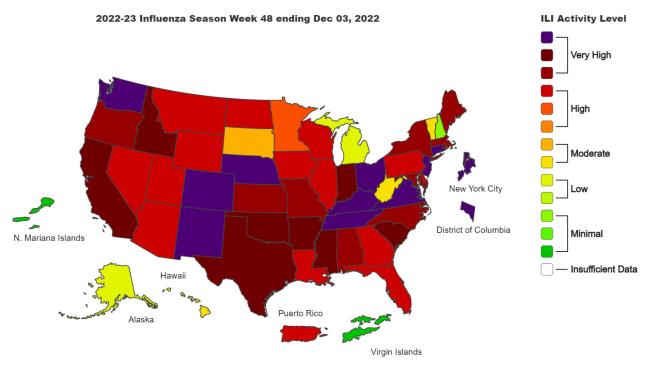 If you've been watching the national news recently, you've probably heard about what's being called a "tripledemic" of COVID-19, influenza and respiratory syncytial virus, or RSV, which is particularly common in children.  
Across the county, cases of COVID-19 are down considerably from their peak a year ago, but cases and hospitalizations are trending higher now than they were earlier this fall, according to the CDC. Likewise, cases of both RSV and flu are considerably higher than they have been in recent years. According to the CDC, nationally the hospitalization rate for flu this season is the highest it has been in a decade. The flu positivity rate for the most recent week, ending Dec. 3, is nearly 25%. Rates of hospitalizations for RSV have been falling for a few weeks, but the rate is still considerably higher than for recent previous years.    
These trends hold for the Commonwealth of Virginia and for the part of the state close to the VCOM-Virginia campus. According to the Virginia Department of Health, in November the New River Valley saw a nearly 86% increase in COVID-19 cases. Roanoke saw an increase of 53% in that same time span. The CDC says that Virginia's flu rate is currently in the "very high" category, and the state saw its first pediatric flu death of the 2022-23 season in late November. Between September and October, visits to emergency departments in due to RSV more than tripled in Virginia. 
Of course, it's not uncommon for respiratory illnesses to tick up during late fall and winter, especially around the holidays as people visit family and friends and are exposed to a greater number of viruses. And unsurprisingly, the same precautions that doctors advised using for COVID-19 also protected people from flu and RSV, which is particularly common in infants. Now, however, as we return to something resembling pre-pandemic life, seasonal respiratory infections are surging back. 
So, what does that mean for community health, particularly children in rural and medically underserved areas? 
Dr. Sofia Abraham-Hardee, DO, is the associate dean of clinical affairs and associate professor of pediatrics at VCOM's campus in Blacksburg, Virginia. She is also a practicing pediatrician at New Beginnings Pediatrics in Blacksburg. "RSV, COVID and flu don't discriminate," she says, "but some socioeconomic factors can certainly increase your likelihood of getting or spreading the illnesses." 
Dr. Abraham-Hardee recommends that everyone who is eligible should be vaccinated. Vaccinations are readily available for both flu and COVID-19 and just last week, the CDC expanded its guidance about the updated COVID-19 vaccines to include children ages 6 months to 5 years. There is an RSV vaccine as well, but it is only approved for high-risk neonates and infants. 
Good handwashing, particularly in the winter months, is essential to prevent the spread of all three of these illnesses.  
"When your child is ill with non-specific symptoms such as fever, cough and congestion, please keep them home and do not send them to school or daycare," says Dr. Abraham-Hardee. "This only spreads the illness to other children. If your child will wear one, encourage masks when your child is ill to further prevent spread."