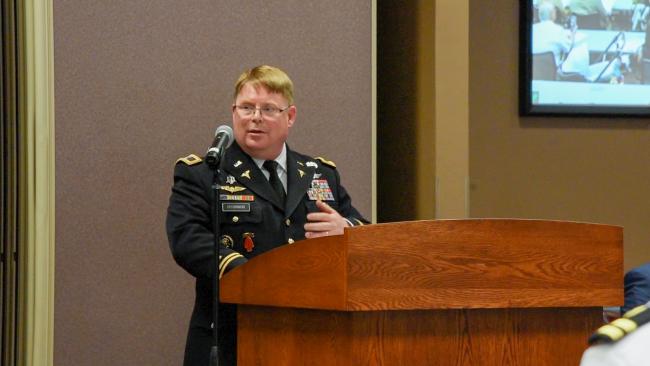 On Friday, May 6, 2022, at 2:00 p.m., VCOM-Virginia military graduates were honored at the VCOM annual Military Promotion Ceremony. Classmates, friends, family members and faculty, staff and administration were in attendance in the VCOM II building, as twelve members of the Class of 2022 were promoted, representing the United States Army, Army Reserves, Navy, and Air Force.
This year's promotion ceremony featured remarks by former military physician, Frederic A. Rawlins III, DO, Student Association of Military Osteopathic Physicians and Surgeons (SAMOPS) Advisor and graduate of the VCOM Class of 2010. An invocation was delivered by VCOM Chairman of the Board John Rocovich Jr, JD, LLM, and the keynote address from Kevin C. O'Connor, DO, FAAFP, US Army, Colonel (Retired). Dr. O'Connor led the students being promoted in the Oaths of Office and then presented each of the twelve with a VCOM challenge coin. Dr. O'Connor is the current White House physician serving President Joseph Biden.
During the ceremony, Dr. O'Connor told the graduates that they should concentrate on teamwork and work every day on their brand – how they conduct themselves while in service. He pointed out that there will be times that they will be called on to make difficult decisions, and they should always serve with honor. Dr. O'Connor told them that nothing will ever compare to treating soldiers in battle – to get in the dirt, get on the line and learn to give them the best care. He also urged them to explore family medicine while in the military, get out of the hospitals and learn from fellow military members and their families.
After the ceremony, Dr. O'Connor spoke with VCOM staff and when asked about his White House service, and he pointed out that while he was in the Army, he served two and a half years as part of the medical team for President George W. Bush, and then served as Physician to Vice President Biden during President Barack Obama's term. O'Connor was going to retire from the military, but President Obama was reelected so he served another term. Then after retirement, he was asked by President Biden to return as his family medicine physician, so Dr. O'Connor returned to service. He said that the position of White House physician is non-partisan and such a great honor, but as a military physician, providing health care services his fellow soldiers will always be the greatest honor he has ever had.
The Military Promotion Ceremony is an event where medical students who are members of the Health Professions Scholarship Program (HPSP) receive their promotions to the military rank at which they will begin serving their country. This ceremony is for the military members of the VCOM Class of 2022.
Branches of the U.S. Military offer the HPSP service scholarship to medical school students. If accepted, students receive full coverage of all tuition/fee charges and reimbursement of health insurance costs and other related school expenses. A monthly living stipend is also provided. After graduation, the physicians repay the scholarship by working one year in the branch of service they were accepted into for each year they received the scholarship. Minimum service obligations may apply.
VCOM is deeply honored to have educated these graduates as they begin their service as United States military physicians