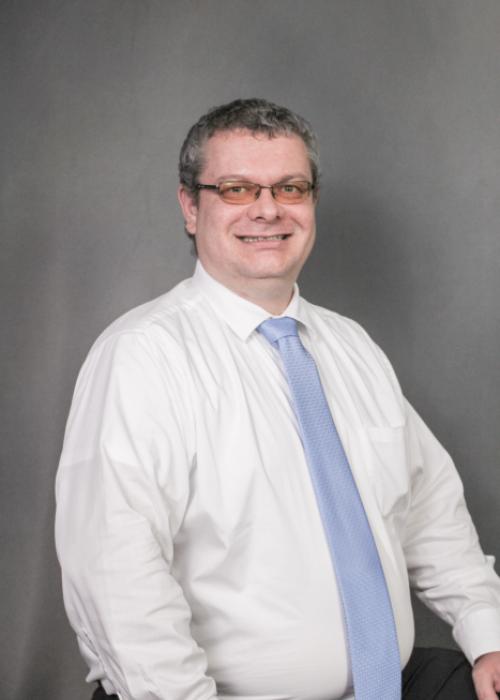 Zoltan Hajdu, MD
Associate Professor for Anatomical Sciences
Department/Discipline
:
Anatomical Sciences
Campus
: Carolinas
The main goal of my laboratory is to investigate the hematopoietic bone marrow-derived Common Connective Tissue Progenitor Cells (CCTPCs) in the heart valves and big vessels. After initially discovering the CCTPCs during chicken embryo heart valve development, and both embryonic and adult murine heart valves, we have validated the existence of these cells in human heart valves too.
We are isolating the CCTPCs from human bone marrow and using them to repopulate/seed bovine and porcine decellularized heart valve matrices. We are investigating the fate of these cells after seeding in vitro, both static and dynamic conditions.
We are also using the CCTPCs to seed decellularized pig blood vessels creating tissue engineered aortas, which are implanted into rats for various lengths of time before they are explanted and histologically evaluated.
Using the cadaveric material from the Anatomy Lab, we are researching the anatomical variation of the common carotid artery origins, with special attention to the formation of endothelial intimal thickening. We were able to show that when the left common carotid artery originates from the brachiocephalic trunk instead from directly off the aortic arch, then presents increased intimal thickening. This intimal thickening is the result of the engrafting CCTPCs originating from the bone marrow.
To explain the cause of the intimal thickening in case of the anatomical variations of the common carotid artery origins, we are using computational fluid dynamics simulations and calculations of the flow and shear stress.
Capabilities:
I am able to provide expertise in histological sample collection and processing, as well as light- and laser confocal microscopy. Classical and immunological labeling of cells and tissue samples is a routine in my lab, also I am already advising multiple PIs in setting up multiple immunofluorescent experiments.