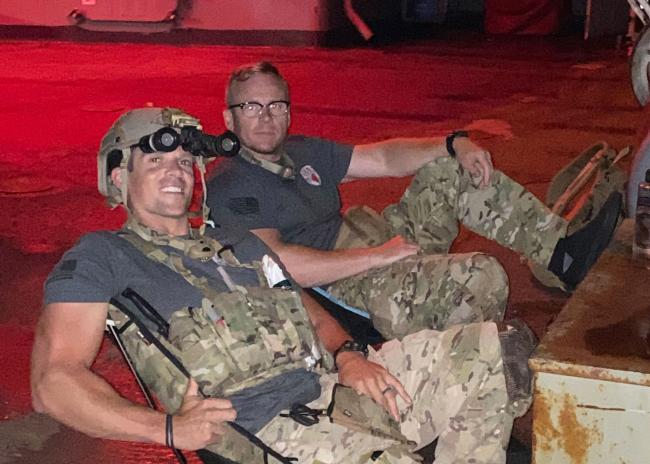 Dr. Ferrara considers himself "an aggressively average dude," but there is nothing average about a physician who jumps out of helicopters in the call of duty carrying a gun for his own protection. This doctor cares for the warriors.
William C. Ferrara, DO, Maj, USAF, MC, Emergency Physician, Special Operations Surgical Team Detachment-1 comes from a long line of service members. Both of his grandfathers served in WWII, his father retired from the United States Marine Corps (USMC), and his brother served in the USMC, CIA and now currently serves as an FBI agent. But Dr. Ferrara followed a non-traditional route.
As a medical student at VCOM-Carolinas, he was not in the Health Professions Scholarships program like students generally are who plan to serve in the military. In fact, he had no commitments to the military at all either in medical school or during his Emergency Medicine residency at Palmetto Health Richland in Columbia, South Carolina. However, the desire to serve a greater cause was always present.
During my third year of residency in Emergency Medicine a clinical mentor introduced me to an active-duty Special Operations Surgical Team member and my quest to join the military officially began. I wanted to serve alongside the best of the best, but it was difficult to find medical service positions in military special operations units.
William C. Ferrara, DO, Maj, USAF, MC
,
Emergency Physician, Special Operations Surgical Team Detachment-1
Typically, civilians cannot try out for special operations units without first commissioning as a medical officer in the military. They would then be required to serve two to three years at lower acuity hospitals before ever earning a chance to try out for the "dream career."
But career disappointment was not the only challenge Dr. Ferrara faced.
"My wife and I were tested spiritually and emotionally through the loss of two pregnancies," he shares. "For a time, we chose to pursue the primary goal of establishing a family. I put military service on a back burner. I was blessed to work for two years as a civilian doctor with some of the greatest physicians, nurses and staff at Self Regional Medical Center in Greenwood, SC."
While still a civilian, Dr. Ferrara and his wife welcomed their first child and the yearning to serve his country persisted.
For a second time, Dr. Ferrara reached out to military recruiters. By perseverance and determination, he convinced a recruiter to talk with the Special Operations Medical Team who allowed him to attend an assessment at their compound on Hurlburt Field in Florida.
During the week-long process candidates are tested physically and mentally through psychological evaluations, physical stress tolerance, sleep deprivation, leadership skills and the ability to place the teams needs above their own. The culmination of that week resulted in successfully earning Dr. Ferrara an invitation to join the United State Air Force Special Operations Surgical Team (SOST) and he directly commissioned into the military.
Starting with 5.5 weeks of Commissioned Officer Training to learn the foundations of life as a United States Military Officer, Dr. Ferrara began the rigorous task of becoming mission-ready and deployable.
The transition from civilian to military physician came with uncertainty and risk of failure. The first year was spent training. The family moved to Birmingham, Alabama, which is the location of the Special Operations Surgical Teams on the East Coast.
My civilian emergency department family truly supported the decision to serve in the military and I am beyond grateful for their grace, patience and understanding.
William C. Ferrara, DO, Maj, USAF, MC
,
Emergency Physician, Special Operations Surgical Team Detachment-1
To ensure optimal performance in high threat, limited resource, austere environments, SOST members attend Air Commando School, Survival, Evasion and Resistance School, Special Operations Medical Skills courses, Critical Care Basic and Advanced Transport School, Tactical Driving courses and special operations weapons training prior to earning a spot on the teams. These highly trained teams are comprised of a general surgeon, emergency physician, critical care nurse, surgical technician, respiratory therapist and anesthesiologist.
Dr. Ferrara has since deployed multiple times to some of the most remote locations in the world, serving various special operations units in the military, including the elite Navy SEALS. When there is an injury on the battlefield, his team is on location to administer care immediately.
"Our team has deployed with 'tip of the spear' units within Naval Special Warfare. I have zipped around on speed boats in the middle of the ocean, treated patients in makeshift hospitals on Naval Vessels, set up hasty operating rooms in the back of trucks, helicopters, and planes. Our teams find a way to treat patients anywhere, anytime using ingenuity and the will to 'care for the warriors' through any means necessary. I have had the opportunity to work alongside, instruct, and build lasting relationships with Air Force Special Warfare members from pararescue jumpers, combat controllers, special operations medics to US Army Special Forces teams."
When he is not deployed, Dr. Ferrara maintains clinical proficiency teaching Emergency Medicine residents at the University of Alabama Birmingham, which ensures his skills and leadership are challenged daily.
One of the benefits of joining SOST is our daily clinical exposure to civilian patients. This position is truly the best of both worlds. I am serving the civilian population while ensuring I am also ready at a moment's notice for the multitude of traumas which may occur down range in the deployed environment.
William C. Ferrara, DO, Maj, USAF, MC
,
Emergency Physician, Special Operations Surgical Team Detachment-1
The Special Operations Surgical Team motto is Quis Illos Bellatores Custodiet, which translates Those Who Care for the Warriors, and for Dr. Ferrara there is no more worthy a calling than utilizing all the training and knowledge gained at VCOM and through residency to bring Americans back home alive from catastrophic injuries.
"There is no greater cause than training to be at my best through physical, tactical and medical excellence to answer our nations call. It is an honor to serve the nation as a United States Air Force Emergency Physician and I am proud to serve as a member of the Special Operations Surgical Teams. VCOM afforded me the opportunity to fulfill my dream of becoming a physician, laying the foundation for a versatile, dynamic, ever-rewarding career in medicine."