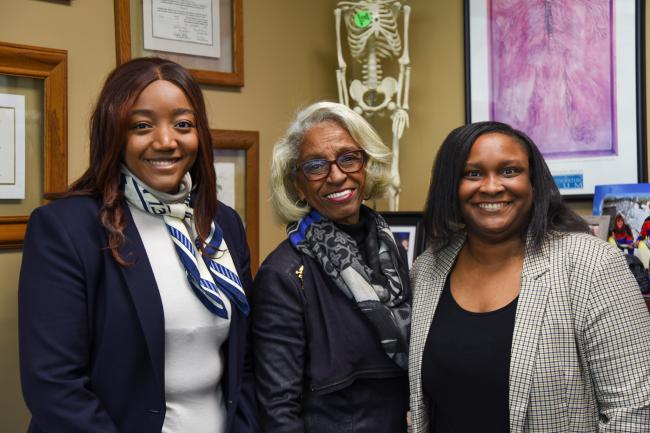 On Monday, Feb. 13, 2023, Dr. Barbara Ross-Lee was the keynote speaker for VCOM's William G. Anderson, DO, Speakers Series, the premier event of the College's Black History Month celebration. 
By any measure, Dr. Barbara Ross-Lee is an impressive person. She was the first African American woman to serve as dean of a U.S. medical school, Ohio University's Heritage College of Osteopathic Medicine. She was a Robert Wood Johnson Foundation Fellow where she learned a lot about public health policy. She was physician in the Navy reserves. She has been the vice president for health sciences and medical affairs at the New York Institute of Technology and dean of the school's College of Osteopathic Medicine. She has served as chair of AACOM's Racism and Injustice in Healthcare Education Adaptive Working Group and president of the American Osteopathic Foundation. 
Amariah Sledge, president of the VCOM chapter of the Student National Medical Association, which organized VCOM's Black History Month events, noted that Dr. Ross-Lee was a trailblazer, "opening doors for all of us, especially women and young black women."
Certainly, Dr. Ross-Lee's resume is notable, but on Monday afternoon, she said that what she's most proud of doesn't really appear on her curriculum vitae. "My biggest contributions were the innovations that I brought to the classroom and that I brought to the clinical setting to help students learn, the things I brought to the innovation of medical education," she said. The work she and her team did at Heritage College of Osteopathic Medicine to focus on problem-based and small-group learning has become a model of osteopathic education.
And despite her many accolades, she told the assembled crowd that she never aspired to be the dean of a medical school. What she desired was to make things better in education and to better prepare the medical students she was seeing in her office. Her life hasn't been about following a specific plan, she said, but rather taking opportunities as they presented themselves so that she could do the things that mattered to her. "Build on who you are," Dr. Ross-Lee advised. "That's what blazing a trail is."
Following Dr. Ross-Lee's talk, SGA President Tarana Zaman announced Curtis McInnis, Jr., as the winner of VCOM's Diversity, Equity and Inclusion Leadership Award. In introducing him, she observed that he was a model VCOM student leader with a knack for making people feel seen and heard. "It is clear that he seeks to eliminate health care disparities by providing strategies and programs that address discrimination, preventative action, health equity and quality of health while also educating osteopathic medical students," she said.
In accepting the award, McInnis noted that he was honored to be included with the others who had won the award before him. He also offered three pieces of advice that have helped him throughout his journey. First, he asked the audience to be intentional with their actions and move with purpose. Secondly, he asked that they hold themselves accountable for recognizing their own bias and to seek to do better. And finally, he asked them to understand the power of really listening. 
The afternoon's event was a wonderful opportunity to come together as a community to learn and be inspired.