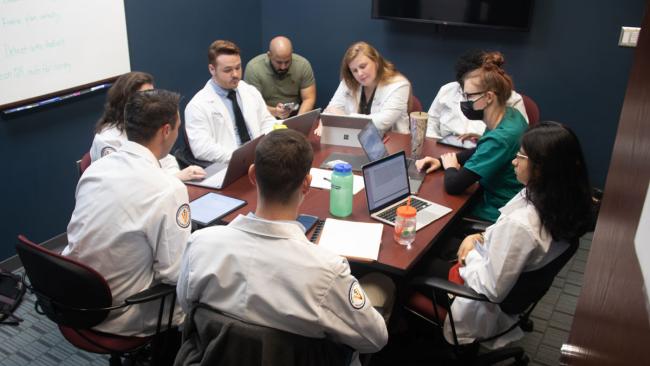 VCOM-Carolinas has formed an Inter Professional Education (IPE) collaboration in partnership with USC-Upstate Mary Black College of Nursing, Presbyterian College's School of Pharmacy, and Wingate University School of Pharmacy, to give students an opportunity to learn a critical lesson necessary for providing life-saving care: teamwork.
On Friday, September 23, 2022, VCOM medical students were joined by nursing students and pharmacy students for an exciting IPE event hosted by the medical college. Students from the 3 health professions worked side by side in simulated encounters and a virtual escape room.
Students worked in groups of 7-8 total students as an interprofessional team – a mix of nursing, pharmacy, and DO students.
"This interprofessional education experience is very important for our nursing students because it gives them a chance to work with students from other healthcare professions," said Logan Camp-Spivey, PhD, MSN, RN, CHSE, Director of Simulation, Assistant Professor Mary Black College of Nursing. "Now that they are in clinical and once they move into practice as registered nurses, then they will be part of that healthcare team so it helps them to see their role and function and how they can work together to best advocate for their patients."
The teams interacted with a standardized patient (SP) who role-played a patient's family member in a simulated family meeting to discuss a patient who is transitioning from an acute care hospital admission to a short-term rehabilitation center. The teams met with the family members to discuss goals of care, receive input from the family (patient representative) to participate in shared decision-making, and address any questions or concerns. Following the simulated meeting, students reflected on the experience during a debriefing session in which they received feedback on their interaction from both a healthcare professional and the SP.
"Today we've had a wonderful opportunity with standardized patients coming in and playing the role of a family member of somebody who is being discharged from the hospital," said Lisa Carroll, MD, VCOM-Carolinas Department Chair for Clinical Sciences. "We have medical students, pharmacy students, and nursing students all working together to prepare a discharge plan for the patient and communicate that with the Standardized Patient and their family. It has been excellent just watching them problem solve together and utilize each other's skillset to come up with the best plan that's really holistic. They're thinking about all aspects of the patient's care."
Students also participated in a virtual escape room within their interprofessional team groups following an Osteopathic Manipulative Medicine (OMM) demonstration.
"Teamwork is essential for healthcare for providing the best patient care and it's something that I'm super-excited to be a part of as a faculty instructor. I've been a pharmacist for a long time and I never had this in my training. I think I would have benefited from it, those around me and our patients as well," said Susan Smith, PharmD, Associate Professor of Pharmacy and Clinical Pharmacist Internal Medicine at Wingate University. "I am just very happy to be involved with other partners who value the importance of interprofessional education as much as I do."
This collaborative educational approach is critical in preparing students to enter the healthcare workforce, where teamwork and cooperation are extremely important. IPE experiences give students heading into various health professions a foretaste of some of the communication challenges they will face in their future careers and provide a supportive environment in which they can develop the skills needed to meet these challenges and ultimately to better serve their patients.