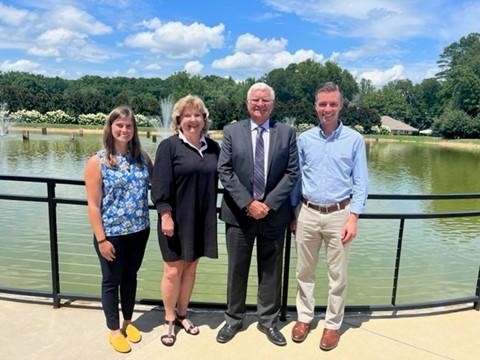 Julie Ghent had an incredible gift of compassion, empathy, and encouragement that she shared freely with everyone. Julie's eternal optimism and her natural ability to inspire others created a magical atmosphere for her family, friends, co-workers, perfect strangers, and the medical community.
Her presence supported, encouraged, and elevated those around her, and her positive attitude, compassion, empowerment, creativity, and magic created rich clinical experiences for faculty, preceptors, and medical students.
Although Julie passed away in January 2021, her legacy is being honored by a scholarship established in her memory at the Edward Via College of Osteopathic Medicine (VCOM-Carolinas). The Julie W. Ghent Memorial Scholarship Fund was established by Julie's loving family and Mid-Carolina AHEC and it honors the memory of Julie W. Ghent who worked as the Student Coordinator for VCOM-Carolinas host site MUSC Health Lancaster Medical Center, formerly Springs Memorial Hospital. The scholarship recognizes outstanding osteopathic medical students who do clinical rotations at the MUSC Health Lancaster Medical Center core site, and who are committed to osteopathic principals and practice, have excelled academically, and have proven to be a leader in addressing the educational, societal, and health needs of a rural community.
"Julie knew all the medical student's names before they showed up and she guided them through the complex process of medical rotations, physician introduction, direction, and housing. Whatever each needed to succeed, Julie supplied," said Dr. William Lee Thomas who worked with Julie for more than two decades. "I learned a ton watching Julie with students. She was such an observant and insightful person that I asked her to join my lectures to provide pointers on my teaching methods."
VCOM-Carolinas who did their clinical rotations at the Lancaster hospital have credited Julie with shaping their future. Their experiences during the third- and fourth-year of medical school impact and influence their future as physicians and how they interact with patients. Julie wanted the students to have hands on experience that would lay the foundation for them to be able to practice medicine.
According to Julie's husband of 49 years, Joe Ghent, ""Julie loved life and she loved people. She took great joy in her family and friends, and in helping other people. Julie spent her life living The Golden Rule. Her greatest joy came from caring for those she loved."
What else brought Julie joy? Her daughter Jennifer, her son Justin and his wife Stephanie, and her two grandsons, Wyatt and Cade. Having tea with her friends, the color purple, Elvis Presley, her church, a good book, the beach, and her collection of hats. And she treasured her job as the VCOM-Carolinas Site Coordinator Health Professions Student Coordinator at Mid-Carolina AHEC in Lancaster. It was here that Julie worked with third- and fourth-year medical students, each of whom she treated like her very own children.
"Julie's presence supported, encouraged, and elevated those around her, and her positive attitude, compassion, empowerment, creativity, and magic created rich clinical experiences for faculty, preceptors, and students. Julie was so well-respected by the students and her colleagues," said Cheri Plyler is the director of Mid-Carolina AHEC and she was Julie's life-long friend and colleague.
While soft-spoken, Julie's words carried tremendous weight, confidence, and compassion. Her kindness left a lasting impression on Dr. Rebecca Oksnevad and Dr. Demetri Tsiolkas when they rotated at the Lancaster hospital while medical students at VCOM-Carolinas. They both grew very close to Julie and credit her for creating a supportive environment in which they could learn and thrive.
"Mrs. Julie was always so welcoming and warm," said Dr. Oksnevad. "She treated us like family and invited us to her home. For Christmas she made us cookie tins with our names on them. She always made time for us and asked about our lives."
Dr. Tsiolkas added, "She was different and truly special. She viewed us as her extended student family and cared very much for us and our future and let us know that. She expected great things for us in our futures. If we were making that impact in our schooling, we would make that in our careers. It was more than a job for her she needed to see us do well. To have someone appreciate and acknowledge us made us try that much harder. We felt at home, that is how we felt for her."
As much as Julie looked out for these young medical students nothing could have prepared them for the COVID-19 pandemic or when she fell ill with the virus. Being a breast cancer survivor increased Julie's risk for having a poor outcome. At a time when only Joe was allowed to be with Julie because of COVID-19 restrictions, Dr. Oksnevad and Dr. Tsiolkas sat quietly by his side.
"During a very difficult time God's providence provided, 'Julie's students', to be with us, to pray with us, to comfort us, and for that my family and I are very humbled and grateful," said Joe.
Dr. Tsiolkas visited Julie in the ICU daily and kept his classmates apprised of her condition. "Julie had done so much for me, and I am thankful Joe allowed me to spend time with her. That was the kind of person she was for us, and I wanted to be that kind of person for her."
Julie's example of doing unto others made a lasting impact on Dr. Oksnevad. "As medical students, we get lost in the rigorous training and preparing for boards, but we need to remember why we are here and that we want to make people's lives better. Julie's whole point was that you just have to care about people. Caring for others is the most important thing."
Just as Julie made a significant impact on future physicians, she filled her community with love, spirit, compassion, empathy, passion, and joy. Even as Julie underwent cancer treatments herself, she wrote notes to other cancer patients giving them encouragement and letting them know she was thinking about them.
"Julie did incredibly kind things for others and her passing has left a big void in the community," said Julie Bowers, a Family Nurse Practitioner with MUSC and Julie's best friend. "Julie would be humbled by the scholarship in her memory."
The first students from VCOM-Carolinas to receive The Julie W. Ghent Memorial Scholarship Fund are Kristopher Gross and Emma Hand Kunkleman, both who are members of the Class of 2023.
Kristopher Gross is a native of Clover, SC and he received a bachelor's degree in chemistry from Clemson University. Prior to enrolling in medical school at VCOM-Carolina, he worked as a certified nursing assistant at Oconee Memorial Hospital. At VCOM-Carolinas, Kristopher is vice president of the Hispanic Community Medical Outreach, he serves as a student ambassador, and was the Third-Year Medical Student Core Site Ambassador at Bon Secours St. Francis, Greenville, SC.
"I feel that rural medicine is a special field that reaches the poorest, the sickest, and the most disadvantaged, and I believe that my talents and my abilities can make a significant impact to these rural communities," said Kristopher, who plans to practice primary care in a rural area of the state.
Emma Hand Kunkleman is a native of Concord, NC and she received bachelor's degree in emergency medical care with a pre-medicine concentration from Western Carolina University. She is involved in the South Carolina Area Health Education Consortium (AHEC) Scholar Program, which consists of two years of didactic and experiential training for students attending South Carolina schools that promotes inter-professionalism and prepares students to care for rural and underserved communities, especially emphasizing primary care. At VCOM-Carolinas, Emma has received the Pediatrics Club Pediatric Service Award and the Distinguished Scholar for Pediatrics Award.
"I am so honored and grateful to have received the Julie W. Ghent Memorial Scholarship. My rotation in Lancaster has been extremely rewarding and allowed me to help care for rural and underserved communities since those patients are the ones who need it most," said Emma, who plans to practice pediatrics in a rural area of the state.
Donations in Julie's memory may be made to The Julie W. Ghent Memorial Scholarship Fund, VCOM-Carolinas, 350 Howard Street, Spartanburg, SC 29303 or online at www.vcom.edu/giving/give-online.
For more details, contact Tammy E. Whaley, Assistant Vice President for Advancement & Alumni Relations at VCOM-Carolinas, at twhaley@carolinas.vcom.edu or (864) 327-9995.