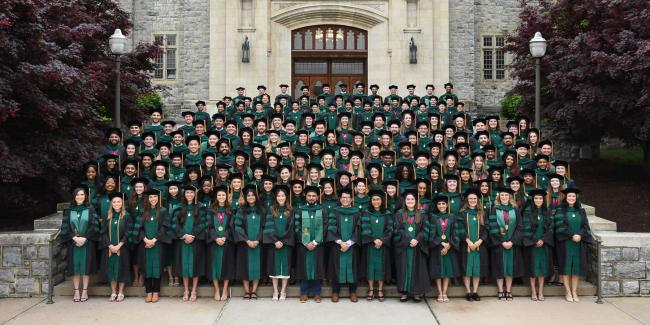 The Edward Via College of Osteopathic Medicine (VCOM)-Virginia campus graduated 161 members of the Class of 2022 with a Doctor of Osteopathic Medicine (DOs) degree on Saturday, May 7, 2022, at 10:00 a.m. at Burruss Hall on the campus of Virginia Tech in Blacksburg, Virginia.
This Commencement ceremony recognized a special group of medical students who worked hard and earned their moment to be honored and celebrated. This class is the 16th class to graduate from VCOM since its inaugural class in 2007. The graduates, along with their families, friends, and the broader community of
VCOM's faculty, staff and supporters, gathered together on location and virtually, with a live stream going out on YouTube from the auditorium.
The College was honored to have Nancy Howell Agee, a nationally recognized health care leader, as its Commencement speaker. Ms. Agree is President and Chief Executive Officer of Carilion Clinic, a $2.4B not-for-profit integrated health system headquartered in Roanoke, Virginia, serving more than one million people in Virginia and West Virginia.
In her speech to the class, Ms. Agee recognized the medical students' years of hard work, dedication and sacrifice that each one had to go through to become a doctor. She reminded them that they are on the right path and on the cusp of a rewarding and remarkable journey of saving lives and becoming the future of medicine.
Over 60% of the Class of 2022 are from the Commonwealth of Virginia. 67% of them will soon enter primary care residencies. VCOM recognizes its students' efforts and resiliency and commends them on being among the nation's first class of medical students to begin their clinical rotations during a global pandemic.
The College wishes to congratulate each graduate and welcome them into the family of over 4,500 VCOM alumni.