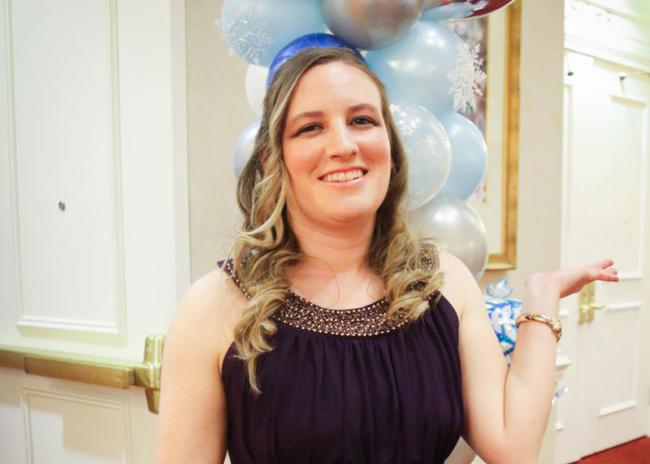 Can you tell us a little about yourself, your family, background, what brought you to medicine and specifically to VCOM, how you chose your specialty, etc.?
Ever since a young age, I looked up to doctors and was interested in helping those who were sick or injured. I've been a Christian most of my life, and I felt like God had called me to serve Him and His people by providing help in the medical field as a doctor. I moved out of state to attend Mount Vernon Nazarene University. I majored in chemistry pre-med to pursue my dream of medical school.
During my last year of college, a MVNU graduate and current student from VCOM-Carolinas visited MVNU to make a presentation on what an osteopathic doctor is and advertise what VCOM is all about. I remember taking much interest as it went along with the type of doctor I wanted to be.
I applied to VCOM and received an interview. Interviews felt more like conversations, and I felt like they just really wanted to know me and what drives my passion for wanting to be a doctor. I was sitting on the beach in Myrtle Beach when I received that acceptance phone call from VCOM. It's a memory I hold in my heart because my dream was very much alive.
During my time at VCOM, I made some meaningful friendships with students and staff and was involved in various groups. I gravitated toward family medicine and ended up taking over the chair position for Relay for Life. I discovered that providing care to families and keeping up with their lives was what I wanted because that's what my experience with doctors was like. I grew up in a small town so naturally I had close relationships with neighbors, teachers, and doctors.
When it came to residency, I sought advice from some of the family medicine physicians on staff at VCOM-Carolinas and applied to residency programs along the Southeast. I had an amazing fourth year with traveling and living in various states.
I was also blessed with many interviews. One interview in particular stuck out to me: Charlotte. I got a similar vibe that I got when I had first interviewed at VCOM. I felt a sense that everyone just wanted to get to know me and I felt a sense of home.
You had just graduated from medical school and started your family medicine residency in an unprecedented year when your life took an unexpected turn. Can you describe how this came about?
In March, I was pulled midway out of my ER rotation due to the pandemic and I found out later that month that I matched in Charlotte to CMC Family Medicine-Union Residency Program.
Even though it's not what I expected for 2020, I was just thankful to graduate and finally live out my dream. I got valuable time with my family, and I was going to finally practice as a physician. I was finally done with school after all these years, and I could finally have a career and get a paycheck.
Excited, I moved to Charlotte and started orientation. I was nervous about being a doctor in a pandemic but excited that I could actually help in the crisis and start my lifelong career as a doctor. Work had been going well so far during orientation.
While in my new apartment, I found a lump one day while in the shower, so I decided to get it checked out before my schedule got crazier. I got sent for imaging which was anticipated. It turned out to be highly suspicious of malignancy, so I got the biopsy done an hour or two later that same day. The next week I found out I had an early stage of invasive ductal carcinoma. Shortly after the diagnosis, I learned I had triple positive breast cancer and would require chemotherapy before surgery and radiation.
At the time, my world around me seemed to be falling apart. My health and my dream job seemed like they were taken from me. I never imagined this could be cancer because the risk factors really weren't there especially at my age. Two of the things I had been thankful for (aside from God, family, and loved ones) during this pandemic were my health and the fact I had just graduated and became a doctor. Now I have a disease that is trying to kill me and on top of that I have to take a leave of absence from the job I just started and loved
You found yourself a patient when you had planned to be serving as a physician. How did this role reversal impact your perspective? Did you gain insights that you'll carry into your practice?
Instead of being a doctor, I got to step back and be the patient for a while. I finally get the reference to walk a day in someone else's shoes. It is an eye opener. As a student, I never knew the right words to say to cancer patients other than I'm sorry because I just didn't have that understanding of what they were going through. I was always the one who was suggesting ordering imaging or looking for the lumps or abnormalities to figure out what it is for someone else and then referring them to the proper specialists. I figured out just what it meant to be a patient and get the bad news over the phone. I was hit with all of these imaging and doctor appointments. I joked getting a PET scan because as a doctor you have those patients who really want a full body scan just to check on everything every so often and now I actually was a patient who got the full body scan.
I sometimes did not tell people right away I was a doctor to see how I was treated just as a patient. Sometimes people quickly changed their attitudes once they found out I was a doctor and employee at that hospital. I learned the stress and time constraint on appointments and how difficult it is to remember all of what each doctor says during visits. I also understood the value of understanding from a physician and being an advocate for yourself during treatment.
Can you share with us the role of faith in your experience with cancer?
A great support system and faith are honestly what got me through it and still get me through it. I was miserable during chemo and having to be there from early morning until close to 5pm takes a toll on you. Chemo is bad enough but during a pandemic patients have to sit by themselves in the room which is even more depressing. You also have to sit by yourself waiting for surgery. Every doctor appointment and imaging study you go in by yourself.
Even though my life was turned upside down, I never lost faith that I would be ok. God gave me a sense of peace throughout all of this and even though this was not caused by Him, I believe He has created an opportunity for me to turn this into something good. When everything in my world was changing, He was the one thing that remained. He provided my awesome support system from loved ones to complete strangers. I felt love all around me, and I knew I had to fight and beat this for myself and everyone out there praying for me and rooting for me.
What forms of support helped you most on this journey?
My support system was blessed with a lot of people, but the people closest to me would be my family and my boyfriend. My mom took a leave from her job to take care of me during chemo and my dad also took care of me during chemo and surgery recovery. My boyfriend came up every other week and stayed for the full week to help take care of me. My mama and uncle called almost every week to check on how I was doing. My sister organized something in which people we knew would send me things in the mail to cheer me up and make me feel special. Anyone who really knows me knows that I love getting mail. After sharing my story with Dr. Carroll and Dr. Cannon, I remember Dr. Carroll asking what she could do to help and I told her I liked getting mail. Shortly after, I received care packages from Dr. Carroll and Dr. Cannon. Along with additional care packages from friends, I started receiving cards on a daily basis from VCOM students with encouraging messages saying I was an inspiration and how strong I was and how they are praying for me. I got called a warrior and it made me feel really good. I stayed really optimistic throughout this whole process and I really think my posts and my story positively impacted people during a time when there didn't seem like much hope with a world pandemic trying to destroy everything. If I could be a light and a symbol of hope through my faith and optimism, then I'm doing God's work.
How did the card campaign from the class of '23 come about? was there a message from one of the cards that was particularly meaningful to you or that just stands out?
It wasn't until this one card I got that I realized there was a framed picture of me placed outside the classrooms on the first floor with cards and my address and some type of message with my story and telling people to send me some prayers and encouragement. The student who informed me of what was going on had written a card like no other. It was a card full of humor and it told me how fine I looked in that picture. I eventually talked to this student since he left his number in the card and I thanked him for his thoughtful humor. Laughter really is the best medicine sometimes.
Through these cards, I learned how a little kindness goes a long way and how much words can mean to a complete stranger. I hope the students go on to do kind gestures like this for patients and anyone else because it really made a huge impact during my chemo treatment. No matter how bad I was feeling I made an effort almost daily to get off the couch and walk to my mailbox in anticipation of what I would receive in the mail. I was having a really hard time one day and I just remember reading various cards and crying because of the sweet words written in those cards telling me that I will be a great doctor and I'll get through this and that people are thinking of me and praying for me. To this day, I still do not know exactly who started the card campaign and if it was a combined effort (my suspicions are Dr. Carroll or Dr. Cannon or both) but it definitely compels me to pay the kindness forward.
Now I am halfway done with radiation and am anticipating my birthday and going back to work in March to do the job I love. To everyone out there who is feeling depressed whether it is from the pandemic or some other issue, I challenge you to focus on all the blessings God has given you in your life instead of focusing only on the problems and you'll be able to know true joy, peace, and love. For all the greatest gifts come from above.
Did you gain insights that you'll carry into your practice?
I feel like this experience will make me a more empathetic doctor because now I will understand to some degree what it is like to be a patient and to go through something as difficult as cancer. Every cancer is different but on some level I feel like I will be able to bond with my patients based on similar struggles. I'll be the physician encouraging patients to get screened and get appropriate imaging when needed and, hopefully, end up saving lives from it. I want to be the one encouraging my patients to stay strong and provide them with resources that are faith-based and centered around support.