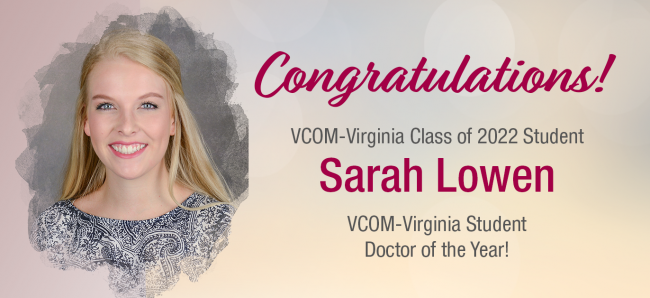 Sarah Lowen is an example of an exemplary medical student, both in academia and personally. Throughout her time at VCOM-Virginia, she has always strived to ensure her fellow classmates have felt seen and heard. She has helped bring workshops such as 'Friends Helping Friends in Distress' to VCOM and co-founded a student support group called Gathering In Grief. She continued to search for opportunities to support her classmates in whatever they needed and worked to increase access to cultural resources and LGBTQ+ support.
VCOM has gifted me with numerous diverse opportunities. I have been given the opportunity to be educated by remarkable professors, learn beside compassionate and selfless classmates, and grow in a community committed to supporting one another. I feel beyond honored to receive Student Doctor of the Year, and I can confidently say I wouldn't have found my footing in medicine without my VCOM community. I will continue to go forward each day with the aspiration of becoming a well-rounded physician committed to providing the best care for my future patient.
Sarah Lowen
,
Virginia Class of 2022
Sarah has held the following leadership positions within VCOM: Student Government Association (SGA) Vice President as a first-year, SGA President as a second-year, interim Class President for the Class of 2023, VCOM Alumni Ambassador, Council of Osteopathic Student Government Presidents (COSGP) Wellness Committee and COSGP National Global Health representative.
Lowen, as the COSGP regional director, planned the inaugural Mental Empowerment Directive. Her team trusted her with the honor to plan National Suicide Prevention Week. "My goal for that week was to illuminate a conversation of hope, possibilities, and support for the entire osteopathic community. Sometimes all a person may need is a flicker of light to prevent them from feeling isolated in darkness," said Lowen.
"People are that light. Community is the fire; the joining of single sparks to ignite change. It is an honor to be joining this profession of physicians. I am thankful to dedicate my life to help maintain and prosper the life of my patients and my community. Being an exceptional physician means investing yourself in your community and going above and beyond what expectations are placed on you to truly care for and about your patients," said Sarah Lowen.