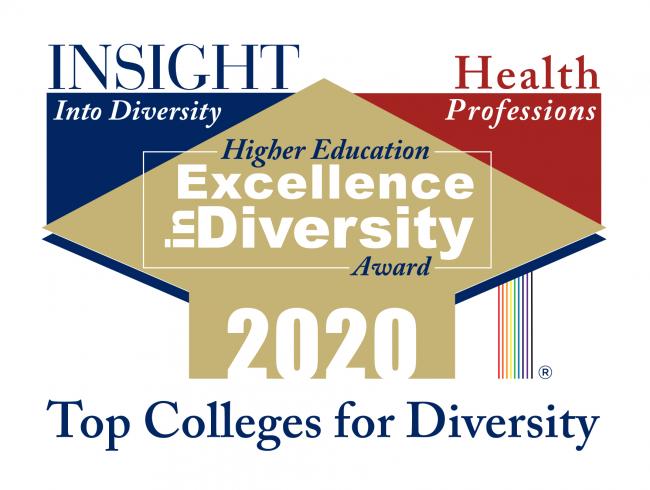 The Edward Via College of Osteopathic Medicine (VCOM) has received the 2020 Health Professions Higher Education Excellence in Diversity (HEED) Award from INSIGHT Into Diversity magazine, the oldest and largest diversity-focused publication in higher education. As a recipient of the annual Health Professions HEED Award — a national honor recognizing U.S. colleges and universities that demonstrate an outstanding commitment to diversity and inclusion — Edward Via College of Osteopathic Medicine (VCOM) will be featured, along with 45 other recipients, in the December 2020 issue of INSIGHT Into Diversity magazine. This is the second year in a row that VCOM has been named as a Health Professions HEED Award recipient.
VCOM recognizes the lack of medical care available to minority populations. One of the goals of our mission is to seek 'to recruit and graduate students who will address health care disparities, including those related to minority populations.' We are proud of the diversity of our students, faculty, and staff who have come together as a tenacious multicultural institution. We reaffirm the VCOM family's commitment to remove the barriers of poverty, access, and discrimination in any form. These are the ideals that have made our VCOM family strong.
Dixie Tooke-Rawlins, DO
,
VCOM President and Provost
The HEED Award process consists of a comprehensive and rigorous application that includes questions relating to the recruitment and retention of students and employees — and best practices for both — continued leadership support for diversity, and other aspects of campus diversity and inclusion. We take a detailed approach to reviewing each application in deciding who will be named a HEED Award recipient. Our standards are high, and we look for institutions where diversity and inclusion are woven into the work being done every day across their campus.
Lenore Pearlstein
,
Publisher of INSIGHT Into Diversity magazine
Other recipients of the 2020 Health Professions HEED Award are:
A.T. Still University
California State University, Los Angeles
Columbia University, College of Dental Medicine
Duke University School of Nursing
Florida State University College of Medicine
Frontier Nursing University
Icahn School of Medicine at Mount Sinai (ISMMS)
Johns Hopkins School of Nursing
Louisiana State University School of Veterinary Medicine
MGH Institute of Health Professions
Penn State College of Medicine and Penn State Health Milton S. Hershey Medical Center
Philadelphia College of Osteopathic Medicine
Purdue University College of Veterinary Medicine
School of Nursing, University of Minnesota
TCU and UNTHSC School of Medicine
Texas A&M University - College of Veterinary Medicine & Biomedical Sciences
Texas A&M University College of Dentistry
The Medical University of South Carolina
The Ohio State University College of Medicine
The Ohio State University College of Nursing
The Ohio State University College of Optometry
The Ohio State University College of Veterinary Medicine
The University of Arizona College of Medicine - Phoenix
Touro College of Osteopathic Medicine - New York
UNC Gillings School of Global Public Health
University of Alabama at Birmingham School of Public Health
University of California, Riverside School of Medicine
University of Cincinnati College of Nursing
University of Cincinnati James L. Winkle College of Pharmacy
University of Cincinnati, College of Allied Health Sciences
University of Colorado School of Dental Medicine
University of Florida College of Dentistry
University of Louisville
University of Maryland, Baltimore, School of Nursing
University of Miami Leonard M. Miller School of Medicine
University of Michigan Medical School
University of Rochester School of Medicine and Dentistry
University of Rochester School of Nursing
University of Texas at Austin College of Pharmacy
University of the Incarnate Word Feik School of Pharmacy
University of Virginia School of Medicine
UT Southwestern Medical Center
Vanderbilt University School of Nursing (VUSN)
Virginia Tech Carilion School of Medicine
Weill Cornell Medicine
For more information about the 2020 Health Professions HEED Award, visit insightintodiversity.com