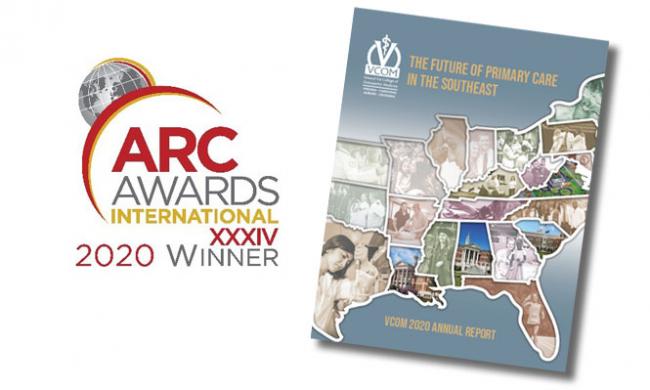 The Edward Via College of Osteopathic Medicine (VCOM) received two awards for its 2020 Annual Report: The Future of Primary Care in the Southeast, in the Annual Report Competition (ARC) International Awards program. For seven consecutive years, VCOM has received recognition in the ARC Awards program that celebrates world-class achievement in annual reports.
The VCOM annual report received a Gold Award for the Chairman's/President's letter under the "Health and Education" classification. The second was a Bronze Award for the overall report. The ARC Awards were created to honor excellence in annual reports and to encourage noteworthy and vital writing, an imaginative and original design, and how well the annual report reflects the company's spirit.
As a non-profit organization, VCOM utilizes its annual report to bring awareness to the success of the Mission of the College. Receiving an international ARC Award is one of the highest honors the Communications Division can achieve. These awards recognize those whose work has made an outstanding contribution to their organization. We have great admiration for what the faculty, staff and students at VCOM have achieved. My team and I always look forward to showing those accomplishments to the world.
Cindy Shepard Rawlins
,
Vice President of Communications, Marketing, Website and Publications at VCOM
The ARC competition receives over 2,000 entries annually. Seventy-seven countries from around the world have entered, according to the Mercomm website. The organization has planned for the winning entries to be displayed at a celebration and exhibition for competition winners in Barcelona, Spain, on October 15, 2020.
For more information, contact Cindy Shepard Rawlins, Vice President of Communications, Marketing, Website and Publications, at crawlins@vcom.edu.