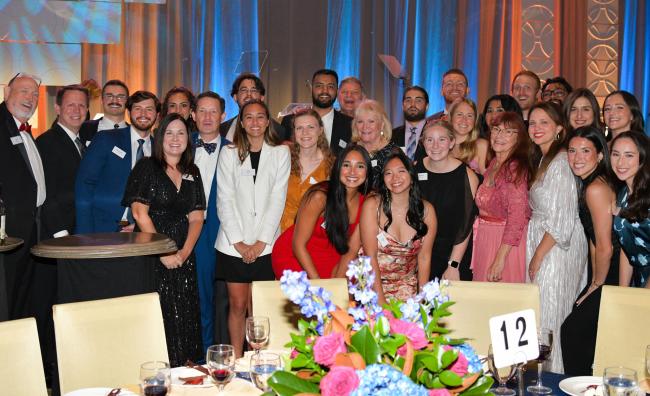 Each year, the American Osteopathic Association (AOA) hosts its Osteopathic Medical Education Conference (OMED) to provide learning opportunities for continuing medical education, as well as celebrating the excellent work of physicians and medical students alike.
The Edward Via College of Osteopathic Medicine (VCOM) was well represented at this year's conference. VCOM-Louisiana Dean Mark Sanders remarked that the conference had a vibrant atmosphere: "From engaging keynote speakers, such as Cole Zanetti, DO, to interactive workshops, every moment was a chance to deepen my knowledge and connect with our Osteopathic family."
VCOM's excellence in research was recognized at the conference. A group from VCOM-Carolinas, students Joshua Ranta '25 and Andrew Walker '26, along with faculty members Steven Enkemann, PhD, and JuliSu DiiMucci-Ward, RD, PhD, won first place for their poster, "Are Physicians Capturing Enough Data to Make Infant Growth Charts Useful Diagnostic Tools?"
In addition, the American Osteopathic Foundation held its annual honors gala, an opportunity to recognize and honor excellence throughout the osteopathic community, and several members of the VCOM family were recognized.
Two VCOM students—Torhiana Haydel '24, VCOM-Louisiana, and Numa Rehmani '25, VCOM-Carolinas—were recognized with the prestigious William G. Anderson, DO, Minority Scholarship. The scholarship is named after Dr. Anderson, who was the first Black person to serve as a member of the American Osteopathic Association and who is a director emeritus on the VCOM College-Wide Board of Directors. The scholarship recognizes minority medical students who are committed to eliminating healthcare disparities and enhancing patient-centered care.
Ahmad Chaban '24, VCOM-Louisiana, and Amaria Sledge '25, VCOM-Virginia, both won Sterling Welch, DO, Scholars Grants. These grants are open to first, second and third-year osteopathic medicine students who have a financial need and demonstrate a commitment to community service and academic achievement.
Chandra Jennings, DO, who graduated from VCOM-Carolinas in 2017, was recognized as a Florida State Emerging Leader.
Zach Simmons '25, from VCOM-Virginia, was honored with one of the most notable awards of the conference: the Golden Ticket. These scholarships support exceptional osteopathic medical students who carry a "disproportionate financial burden due to events outside of their control." Simmons was selected by a review committee from five finalists asthe winner of the largest Golden Ticket award. A native of Giles County, Virginia, Simmons is an active member of the VCOM-Virginia family. He can regularly be found organizing health fairs and other events to provide healthcare to patients around the region.
Congratulations to all of our VCOM winners!