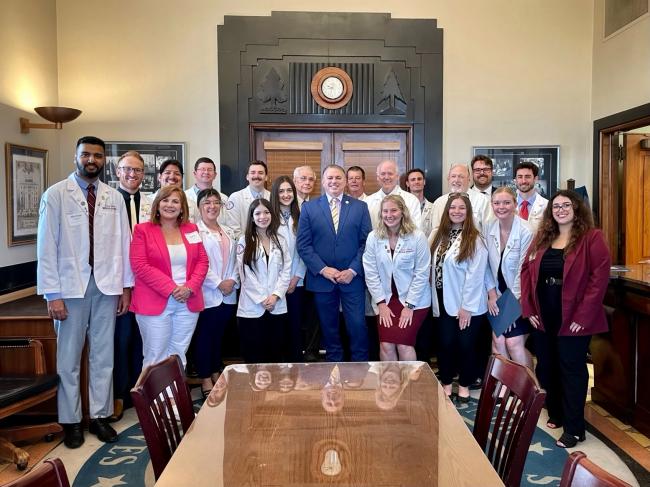 Each spring, physicians from across Louisiana join together at the state capitol for White Coat Wednesday. This event, led locally by the Louisiana State Medical Society, provides an opportunity for physicians to interact with legislators and advocate for the medical profession.
This year, VCOM-Louisiana students and faculty traveled to Baton Rouge for the one-day event. In addition to providing a learning experience for the medical students about advocating for citizens' health and the legislative process in Louisiana, the event also offered networking opportunities for both faculty and students with other physicians and legislators.
During the event, Speaker of the House Clay Schexnayder, invited VCOM representatives to his office for a meeting. Other legislators who engaged with VCOM students included Sen. Katrina Jackson, Rep. Francis Thompson, Rep. Pat Moore, Rep. Adrian Fisher and Rep. Michael Echols.
Also attending the event was VCOM-Virginia alumna Kristin Lynch Grimes, DO, an internal medicine physician and pediatrician practicing in Louisiana.