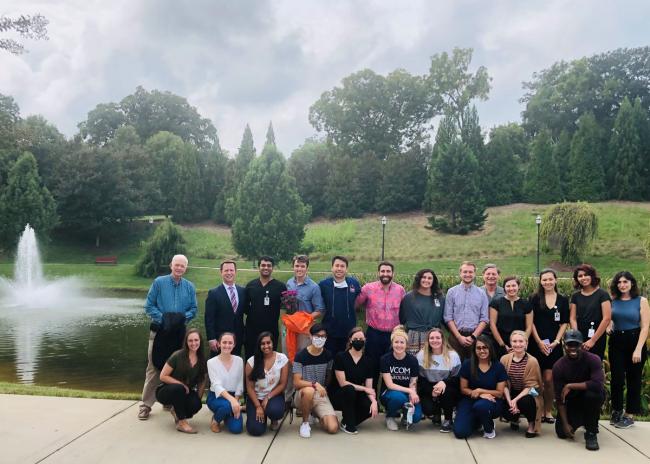 From Monday, September 13 to Friday, September 17, VCOM-Carolinas American College of Osteopathic Neurologists and Psychiatrists (ACONP) held a number of events for Physician Suicide Awareness Week. The events are part of National Suicide Prevention Month and coincided with National Suicide Prevention Week, which is the Monday through Sunday following World Suicide Prevention Day, September 10.
The goal of the event-filled week was to spread awareness of the prevalence of suicide among physicians and create a safe space to discuss the topic. Natalie Fadel, PsyD, Associate Professor for Psychiatry and Neuro-Behavioral Sciences at VCOM-Carolinas, along with ACONP created a PowerPoint presentation about physician suicide with relevant statistics, warning signs, and resources and shared it with students.
Monday was "Reflection Day," with posters and markers provided in the main building's lobby on which students could share their thoughts on this sensitive topic.
Wednesday featured a Physician Suicide Awareness Panel with Ronald Januchowski, DO, Associate Dean for Curriculum, Assessment and Medical Education; Bethany Powers, DO, Discipline Chair for OMM; Paul Switzer, MD, DHA, Discipline Chair for Psychiatry; and Jeff Cashman, DO, Associate Dean for OMS 4th Year and Graduate Medical Education. These faculty members discussed the unique challenges in medicine and how to navigate them and shared their own personal experiences and reflections on their medical journeys.
Friday featured a Flower Ceremony at the pond on the VCOM-Carolinas campus. Students, faculty and staff took a moment of silence and released flowers into the pond in memory of all those who have passed away through suicide. VCOM-Carolinas Dean Matthew Cannon, DO, FACOFP also took a moment to share a few words at the gathering.