VCOM-Louisiana was honored Thursday evening, May 13, as the 2021 recipient of the Thomas H Scott Large Business of the Year award.
The Thomas H. Scott Awards are presented annually to local businesses that make significant investments in the economic development of Ouachita Parish. These investments can be in the form of community outreach, business expansion or creation of new jobs. The annual awards are presented in four different categories of businesses: small (1-10 employees), medium (11-50 employees), large (51-100 employees) and corporate (100+ employees). VCOM-Louisiana was one of three nominees in the Large Business category.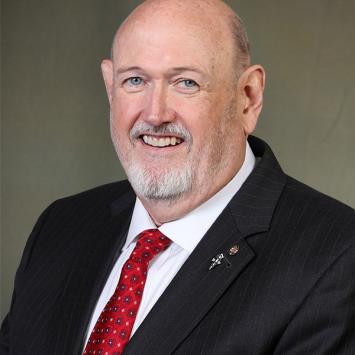 The Scott award demonstrates our commitment to this city and the recognition is indeed an honor.
Dr. Ray Morrison
,
Dean of the VCOM-Louisiana Campus
VCOM-Louisiana was represented by eight faculty members at Thursday's reception, including Dr. Jonah Flowers, Associate Chair for Family Medicine for Rural and Medically Underserved Areas; Dr. Melissa Lipsmeyer, Discipline Chair for Cell Biology and Physiology; Dr. Randy Aldret, Assistant Dean for Research and Faculty Development; Dr. Carrie Baker, Chair for Pediatrics; Dr. Gwenn Jackson, Discipline Chair for Obstetrics and Gynecology; Dr. Berrick Clifton, Director for Simulation Technology and Clinical Procedure Skills; Dr. Larissa Collier, Discipline Chair for Anatomical Sciences; and Dr. Randy Devereaux, Discipline Chair for Preventive Medicine and Public Health.
"Anytime you are asked to represent your employer in a public forum, it is an honor. To be in front of so many of our civic partners, and to be recognized as one of the best among them is humbling," said Aldret, who accepted the award on behalf of the College. "As the Mayor handed me the award, we talked about how far we have all come over the last 12-15 months, even in the face of adversity. That is a reflection of the caliber of faculty and staff I get to work with on a daily basis. The award is indicative of their hard work, and the support we receive from our administration and the board."
This award comes just less than one year after the College first opened its door to its inaugural class of medical students. "To be part of this city is a collaboration between our school and the future of health care," said Morrison. "We hope to be a primary source of physician replenishment, not only to the city proper, but to the northern parts of Louisiana."