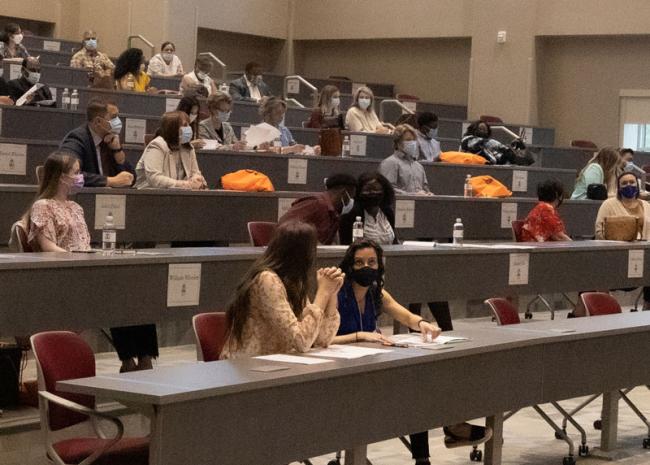 VCOM-Louisiana celebrated its second-annual Accepted Students Day on Saturday, March 27, for the incoming class of 2025. A half virtual, half in-person format, this year's Accepted Students Day marked the first event at the new VCOM campus that was open to outside visitors.
Over the course of the past seven months, VCOM-Louisiana faculty and staff have interviewed hundreds of applicants for the 162 spots in the class of 2025. Of the approximately 140 students who had been accepted into the Louisiana campus's second class, about 45 joined virtually via Zoom, with another 34 students, along with their vaccinated family members, attending in person. Those who came to the campus were required to follow all social distancing and COVID-19 mitigation practices set in place by VCOM-Louisiana. Attendees must have received at least one dose of a COVID-19 vaccine or possess antibodies.
Those who traveled to the campus in Monroe were greeted by colorful signage welcoming them to VCOM-Louisiana and then invited into one of the two-story lecture halls found on the second floor of the building. Faculty and staff members provided helpful information for students about what to expect once classes began as well as information about financial aid, student organizations, local housing, international missions, curriculum and campus facilities.
Panel discussion sessions allowed both in-person and online attendees to ask questions of the presenters. Small-group breakout sessions allowed accepted students to visit with current students about their experiences at VCOM-Louisiana, while parents and other family members were able to ask questions of Dean Morrison and other faculty and staff members. The day concluded with tours of the facility for students and their families.
Classes will begin on July 12 for members of the class of 2025.