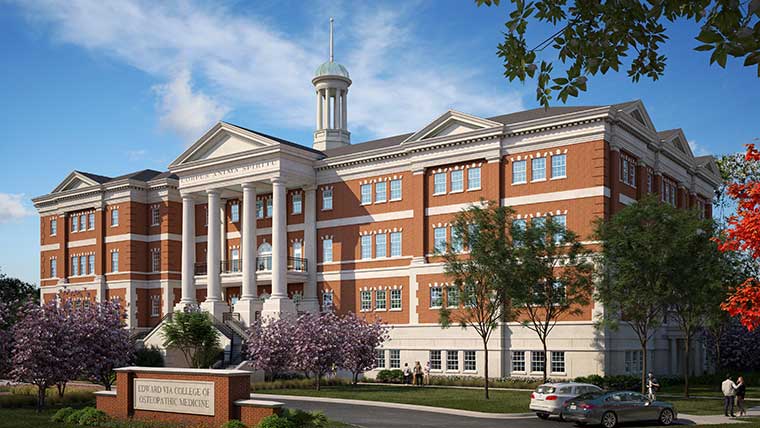 June 6, 2019 –The Edward Via College of Osteopathic Medicine (VCOM) has received initial approval from the Commission on Osteopathic College Accreditation (COCA), to recruit students for the College's fourth branch campus located in Monroe, Louisiana. In May 2018, the College received its initial license from the University of Louisiana, Board of Regents to establish the branch campus at the University of Louisiana Monroe (ULM).
The VCOM-Louisiana campus will be located in a beautiful setting along the Bayou DeSiard on the ULM campus. The 100,000 sq. ft. main VCOM campus facility is currently under construction on 10-acres and will be completed in late December.  The College plans an opening date in August 2020.  
VCOM-Louisiana has a collaborative public-private partnership with ULM which includes collaborations for shared faculty and resources in research and education and additional shared student resources for both VCOM and ULM students.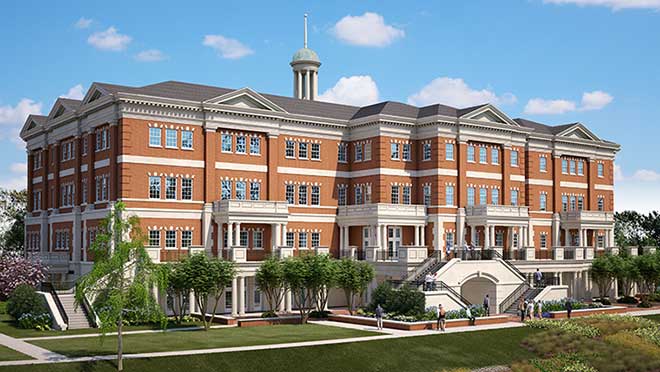 The partnership with ULM is modeled after the 18-year successful collaborative partnership between VCOM-Virginia and Virginia Tech in Blacksburg, Virginia and the campus has graduated more than 2,200 physicians to date.  Over the past five years, the College has had a successful collaborative partnership between VCOM-Auburn and Auburn University and has graduated their first class of 153 physicians in 2019.  VCOM-Carolinas, located in Spartanburg, South Carolina, has graduated 771 physicians since 2015.  With the addition of VCOM-Louisiana, the four-campus College becomes one of the largest medical schools in the United States, enrolling over 625 new students each year across the four campuses. The mission of the College is to provide physicians for the rural and medically underserved areas of the Appalachian and Delta regions of the southeastern United States. 
For more about VCOM and applying to VCOM-Louisiana campus visit: www.vcom.edu/admissions
Questions specific to applying to the VCOM-Louisiana campus may be directed to Nathan Kinnard, Assistant Vice President for Student Services at VCOM-Louisiana: nkinnard [at] ulm.vcom.edu