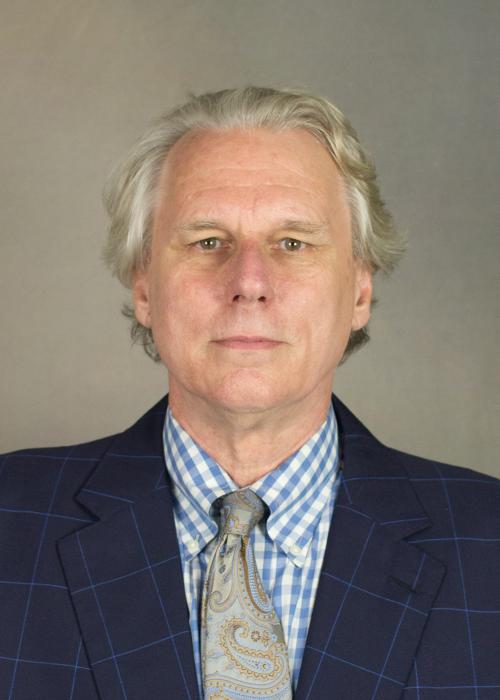 Skip Garner, PhD
Associate Vice Provost for Research
Associate Dean for Biomedical Affairs
Department/Discipline
:
Biomedical Affairs and Research
Campus
: Carolinas
Preferred First Name
: Skip
Download CV
Skip received his BS in Nuclear Engineering at the University of Missouri - Rolla in 1976. Skip received a Ph.D. in plasma physics from the University of Wisconsin, Madison in 1982. He also holds an honorary professional engineering degree.
Skip worked for 12 years at General Atomics in La Jolla, California, where he conducted experimental and theoretical research for the Department of Energy at international fusion research facilities. In the last 6 years at General Atomics, he was a founding member of "The Institute", an internal think tank, where he developed artificial intelligence/expert systems, new particle accelerators, high temperature superconductors, stealth/defense technologies and biology software and instrumentation.
From 1994 to 2009, at the University of Texas Southwestern Medical Center, Skip held the P. O'B. Montgomery, M.D., Distinguished Chair, was a Professor of Biochemistry and Internal Medicine and a founding member of the Division of Translational Research (DTR). 
In 2009, Skip moved to Virginia Tech, where he is currently the Executive Director, office of Medical Informatics, Translation, Training and Ethics (MITTE) and a professor of biological science, computer science and medicine. 
In 2016, Skip also became a Professor of Biomedicine, Edward Via College of Osteopathic Medicine (VCOM) and Executive Director, Primary Care Research Network and the Center for Bioinformatics and Genetics.
He sits on numerous corporate advisory boards and advises for numerous governmental agencies. He is also the founder of several companies - Helix, BioAutomation, Light Biology (sold to Nimblegen, acquired by Roche), Orbit Genomics, Heliotext, Quanta Lingua and Comperity.
Skip has published over 200 peer-reviewed manuscripts, 10 books/book chapters and has over 30 issued and pending patents, US and International.
Education
| Year | University | Degree |
| --- | --- | --- |
| 1994 | University of Missouri, Rolla | PE - Nuclear Engineering (honorary) |
| 1982 | University of Wisconsin, Madison | PhD - Plasma Physics |
| 1978 | University of Wisconsin, Madison | MS - Nuclear Engineering |
| 1976 | University of Missouri, Rolla | BS - Nuclear Engineering |
My research interests include: 1) development of computational biology and bioinformatics solutions for genetics, genomics, other-"omics", 2) biomarker and drug target discovery in complex multi-genic disorders (cancer, heart disease, neurological disease), 3) text analytics and publication and medical ethics, 4) High Performance Computing especially scalable diversified systems, 5) new approaches to medical education including software, medical school/GME/CME instruction, case-based learning, online learning, 6) translating findings into clinical diagnostics and therapeutics.
My research capabilities include: genomics, human genetics, genetic basis of disease, computer science, programming, web development, physics, engineering, medical instruction, research design, scientific writing, ethics, futurism, business, entrepreneurship, student research mentorship.
Awards
Fellow of the American Institute for Medical and Biological Engineering
Charter member of the Academy of the School of Mines and Metallurgy and Order of the Golden Shillelagh, University of Missouri - Rolla
Postdoctoral Mentor of the Year, UT Southwestern Medical Center 2008
Fellow of the Virginia Tech Honors Residence College
Selected Publications
Year
Faculty
Citation
PMID
2021
Lin Kang, Ramu Anandakrishnan, Harold "Skip" Garner

Kinney N, Kang L, Bains H, Lawson E, Husain M, Husain K, Sandhu I, Shin Y, Carter JK, Anandakrishnan R, Michalak P, Garner H. Ethnically biased microsatellites contribute to differential gene expression and glutathione metabolism in Africans and Europeans. PLoS One. 2021 Mar 25;16(3):e0249148. doi: 10.1371/journal.pone.0249148. eCollection 2021. PMID: 33765058.

33765058
2021
Ramu Anandakrishnan, Harold "Skip" Garner

Dash S, Al-Hajri Q, Feng W-C, Garner HR, Anandakrishnan R. Scaling Out a Combinatorial Algorithm for Discovering Carcinogenic Gene Combinations to Thousands of GPUs. In 2021 IEEE International Parallel and Distributed Processing Symposium (IPDPS), pp. 837-846. IEEE, 2021.  https://ieeexplore.ieee.org/abstract/document/9460537, DOI: 10.1109/IPDPS49936.2021.00093

2020
Ramu Anandakrishnan, Harold "Skip" Garner

Al Hajri Q, Dash S, Feng WC, Garner HR, Anandakrishnan R.Identifying multi-hit carcinogenic gene combinations: Scaling up a weighted set cover algorithm using compressed binary matrix representation on a GPU. Sci Rep. 2020 Feb 6;10(1):2002. PMID: 32029803.

32029803
2020
Harold "Skip" Garner

Fan B, Fan W, Smith C, Garner HR. Adverse drug event detection and extraction from open data: A deep learning approach. Information Processing and Management. 2020 Jan;57(1):102131. https://doi.org/10.1016/j.ipm.2019.102131.

2020
Ramu Anandakrishnan, Harold "Skip" Garner

Kinney N, Hickman M, Anandakrishnan R, Garner HR. Crossing complexity of space-filling curves reveals entanglement of S-phase DNA. PLoS One. 2020 Aug 31;15(8):e0238322. PMID: 32866178.

 

32866178
2020
Ramu Anandakrishnan, Tiffany Carpenetti, Lin Kang, Arben Santo, Harold "Skip" Garner, Robin Varghese

Anandakrishnan R, Carpenetti TL, Samuel P, Wasko B, Johnson C, Smith C, Kim J, Michalak P, Kang L, Kinney N, Santo A, Anstrom J, Garner HR, Varghese RT. DNA sequencing of anatomy lab cadavers to provide hands-on precision medicine introduction to medical students. BMC Med Educ. 2020 Nov 16;20(1):437. PMID: 33198737.

33198737
2020
Harold "Skip" Garner

Rivero-Hinojosa S, Kinney N, Garner HR, Rood BR. Germline microsatellite genotypes differentiate children with medulloblastoma. Neuro Oncol. 2020 Jan 11;22(1):152-162. PMID: 31562520.

31562520
2019
Lin Kang, Pawel Michalak, Ramu Anandakrishnan, Robin Varghese, Harold "Skip" Garner

Kinney N, Titus-Glover K, Wren JD, Varghese RT, Michalak P, Liao H, Anandakrishnan R, Pulenthiran A, Kang L, Garner HR. CAGm: a Repository of Germline Microsatellite Variations in the 1000 Genomes Project, Nucleic Acids Res. 2019 Jan 8;47(D1):D39-D45. PMID: 30329086.

30329086
2019
Ramu Anandakrishnan, Robin Varghese, Harold "Skip" Garner

Dash S, Kinney N, Varghese R, Garner H, Feng W, Anandakrishnan R. Differentiating between cancer and normal tissue samples using multi-hit combinations of genetic mutations. Sci Rep. 2019 Jan 30;9(1):1005. PMID: 30700767.

30700767
2019
Ramu Anandakrishnan, Robin Varghese, Harold "Skip" Garner

Anandakrishnan R, Varghese R, Kinney N, Garner HR. Estimating the number of genetic mutations (hits) required for tumorigenesis based on the distribution of somatic mutations. PLoS Comput Biol. 2019 Mar 7;15(3):e1006881. PMID: 30845172.

30845172
2019
Lin Kang, Pawel Michalak, Harold "Skip" Garner, James Mahaney

Kang L, Rashkovetsky E, Michalak K, Garner HR, Mahaney JE, Rzigalinski BA, Korol A, Nevo E, Michalak P. Genomic divergence and adaptive convergence in Drosophila simulans from Evolution Canyon, Israel. Proc Natl Acad Sci U S A. 2019 Jun 11;116(24):11839-11844. PMID: 31127048.

31127048
2019
Harold "Skip" Garner

Rivero-Hinojosa S, Kinney N, Garner HR, Rood BR. Germline Microsatellite Genotypes Differentiate Children with Medulloblastoma. Neuro Oncol. 2019 Sep 28. pii: noz179. [Epub ahead of print]. PMID: 31562520.

31562520
2019
Lin Kang, Ramu Anandakrishnan, Robin Varghese, Harold "Skip" Garner

Kinney N, Kang L, Eckstrand L, Pulenthiran A, Samuel P, Anandakrishnan R, Varghese RT, Michalak P, Garner HR. Abundance of ethnically biased microsatellites in human gene regions. PLoS One. 2019 Dec 12;14(12):e0225216. PMID: 31830051.

31830051
2019
Cameron Sumpter, Harold "Skip" Garner, Frederic Rawlins, II

Stanco KM, Prater MR, Wubah A, Sumpter C, Rawlins F, Garner HR. Improving Medical Education by Coupling Basic Science Lectures and Clinical Rotations via ICD Codes. J Am Osteopath Assoc. 2019 Apr 1;119(4):251-256. PMID: 30907964.

30907964
2018
Lin Kang, Harold "Skip" Garner

Velmurugan KR, Michalak P, Kang L, Fonville NC, Garner HR. Dysfunctional DNA repair pathway via defective FANCD2 gene engenders multifarious exomic and transcriptomic effects in Fanconi anemia. Mol Genet Genomic Med. 2018 Nov;6(6):1199-1208. PMID: 30450770.

30450770
2018
Lin Kang, Harold "Skip" Garner

Michalak P, Kang L, Schou MF, Garner HR, Loeschcke V. Genomic signatures of experimental adaptive radiation in Drosophila. Mol Ecol. 2019 Feb;28(3):600-614. PMID: 30375065.

30375065
2018
Cameron Sumpter, Harold "Skip" Garner, Homer Sutphin, Frederic Rawlins, II

Wubah AA, Yankson JA, Sumpter C, Rawlins F, Sutphin D, Menier K, Garner HR. Evaluation of an ICD Logging System to Supplement an EMR in a Sub-Saharan Country. Journal of Hospital Administration, 2018;7(2).

2018
Robin Varghese, Harold "Skip" Garner

Kinney N, Larsen TR, Kim DM, Varghese RT, Poelzing S, Garner HR, AlMahameed ST. Whole Exome Sequencing Reveals Microsatellites DNA Markers for Response to Dofetilide Initiation in Patients with Persistent Atrial Fibrillation, A Pilot Study.  Clin Cardiol. 2018 Apr 19. PMID: 29671888.

29671888
2017
Harold "Skip" Garner

Kang L, Garner HR, Price DK, Michalak P. A Test for Gene Flow among Sympatric and Allopatric Hawaiian Picture-Winged Drosophila. J Mol Evol. 2017 Jun;84(5-6):259-66. PMID: 28492967.

28492967
2017
Robin Varghese, Harold "Skip" Garner

Velmurugan KR, Varghese RT, Fonville NC, Garner HR. High-depth, high-accuracy microsatellite genotyping enables precision lung cancer risk classification. Oncogene. 2017 Jul 31. Epub ahead of print. PMID: 28759038.

28759038
2017
Ramu Anandakrishnan, Robin Varghese, Harold "Skip" Garner

Kinney N, Varghese RT, Anandakrishnan R, Garner HR. ZDHHC3 as a risk and mortality marker for breast cancer in African American Women. Cancer Informatics. 2017;16:1–6. PMID: 29276372.

29276372
2017
Cameron Sumpter, Harold "Skip" Garner, Homer Sutphin, Frederic Rawlins, II

Rawlins F, Sumpter C, Sutphin D, Garner HR, Quantifying medical student clinical experiences via an ICD Code Logging App. Int J Med Inform. 2018 Mar;111:51-57. PMID: 29425634.

29425634
2016
Harold "Skip" Garner

Fonville NC, Velmurugan KR, Tae H, Vaksman Z, McIver LJ, Garner HR.  Genomic leftovers: identifying novel microsatellites, over-represented motifs and functional elements in the human genome.  Nature Sci Rep. 2016 Jun 9;6:27722.

27278669
2016
Harold "Skip" Garner

Patidar PL, Motea EA, Fattah FJ, Zhou Y, Morales JC, Xie Y, Garner HR, Boothman DA. The Kub5-Hera/RPRD1B interactome: A novel role in preserving genetic stability by regulating DNA mismatch repair. Nucleic Acids Res. 2016 Feb 29;44(4):1718-31.

26819409
2016
Harold "Skip" Garner

Kang L, Settlage R, McMahon W, Michalak K, Tae H, Garner HR, Stacy EA, Price DK, Michalak P. Genomic signatures of speciation in sympatric and allopatric Hawaiian picture-winged Drosophila. Genome Biol Evol. 2016 May 30;8(5):1482-8.

27189993
2015
Harold "Skip" Garner

Michalak K, Maciak S, Kim YB, Santopietro G, Oh JH, Kang L, Garner HR, Michalak P. Nucleolar dominance and maternal control of 455 rDNA expression. Proc Biol Sci. 2015 Dec 7;282(1820):20152201.

26645200
2014
Katarzyna Michalak, Harold "Skip" Garner, Lin Kang, Pawel Michalak

Kim YB, Oh JH, McIver LJ, Rashkovetsky E, Michalak K, Garner HR, Kang L, Nevo E, Korol AB, Michalak P. Divergence of Drosophila melanogaster repeatomes in response to a sharp microclimate contrast in Evolution Canyon, Israel. Proc Natl Acad Sci U S A. 2014 Jul 22;111(29):10630-5. PMID: 25006263.

25006263