Wednesday, March 28, 2018
ViaSTAR was pleased to host two 3-day training events for AeroMD at the VCOM–Carolinas campus Simulation Center. Each of the three day events was comprised of an orientation to the mission of AeroMD, an assessment of various clinical procedural skills and eight high-fidelity simulations. On the third day, the training sessions culminated in a surgical skills lab in the Anatomy lab and two manikin-based simulations designed for participants to demonstrate the knowledge gained over the previous two days.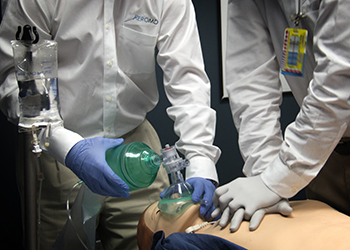 Over 20 participants were in attendance. Physicians, paramedics, nurses and respiratory therapists came from all areas of the United States and the Caribbean with experience in a multitude of specialties including critical care transport, pediatrics, emergency medicine and trauma services.
AeroMD has utilized ViaSTAR annually since 2014 for their training needs. A fixed-wing aeromedical transport service located in the US Virgin Islands, the company is under the direction of president and chief medical officer Brendan Anzalone, DO, FACEP.  
Featuring standardized patient rooms, high-fidelity simulation rooms, cadaver-based procedural skills as well as adult, maternal, adolescent and infant simulators, ViaSTAR Simulation Centers provide a safe, physician-driven learning environment for students while promoting humanism and professionalism in medicine, clinical procedural competencies, and critical decision making. Spanning the southeastern United States with a team of physicians, nurses, paramedics, instructional designers and healthcare simulation specialists, ViaSTAR creates engaging learning experiences using the latest medical simulation technologies.