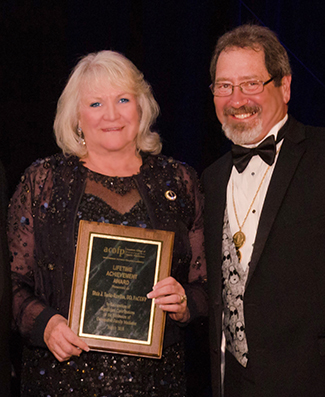 Dixie Tooke-Rawlins, DO, FACOFP, and Mark Rogers, DO, MA, CAQSM, were honored this past weekend by the American College of Osteopathic Family Physicians (ACOFP) with awards in Austin, Texas.
Dr. Tooke-Rawlins received the Lifetime Achievement Award which honors outstanding individuals who have demonstrated career-long service to patients, osteopathic family medicine and the ACOFP. Nominations and final selection is made by the Board of Governors.
Formally serving as the Dean and now as the President and Provost of the Edward Via College of Osteopathic Medicine (VCOM), President Tooke-Rawlins has successfully lead VCOM through enormous amounts of growth including acting as the principal academic administrator in founding the first VCOM campus and leading the establishments of the following two. Through all VCOM's growth she has maintained providing quality educations for future physicians and continues fulfilling the College's mission to meet the needs of rural and medically underserved populations.
President Tooke-Rawlins received her Doctor of Osteopathic Medicine degree from the Kirksville College of Osteopathic Medicine and initially getting her board certifications in emergency and family medicine, she remains certified in family medicine. She practiced emergency medicine for eight years and family medicine for 15 years before being in academic medicine full-time.
President Tooke-Rawlins' many appointments and awards are testaments to her dedication to the field of medicine and graduate medical education in particular. Having shaped the lives of many students, colleagues, and patients, President Tooke-Rawlins is an admirable recipient of ACOFP's Lifetime Achievement Award.
Dr. Rogers received the Master Preceptor Award. The award acknowledges the devotion of a physician who has been a preceptor for osteopathic medical students for at least ten year.
Dr. Rogers received his Osteopathic Medical degree from Des Moines University – Osteopathic Medical Center in 2003, completing his family medicine residency at the University of North Carolina -- Chapel Hill in 2006. He completed a Primary Care Sports Medicine Fellowship at VCOM and Virginia Tech in 2007.
With interests in sports medicine, health promotion and preventative care, undergraduate medical education, and osteopathic manual medicine, Dr. Rogers serves as an associate professor for family medicine and sports medicine at VCOM and team physician for groups including Virginia Tech Athletics and Montgomery County Public Schools.
Dr. Rogers' deep commitment to mentoring medical students and furthering the osteopathic community earned him this top honor. 
VCOM could not be more proud of our extremely deserving faculty receiving these top-honors.