Wednesday, August 6, 2014
The Edward Via College of Osteopathic Medicine (VCOM) has won an Honors Award for its 2013 Annual Report: Patient Centered Care – The Heart of Medical Education, in the Annual Report Competition (ARC) Awards program. This award is the first VCOM has received from this competition, in the "Summary Annual Report" category under "Health and Education." According to the ARC, more than 2,000 annual report entries were submitted from over 31 countries throughout the world. 
"This recognition is important to VCOM because the ARC Awards program is a global competition, and our college was one of only five educational institutions in the world to receive an award in various categories," said Cindy Shepard Rawlins, Assistant Vice President for Communications, Marketing, Website and Publications at VCOM. "The ARC Awards are recognized internationally, providing a platform for the highest standards in the annual report and design industry. Some of the top advertising agencies in the world enter this competition, so we are honored to have been recognized for our work."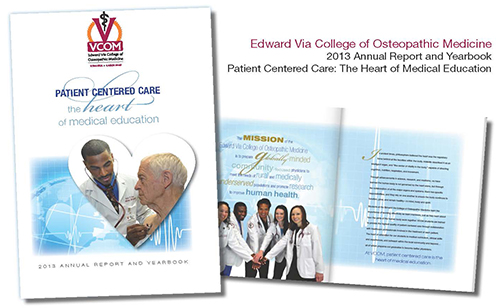 The ARC Awards, established by MerComm, Inc. in 1987, were created to honor overall excellence in annual reports, and to encourage noteworthy and vital writing, as well as imaginative and original design. Criteria used to choose winners included Cover Design, Chairman's Letter, Writing, Interior Design, Financial Presentation, and Overall, how well the spirit of the company is reflected in the annual report.
Preliminary and final judges for the ARC Awards represent top level investor relations executives, financial executives, writers, designers, and photographers from over 90 different agencies and corporations in Australia, Austria, Belgium, Canada, Germany, Hong Kong, Italy, Japan, Korea, Luxembourg, Mexico, New Zealand, Saudi Arabia, Singapore, Sri Lanka, Turkey, Vietnam, the United Kingdom, and the United States.
Click Here to view the 2013 Annual Report & Yearbook
Click Here for a complete list of 2014 winners