Wednesday, August 10, 2016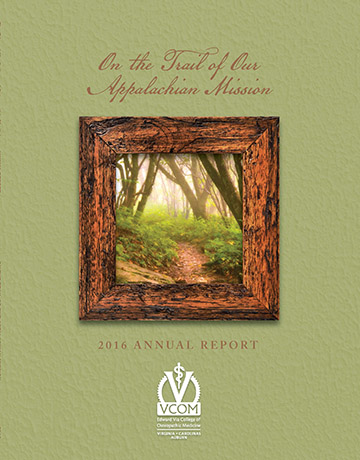 The Edward Via College of Osteopathic Medicine (VCOM) has received a Bronze Award for its 2016 Annual Report: On the Trail of Our Appalachian Mission, in the Annual Report Competition (ARC) Awards program. This is the third award VCOM has received from the ARC Awards program, after receiving an award last year for the college's 2014 Annual Report. This year, the VCOM annual report was awarded in the category of "Printing and Production" under the "Health and Education" classification. 
The ARC Awards, established by MerComm, Inc. in 1987, were created to honor overall excellence in annual reports, and to encourage noteworthy and vital writing, as well as imaginative and original design and how well the spirit of the company is reflected in the annual report.
"Our Annual Report tells the VCOM story, it shows the success of our mission to educate physicians who return to rural and underserved areas in the Appalachian region," said Cindy Shepard Rawlins, Vice President of Communications, Marketing, Website and Publications at VCOM. "Being recognized with this international honor means so much to all of us in the Communications division. This report highlights the efforts of all of the faculty, staff and administration at VCOM, and of course, our outstanding alumni and students who bring the college mission to life." 
Preliminary and final judges for the ARC Awards represent top level investor relations executives, financial executives, writers, designers, and photographers from over 90 different agencies and corporations in Australia, Austria, Belgium, Canada, Germany, Hong Kong, Italy, Japan, Korea, Luxembourg, Mexico, New Zealand, Saudi Arabia, Singapore, Sri Lanka, Turkey, Vietnam, the United Kingdom, and the United States. The winning entries in the competition will be exhibited in New York City, New York, Hamburg, Germany and Beijing, China over the next few months.