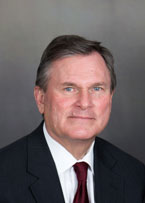 Edward Via College of Osteopathic Medicine (VCOM) is pleased to announce Thim Corvin as the Vice President for College Development and Alumni Relations beginning April 11, 2016. Corvin will be responsible for building productive relationships that result in philanthropic support to the College's programs, facilities and students.
Growing up in southwest Virginia, Corvin has firsthand experience with the need for physicians in rural areas. He hopes to bring his passion for helping underserved communities and knowledge from over 20 years of higher education fundraising experience to VCOM in order to grow its mission.
"I am enthusiastic about coming to VCOM," said Corvin. "It was easy to see the passion and dedication of those associated with VCOM to its mission of preparing globally minded, community focused physicians who meet the needs of rural and medically underserved populations."
In addition to building philanthropic relations, Corvin will work to continue to build alumni programs with the College's current staff on the VCOM campuses in Blacksburg, Virginia; Spartanburg, South Carolina; and Auburn, Alabama.
Prior to joining VCOM, Corvin held administrative roles in development and fundraising at higher education institutions such as Radford University, Hollins College and the Virginia Tech Alumni Association. Most recently, Corvin served as the Senior Associate Vice President for Development and Principal Gifts at Virginia Tech.
For more information, contact Jenna Nichols. Director of Communications, Marketing, Website and Publications, at 540-231-8363 or via email at jnichols [at] vt.vcom.edu.