Friday, November 18, 2016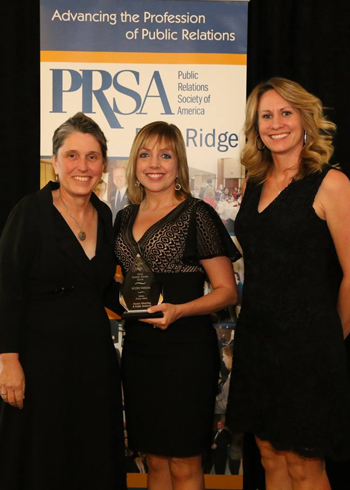 Roanoke, Virginia – On November 3, 2016, Access Advertising and Public Relations of Roanoke received a Silver Summit Award from the Blue Ridge chapter of the Public Relations Society of America for the redesign of the Edward Via College of Osteopathic Medicine's website.
Efforts to redesign the website were led by the VCOM Division of Communications, Marketing, Website and Publications in conjunction with Administration. In order to streamline the redesign process, the division teamed up with Access, who had to understand the challenges of operating a college which three separate campus locations. A website was needed that could unify user experience while creating an obvious portal for current students unique to each campus. The Access team conducted research, planning, design, development and implemented a content management system for the massive amount of information contained in this site. The new website at www.vcom.edu was launched in the summer of 2016
Cindy Shepard Rawlins, VCOM's Vice President for Communications, Marketing, Website and Publications said, "Congratulations to Access and the VCOM marketing team for their outstanding work. It was a huge undertaking – going from a website designed for a single campus to developing a site that encompassed information for each of the three campus locations and the College as a whole."
"Recognition also goes to Lydia Vargas, Director for Web Applications Development and Graphic Designer at VCOM, who coordinated web development efforts for all three VCOM campuses. Lydia's extensive experience allowed her to take the lead in efforts of managing the website and replacing all site content. She has been the driving force in keeping the website up-to-date and fresh for our users," added Rawlins.
Each year, the Blue Ridge chapter of the Public Relations Society of American honors outstanding work of local public relations with Gold and Silver Summit Awards in a wide variety of categories. VCOM is honored that Access was chosen for this award and several more, among the other remarkable candidates at the awards gala.