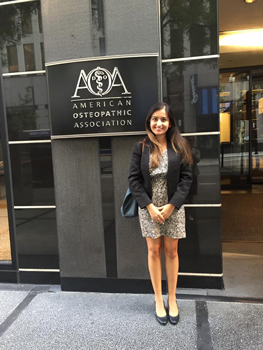 The Edward Via College of Osteopathic Medicine (VCOM) is proud to share the news that medical student Sneha Shah, Class of 2019, was recently selected by the Student Osteopathic Medical Association (SOMA) to join the American Osteopathic Foundation (AOF) Board of Directors as a Student Representative.
"It is an honor to have been chosen by my fellow students to represent them on the AOF Board," said Shah. "I hope to strongly voice their priorities while helping the AOF advance and grow the opportunities it provides to osteopathic students."
Besides participation in SOMA, Shah is involved in Omega Beta Iota, the national political honor society, as well as the American College of Osteopathic Emergency Physicians (ACOEP), American College of Osteopathic Internists (ACOI), and Student American Academy of Osteopathy (SAAO) at VCOM-Virginia. She recently traveled to Tegucigalpa, Honduras, as part of VCOM's international outreach program, gaining clinical experience and providing care for the underserved population of that region. Shah received a BA in neuroscience through the Distinguished Major Program at the University of Virginia in 2013, then completed her Master's in physiology and biophysics at Virginia Commonwealth University and received the James Poland Award for Most Outstanding Master's Student of the Year.
"The VCOM mission to serve those most in need has inspired me since the beginning of medical school, and has always aligned with my personal beliefs," said Shah. "Through AOF and SOMA, I have a direct means to promote programs and services to support osteopathic medicine and many communities across the nation -- and VCOM's mission directly helps shape that opportunity."
Shah will be eligible to serve two years as Student Representative on the AOF Board of Directors, which oversees all policies, programs, and operations of the Foundation. The AOF strives to support programs and services that promote osteopathic medicine and enhance patient-centered care.