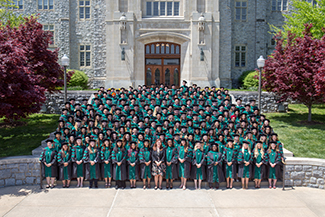 On Saturday, May 5, 2018, the Edward Via College of Osteopathic Medicine (VCOM) – Virginia campus in Blacksburg, Virginia graduated 182 new doctors of osteopathic medicine. The commencement ceremony took place in Burruss Hall on Virginia Tech's campus. Family, friends, VCOM faculty and distinguished guests were in attendance to celebrate this milestone in the Class of 2018's medical careers.
Stephen C. Shannon, DO, MPH, President of the American Association of Colleges of Osteopathic Medicine (AACOM) addressed the graduating class. Dr. Shannon's speech was about being present with patients and have good communication as a foundation of medicine. "It is not only the evolving and advancing scientific and technological progress in medicine that you need to continually master, it is being in touch with the everyday life of your patients and families, and participating in your communities that will make you better and better at what you do," said Dr. Shannon.
After the ceremony, the new graduates, with their family and friends, returned to the VCOM campus for a congratulatory picnic. Food, music and games were a fun way to end the festivities.
Before graduation, a military promotion ceremony was held on Friday, May 4, 2018, in the War Memorial Chapel on Virginia Tech's campus. Four Military Health Professions Scholarship Program students from the VCOM Class of 2018 took the oath of office, received promotion pins, and were honored for their dedication to serve as physicians in the United States Armed Forces.  
The guest speaker was retired Colonel Thomas Hardy, DO, Director of the Dayton VA Medical Center in Ohio. Performances by VCOM's acapella group, the SOAP Notes, and the support from lots of family and friends made for a memorable ceremony.