Wednesday, October 26, 2016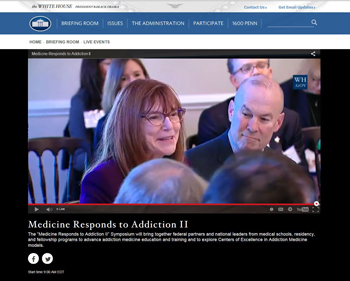 On Tuesday, October 25, 2016, the White House livestreamed the "Medicine Responds to Addiction II" Symposium, and hosts leaders in graduate medical training, federal agencies, supporting institutions and representatives of current and emerging addiction medicine fellowship training programs.  Participants discussed substance use prevention and the treatment and management of addiction.
Symposium representation from the osteopathic medical education community included Jan M. Willcox, DO, Dean, Edward Via School of Osteopathic Medicine (VCOM)–Virginia campus in Blacksburg, Virginia.
Dr. Willcox spoke of the substance abuse and addiction being well documented especially in the rural areas of the southern Appalachian region that VCOM serves. She went on to explain how the college provides curriculum to over 500 students per class year, across all three campuses, on opioid prescribing with inclusion of CDC guidelines, beginning within the first block of curriculum.
She said, "In our Clinical Skills Standardized Patient cases, (actors are trained to simulate patients for the purpose of medical education) we evaluate over 20,000 student/patient scenarios yearly across all three VCOM campuses. We have noted in the past year, a heightened awareness of students in the dangers of opioid prescribing."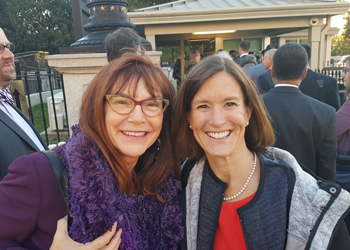 She explained how the college is tracking usage data and plan interventions in medical student training and this knowledge can be used for faculty development of our clinical faculty. It's so important that the college is integrating education about addiction and opioid prescribing in the Foundations of Diagnostic Medicine rotation for third year clinical medical students. 4th year students may choose an elective in Substance Abuse, and the college has plans to develop an Addiction Medicine Fellowship.
Dr. Willcox added, "It's important to note the efforts of Kevin Kunz, MD, MPH, executive vice president of the Addiction Medicine Foundation and Jean Mackey Bennett, PhD, MSM, MSN, RN, regional administrator of the Substance Abuse and Mental Health Services Administration of the US Department of Health and Human Services, who have met with all the Virginia medical schools in regards to substance abuse and addiction. After these meetings, the Virginia medical schools met about collaborating efforts across the state in response substance abuse and addiction." She went on to thank the symposium on creating a workforce plan for rural areas.
A link to the symposium video can be found at https://www.youtube.com/watch?v=kDmdaaG73NY