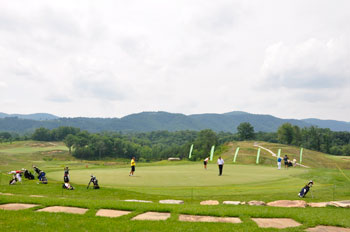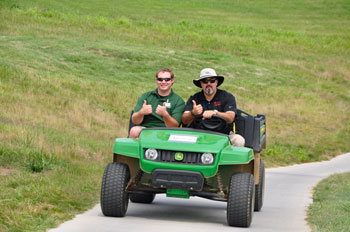 After seven years in Richmond, the Delta Dental State Open of Virginia was held in Roanoke for the first time. Hosted by the Ballyhack Golf Club, the event boasted 144 top golfers from all over the state. Edward Via College of Osteopathic Medicine's (VCOM) Discipline Chair of Emergency Medicine, John Lucas, D.O., arranged for VCOM students to participate in the tournament by providing first aid. With VCOM's past experience in first aid provision for the PGA's Greenbrier Classic, it was a great fit for students to serve the community.
Second year student Jared Brackenrich stated, "I really enjoyed my experience volunteering at the Virginia State Open Tournament. The golfers and spectators that passed through our tents were very appreciative of our time and services, which included keeping the players and spectators hydrated and providing medical assistance including OMT."
The State Open lasted from July 17-19 and approximately 14 VCOM students participated, dispensing cold drinks, giving out advice and support, and offering OMT treatments upon request. No serious injuries or illnesses occurred.