Tuesday, November 1, 2016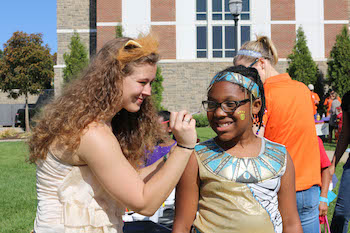 The American College of Osteopathic Pediatricians (ACOP) student organization at the Edward Via College of Osteopathic Medicine (VCOM) – Carolinas campus hosted its fifth annual Pediatric Wellness Fair on Saturday, October 29, 2016. This event was held on campus, with free admission for both children and parents.
"The Wellness Fair is a great opportunity for the community to come together and provide the best possible support system for the families of Spartanburg," said Meg Barcroft, Class of 2019, President of the VCOM–Carolinas ACOP student organization.
Approximately 300 children and parents from the local community attended the Pediatric Wellness Fair, along with their parents, learning about safety, science, medicine, healthy behaviors, and the human body.
"While planning the wellness fair this year, co-chair Amber Martin and I discovered the plethora of resources that Spartanburg offers in terms of healthcare, education, and healthy living," said Lyndsay Fisher, Class of 2019, Pediatric Wellness Fair Co-chair. "This emphasizes how important it is make the public aware of all the beneficial resources we have in our community, and our fair has focused on making these resources as accessible as possible to parents."
In addition to learning more about community resources, children and their parents were able to explore a Halloween town safety station, teddy bear clinic, and a haunted house! They also enjoyed crafts, face painting, and other fun activities throughout the day. A free lunch was served on campus for all participants.
"The Pediatric Wellness Fair is a huge opportunity for VCOM students to give back to the Spartanburg community," said Stephanie Farber, Class of 2019, Vice President of the VCOM–Carolinas ACOP student organization. "At this event, we are able to provide resources in regards to healthcare and overall general wellness in one convenient location over a five-hour period, while providing fun and games for children as well."