Wednesday, November 30, 2016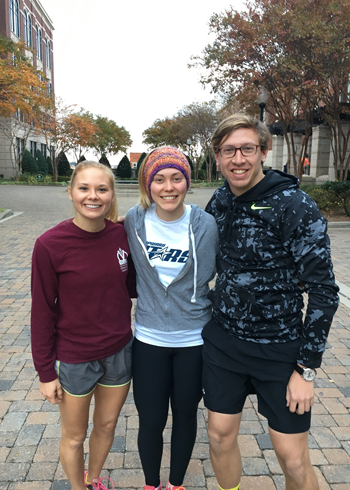 Early on the morning of Thanksgiving, VCOM-Carolinas students and staff gathered with Spartanburg residents in Morgan Square downtown to participate in an annual tradition, the Turkey Day 8k road race. Over 1,500 people registered for the race, starting at 7:30 am, to kick off the holiday with an active and challenging run, and to spread some cheer to families in need.
"As a student at VCOM and a member of the Spartanburg community, I feel that it is important to give back in any way that I can," said VCOM Class of 2019 student Graham Willm. "This is my second year doing the Turkey Day 8k, and I have thoroughly enjoyed it." In addition to Willm, fellow VCOM students Ariel Katsimpalis, Chad Norton and Jessica Patrizi, as well as staff member Natalie Brown, participated in the 8k run.
The annual Turkey Day 8k in Spartanburg is hosted by Partners for Active Living, a local organization with a mission to transform Spartanburg County into a vibrant, healthy, connected community where we live and grow. This is Spartanburg's largest run that is open to the public with more than 1,550 runners in 2015. 
The cost of entry for the race was the donation of one or more canned goods, supporting a local food bank. More than 3,000 pounds of food were donated last year alone, thanks to Turkey Day 8k participants.
 "I am grateful for the opportunity to help promote wellness in my community, and give back to those most in need," Willm said. "As a medical student, it is important to maintain balance and be healthy while maintaining my studies. This run is one way that I am able to maintain that balance."