Thursday, August 30, 2018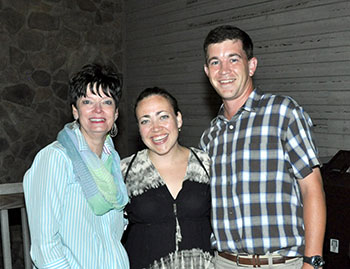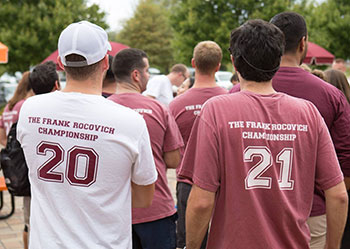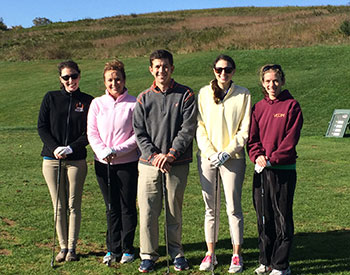 Frank Butler Rocovich served VCOM as the Fitness and Activities Coordinator on the VCOM-Virginia campus and was a dear friend and colleague. Frank was the son of the VCOM founding chairman John G. Rocovich Jr., JD, LLM and VCOM board member, Sue Ellen Rocovich, DO, PhD. His unexpected death due to a fall in his home on September 29, 2015 shook the entire VCOM family. 
VCOM-Virginia remembers the life of Frank this year with the VCOM Olympics -- The Frank Rocovich Championship. The event took this name in 2016 in honor of Frank's compassionate interaction with everyone at VCOM.
To begin the events, Vivek Patel, VCOM-Virginia Class of 2021 and President of the Student Government Association, shared Frank's life with both classes and described his passion to help VCOM students succeed.  
"My goal in all of this was just to remind the students of the bigger picture. As physicians, we will one day guide our families, friends, and communities through dealing with the death of loved ones -- helping them to find support and courage, to move forward in the face of one of life's greatest obstacles. The VCOM Olympics is much more than a day of fun events -- it is a demonstration on how to properly respond in the wake of tragedy," said Vivek.
Vivek spoke to Bill King, the vice president for student services at VCOM and Diane Sutphin, director for development and alumni relations at VCOM, who both recounted stories of Frank's genuine presence. According to Bill, Frank was acutely aware of the importance of golf in business deals and went out of his way to give golf lessons to anyone at VCOM who was willing to learn.
Diane spoke about needing someone to drive a boat for a VCOM alumni event and, before she could finish asking, Frank volunteered his skills. "That is who he was -- a kind, supportive, outdoors-loving man," said Diane.
This year, the Classes of 2021 and 2022 will compete against each other in games like tug-of-war, soccer and kickball in memory of Frank's commitment to the enrichment of student life through fitness. A weeklong penny war challenge will benefit the Frank Rocovich Memorial Fund.   
John Rocovich, JD, LLM, will attend the VCOM Olympics -- The Frank Rocovich Championship opening ceremony where he will be presented with a donation to the Frank Rocovich Memorial Fund on behalf of the VCOM student body.