Thursday, November 30, 2017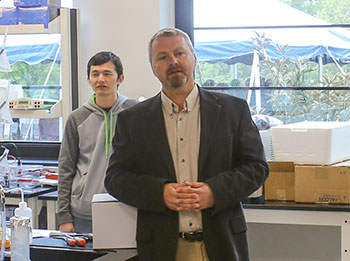 Pawel Michalak, PhD, Associate Professor for Biosciences at The Edward Via College of Osteopathic Medicine (VCOM) and the Center for One Health Research in Blacksburg, Virginia recently published a paper more than 15 years in the making. The project, spearheaded by Stanford University, looked at stress responses in fruit flies and found that the fruit flies living in opposite climates, had genetic differences. 
The study was done at "Evolution Canyon" in Israel, where two opposing slopes have drastically different microclimates. The fruit flies that live on the southern slope, that is hotter and dry, were found to be more resistant to stress whereas those on the more temperate northern slope where not.  The research indicated that RNA editing, a process where RNA sequence is modified after its transcription from a DNA template, is not a random process like it was once thought to be; but instead, can be adaptive to stress factors, including those in the environment.
This research deepens the understanding of not only RNA editing and why it happens, but also how stress affects organisms at the molecular level. This could lead to new developments for advancements such as genetic testing, cancer research, and an overall better understanding of how DNA responds to stress. "Is RNA editing playing a part in cancer and in what way? If so, can we manipulate this process? We don't know all of this yet, but these are open questions that I want to look at," said Dr. Michalak.
The paper titled "Regulation of gene expression and RNA editing in Drosophila adapting to divergent microclimates at Evolution Canyon" can be viewed in Nature Communications.