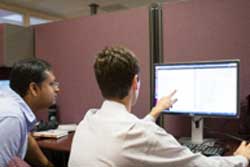 With a grant from the Via-Bradly College of Engineering Foundation, VCOM has opened a cross-campus Center for Bioinformatics and Genetics. This group uses the latest laboratory and computation techniques to uncover the genetic basis of disease, which will impact primary and specialized care. The development of new genomic diagnostics and therapeutics will contribute to the "Precision Medicine" revolution, where each patient's disease (cancer, heart, neurological or other) is treated uniquely. 
The Center conducts its own research, but is also highly collaborative, working with faculty throughout VCOM and VCOM's collaborators and partners. It has already enlisted approximately 20 medical students to work with group members on a variety of projects, spanning biomedical, clinical/translational and educational areas. The group can also aid in developing unique genetic and bioinformatics solutions to challenging projects throughout VCOM, and has established a powerful set of advanced computer servers and data storage systems and will provide access to these machines to VCOM faculty and students and their research partners.
For more information or to establish collaborations with the Center, please contact Skip Garner at sgarner [at] vcom.edu.